NRC: A major storm is brewing
Even pro-BJP groups recognize that the registration exercise could end up condemning Indians to an appalling fate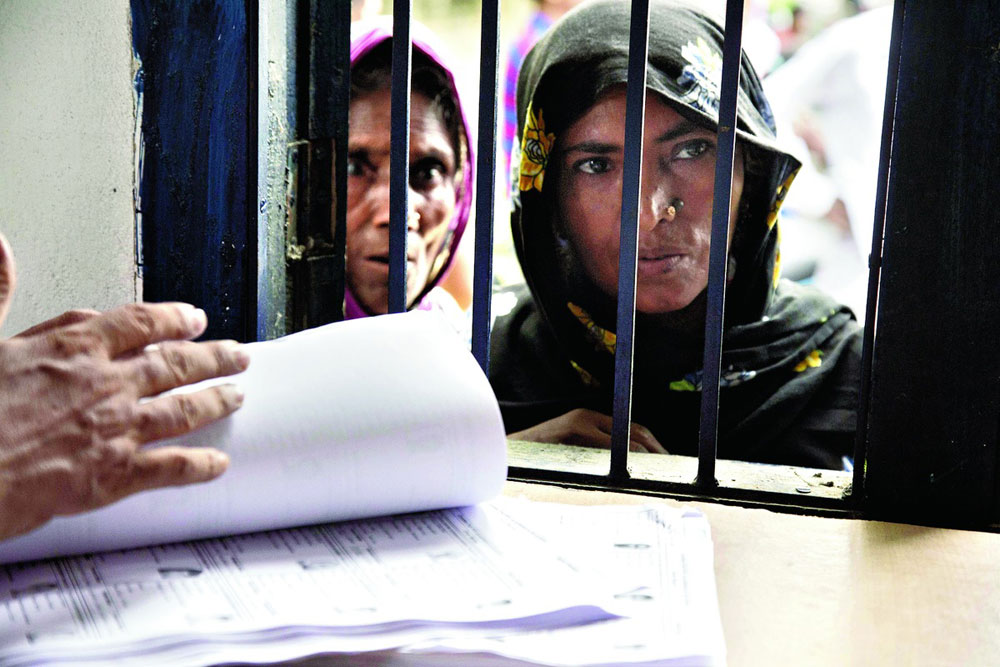 Women at an NRC seva kendra in Mayong, near Guwahati, wait to verify whether their names have been included in the list. In case after case, a pattern has emerged showing a combination of poor judgment, problematic data, arbitrariness or just indifference that has harmed Indians
(AP file photo)
---
Published 15.07.19, 03:30 AM
|
---
The National Register of Citizens process in Assam ploughs relentlessly on. At the end of this month a full list is to be published, ostensibly of all Indians identified in the state. That is when the scale of misery and jubilation may be gauged. Yet that's not the end of this long, complex journey.
A few days back, another list was published of one lakh persons who are to be left out of the list because they could not produce convincing documentation; this followed scattershot complaints by unidentified persons against some who were already on the NRC.
For those who do not make the cut on July 31, there is a longer battle in store — they will have to spend time, funds (invest in lawyers) and appear before quasi-judicial processes, the foreigners tribunals, to prove their nationality. These courts, manned by lawyers without extensive judicial experience or deep knowledge of jurisprudence, are the first point of appeal followed by the state high court and finally the Supreme Court.
The Assam government had said it would add 400 FTs more to the current 100 (it later promised 1,000), but has it made the clear determination of whether the person is fully qualified for that office and can take a decision without fear or favour?
Many of us who have followed the long and tortuous journey of the NRC — and the earlier struggle between the 1970s-1980s by student groups and others for detection of foreign nationals (that is, the ubiquitous 'Bangladeshi') — had pinned faith in a process that would create a list which would be clean, clear and correct. Knowing the complexities of Assam, a simple land with deep divisions, this was perhaps a naive hope.
The 'foreigners issue', as the question of informal migration (largely from Bangladesh) is defined in popular terms in Assam, is a challenge that goes back to the time of Independence. However, critical perceptions about in-migration and demographic change precede that.
Assam now appears to be entering an uncertain period with little clarity on a fundamental question: will the list competently identify 'foreigners'? Arguably some 29 million persons had made the cut last July but all hell broke loose with the announcement that nearly four million had not. Of the latter, 3.2 million persons have petitioned for their inclusion and the issue has figured at international and national forums. Some of the stories which have emerged over the past year are worth repeating, for they cut across religious, ethnic and language divisions and point to major inaccuracies.
In case after case, a pattern has emerged showing a combination of poor judgment, problematic data, arbitrariness or just indifference that has harmed Indians. A Kargil veteran who was marched into a detention camp and then released; a policeman who cannot vote since he has been proclaimed a foreigner; a 92-year-old man who has had to be carried into court to face trial; a woman who ended up in a detention camp when the police could not find the person they were looking for and just picked her up; prominent Gorkhas including a Sahitya Akademi winner find themselves in the excluded list. In many cases, a mismatch of a letter in a name connecting them to either parent or grandparent was enough to bar them.
Most of the cases cited above, barring the Gorkhas, were people of Bengali origin, both Hindu and Muslim. It is not just about religion. The poor and vulnerable who cannot afford lawyers find themselves in this situation.
The NRC impact is spreading: other states are arming themselves with similar plans. Nagaland has started a 60-day exercise aimed at identifying the indigenous people (read members of 16 Naga tribes whose homes are in the state) and one anti-immigrant group has declared that the "indigenous" are those who are "Naga by blood". Does the definition of the indigenous in Nagaland includes mainland Indians, be they Assamese, Bengali (Hindus and Muslim), Marwari, Bihari or from other parts of this country?
It does not take a tarot card reader to see that a major storm is brewing. Many may not have predicted this when the NRC was given wings in 2016, after the Bharatiya Janata Party gained power in Assam. What has unfortunately happened is that the exercise in Nagaland and in parts of Assam could end up condemning Indians to an appalling fate.
Even pro-BJP groups recognize this. One said recently that it had procured 2.8 million signatures of people in Assam demanding an "error-free NRC". It pointed out that the Supreme Court itself had suggested a pilot sample reverification of 10 per cent of the total number on the NRC but not issued orders for this. Its concern was that many Hindus of Bangla origin would be left out.
A recent citizen's group which travelled across three districts in Assam found that many women, both Hindu and Muslim, have been declared foreigners because they did not have the documents to link them to their father, the crucial "legacy data" or family tree link in the NRC.
Prateek Hajela, the NRC state coordinator, has said that "inability to provide linkage documents appears to be the biggest reason why applicants couldn't substantiate their claims".
Indeed, from its very start, the NRC exercise has struggled with technical hurdles.
For one, the key base document for the NRC is its predecessor: the first and only NRC of 1951. Yet enumerators found that copies of this NRC were not available in three districts: Sivasagar, Cachar and Karbi Anglong. So new data based on 16 parameters were developed for these district populations — 67 to 68 years after this initial exercise, based on electoral rolls and census data. Two separate systems of checks and cross checks have had to be created, quite different from each other. Is it surprising that there should be confusion?
The exercise is officially over on July 31. But there is no clarity on what happens to those out of the lists — will they stay at their homes and fight trials, will they have to move elsewhere, will those found as foreigners by FTs be sent to detention camps after a 120-period when appeals can be heard?
A Union minister of state for home affairs has told Parliament that a new manual for detention camps was being prepared with the following proposed facilities: "electricity, drinking water, hygiene, accommodation with beds, sufficient toilets with running water, communication facilities, provision for kitchen". The draft manual has been sent to all state governments raising questions about how long the Centre proposes to keep people at such sites.
This is aimed obviously at blunting criticism by some who have been released from detention camps in Assam after their Indian-ness was upheld. They describe conditions are appalling with scores packed into a single room and sharing a single toilet.
Exacerbating the issue is the fact that even those detected as Bangladeshis cannot be deported unless Bangladesh acknowledges them as its own — which it steadfastly refuses to do.
Governments are required to uphold Constitutional obligations, especially Article 21 of the Constitution, which proclaims that no one may be deprived of his life and liberty except by due process. In addition, there are India's international commitments to the Universal Declaration of Human Rights which does not recognize statelessness.