NO HOME TO CALL ONE?S OWN
Read more below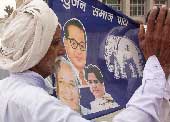 ---
Published 25.01.05, 12:00 AM
|
---
Together in misery
Till he lived, Kartik Manna, an unlettered Bengali fisherman in the Ramnagar village of Kendrapara?s Mahakalpada block, was never a cause for worry for the Orissa administration.
Now dead for the last ten years, Manna must leave for Bangladesh. Or so believe the mandarins in the Orissa police and state administration who have zeroed in on 1,551 people in Mahakalpada block for deportation. On January 16, a local police team knocked on the rickety doors of Manna?s hut and shoved a small piece of paper into his son Bhanu Manna?s grimy hands, asking him to ?quit India? within 30 days or face police arrest and subsequent handing over to the Border Security Force.
Bhanu, 60, would have perhaps laughed off the notice as a cruel joke had it not been a deportation notice from the Kendrapara district administration. The police did not forget to give another notice for Bhanu?s dead wife, Surati.
?What?s my fault? I am not a Bangaldeshi. I came from Midnapore district after the 1971 cyclone,? protests Bhanu. But in the sleepy fishing village of Ramnagar, Bhanu and his deceased family members are not the only ones who have been randomly selected for deportation. Over 600 toddlers, men and women in the area have been slapped such notices by the Kendrapara district administration since January 16, when the deportation move started.
Like several of his neighbours, Bhanu was not among the thousands of Hindu refugees who escaped Bangladesh during the liberation war and arrived in India before December 16, 1971. The people who came in after this date were branded illegal immigrants. There were others who crossed into India before December 16 but hung around other relief camps and trickled into the settlement camps only after the cut-off date. It is these people who have been targeted by the government from time to time. The initial survey, conducted in 2001, had revealed that more than 3,500 Bangladeshi nationals had settled in different coastal and interior districts of Orissa. Kendrapara alone accounted for 2,300 such illegal settlers.
The deportation drive may be well-meaning, but its arbitrariness and utter cruelty have brought the process under a cloud of suspicion. Several of those on the deportation list have voter identity cards, PAN cards and BPL cards that prove their citizenship. Some of them even work in government offices. But the most absurd has been deportation notices to children, who should have been Indian citizens by birth. Sampad Sarkar, 35, who runs a small shop in Ramnagar has been served a notice while his wife, Jyotsna, and three-year-old son have been spared.
Similar despair has descended on other households. As men and women are erratically selected for deportation, families are disintegrating and hurtling towards penury. Gokul Bera, 34, along with his 74-year-old father, 58-year-old mother and 34-year-old wife, Arati have been asked to leave. And so their six children aged between two and 12, who were all born in Ramnagar. Gokul?s childhood friend, Krishnapada Mandal, says the notice is arbitrary: ?How did he become a Bangla national suddenly? Why should he go to a place which he has never seen?? he asks.
It?s a question that resonates in almost all households of the village. The arbitrariness is all the more evident in the case of Arabinda Kayal, a Class-IV employee of the Paradip Port Trust. The entire Kayal household, including his son, daughter-in-law and daughter, have been marked out for deportation though their names figure in the voters? list and Kayal holds a PAN card as well. Kendrapara?s collector, Hemant Sharma, admits that the decision of deportation, though not illegal, has resulted in a human problem.
While the immediate reason for the current round of deportation drive seems to be the xenophobia sweeping through coastal Kendrapara, state government officials plead helplessness, citing repeated directives from the Union home ministry to deport illegal immigrants. Orissa?s home secretary, Santosh Kumar, who is supervising the cleansing process, denies any immediate provocation.
Although these deportations are unlikely to solve the problem of illegal settlement, it has ensured cheap political dividends for the chief minister, Naveen Patnaik. Apart from endearing himself to the local people, he has managed to corner his b?te noire and Congress legislator from Rajnagar, Nalini Mohanti. Traditionally, the Bengali-speaking majority here have been supporters of Mohanti.
But even as the state government claims to be deporting illegal settlers, the fact remains that all the 1,551 who have been identified for deportation in the Mahakalpada block are Hindus. The Biju Janata Dal government is evidently reluctant to deport the Muslims in Muslim-dominated areas of Kendrapara.
What?s conspicuous is the selection and timing of victims. Such deportations have not been implemented since 2002 ? almost 125 unauthorized Bangladeshi settlers were deported between 1973 and 2002 in the state. The last time such a drive was undertaken was in 2002, when the Patnaik government arrested 22 illegal settlers in the Dandakaranya settlement region of Nowrangpur and pushed them through the Bangladesh border. It was not successful ? a few days later, all of them sneaked through the porous Indo-Bangladesh border to their homes.
Though nearly 3,000 illegal Bangladeshis, a majority of them Muslims, have been identified across the state, never has the Hindu community residing in the coastal region been targeted in such a concerted manner. ?The campaign speaks of inhumanity as also double standards,? alleges Milan Debnath, president of the Ramnagar Traders? Committee.
While the adults in Mahakalpada block of Kendrapara wrestle with the notices, the children have also been hit by the drive. Of those who have been served notices, at least 300 are children. Nervousness is writ large on their faces even as they play with one another. A week ago, children in the Hariabanka ME School of Kharinasi village were adding up figures in their classrooms. Now, they are calculating how many of their classmates would have to leave for Bangladesh.
It is the same story everywhere in Ramnagar, Kharinasi, Bahakuda, Pitapata, Baraja-bahakuda and Jamboo. As the teachers try to comfort these hapless young ones, they have also become the facilitators for the administration in the deportation process. The official team that came for handing the notices could not locate the parents and found it easier to trace the children in the school. The headmaster was summoned, leading to a disruption of classes. The enlisted children were asked to come out of the classes and receive the notice. ?You are Bangladeshis, you will have to leave for Bangladesh for continuation of studies in a Bangla school,? a gun-wielding police constable told them bluntly.
A former sarpanch of Ramnagar, Bijoy Shukla, who witnessed the scene, found it ?really cruel and inhuman?. With an uncertain future in store for the students on the deportation list, attendance at the school has also thinned.
But aren?t children born in India its naturalized citizens? ?No. If the citizenship status of their father is illegal, then they are also illegal,? argues Kendrapara?s collector, Hemant Sharma, ?If the law requires deportation, then they would have to go.?
The Bharatiya Janata Party ? part of the ruling coalition in the state ? which spares no opportunity to publicly oppose the deportation of Hindus, has chosen to remain silent this time. It is only the Vishwa Hindu Parishad and Bajrang Dal that are making some noises. The BJP is eager not to be seen as a dissenter against Patnaik. ?Be they Hindus or Muslims, all illegal settlers should be deported,? said the law minister and senior BJP leader, Biswabhusan Harichandan.
For once, even the BJP seems to have discovered the advantages of being secular.