Nityanand Rai's desperation for a photo op with Nitish Kumar
Poll panel officials' arduous trek to remote Uttarakhand village, denial of ticket to ex-MP, Prasanna Kumar Patasani by Odisha CM Naveen Patnaik & more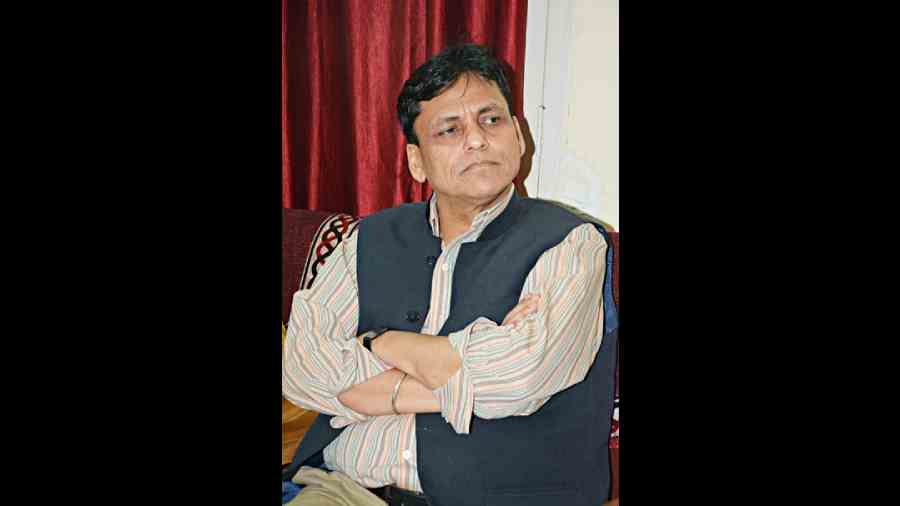 Nityanand Rai: Too eager.
File photo
---
Published 05.06.22, 03:26 AM
|
---
 After the Rajya Sabha candidates for the National Democratic Alliance in Bihar had filed their nominations, it was time for a photo with the chief minister, Nitish Kumar. Among the senior leaders from the Bharatiya Janata Party, the minister of state for home affairs, Nityanand Rai, was also present and he was keen to take a picture with Nitish. So he first lovingly put a hand on the shoulders of the deputy chief minister, Tarkishore Prasad, and then tried to shove him to the side and take his space. Prasad objected to it and refused to budge. Rai, a tall person, then wriggled into the group and managed to stand behind Nitish. This displeased other BJP leaders, who agreed that such behaviour was a result of Rai's closeness to the top leadership in Delhi. "He has also taken all the talk about him being the chief ministerial face of the party too seriously. That's why he wanted to stand next to Nitish but ended up standing behind him," a senior BJP leader said. Meanwhile, Nitish, too, understood everything and could not help but smile over the situation.
On the move
 The chief election commissioner, Rajiv Kumar, and the chief electoral officer of Uttarakhand, Sowjanya, trekked 18 kilometres to visit Dumak village in Chamoli district that saw an 80 per cent turnout in the assembly polls held earlier this year. In a video tweeted by the Election Commission, Kumar said that the trek was to encourage officers who endure hardship to conduct polling in remote places, and to showcase Dumak as an example to well-connected cities, where voter turnouts are lower. Kumar, a former Jharkhand bureaucrat, is a trekker and has been keen to make a point since he took over last month. He has given up some perks, cracked down on defunct parties suspected of tax fraud, and has, reportedly, renewed efforts to gain more powers like the deregistration of parties.
Still ignored
 The former member of parliament, Prasanna Kumar Patasani, popular as 'Baba' among his followers, is miffed with the Biju Janata Dal president and the CM of Odisha, Naveen Patnaik, for not receiving a nomination to a Rajya Sabha seat. Baba was denied the BJD ticket to contest the Bhubaneswar Lok Sabha seat in 2019 in spite of being the sitting MP. However, he was promised a Rajya Sabha berth to make way for the former Mumbai police commissioner, Arup Patnaik. Arup lost to the BJP candidate, Aparajita Sarangi. While Arup is believed to be in the good books of the CM, Baba's wait for a Rajya Sabha seat continues. There have been two elections to the Rajya Sabha after the 2019 Lok Sabha elections but Baba's claims have been ignored, much to his chagrin. 
Thinking ahead
The BJP MP, Varun Gandhi, is lending a helping hand to job-seekers by arranging for their travel to examination centres. Distressed youngsters are reaching out to him through social media. Varun assures them of help and then videos of the beneficiaries thanking the MP come up on social media. Most of the youngsters are from Uttar Pradesh and Bihar. Although Varun is a BJP MP, he has lost the favour of the party leadership, having taken a stand against the BJP on the farmers' protest and other issues. Varun will likely have to contest as an independent candidate or embrace some other party for the 2024 Lok Sabha elections. A lot of goodwill is needed to win as an independent candidate and Varun seems determined to find a way. 
Surprise choice
 Senior NDA leaders in Bihar, including Nitish Kumar, were kept waiting for hours for Shambhu Sharan Patel, one of the BJP nominees to the Rajya Sabha from the state, to turn up at the legislative assembly. Turned out that he had no idea that he was being fielded as a candidate to the upper House of Parliament. When he got to know on the eve of the nomination-filing day, he went into a frenzy, trying to arrange all the documents. But it took time and, thus, everybody was kept waiting. Patel's nomination is an effort by the BJP to tilt caste equations in its favour. But the move has not gone down well with the old-timers in the party, who alleged that a newcomer was chosen because of his proximity to senior leaders in Delhi. 
 Repeat offence
 The new lieutenant-governor of Delhi, Vinai Kumar Saxena, has been making rounds, and calling for meetings with other administrative departments. This has miffed the ruling Aam Aadmi Party government, which has questioned if Saxena has the power to give orders to Delhi Jal Board officers. Delhi seems to be headed the Puducherry way. When Kiran Bedi was the lieutenant-governor there, she would turn up at garbage dumps and ration shops and start giving orders to officials and private citizens alike.
Footnote
  The BJP knows that Kerala is a different ballgame. In spite of trying hard, the party has failed to make any headway in the state barring once in 2016, when O Rajagopal was elected to the Assembly. But in 2021, the BJP lost its lone seat and saw a reduced vote share across the state. In the recent by-election for the Thrikkakara assembly constituency, the saffron party, once again, fared poorly. The BJP candidate, AN Radhakrishnan, however had a rather honest answer and said: "We are so used to losing here."