New York removes last street payphone
AMERICAN DIARIES: Uvalde shooting brings debate of stricter gun laws to the fore again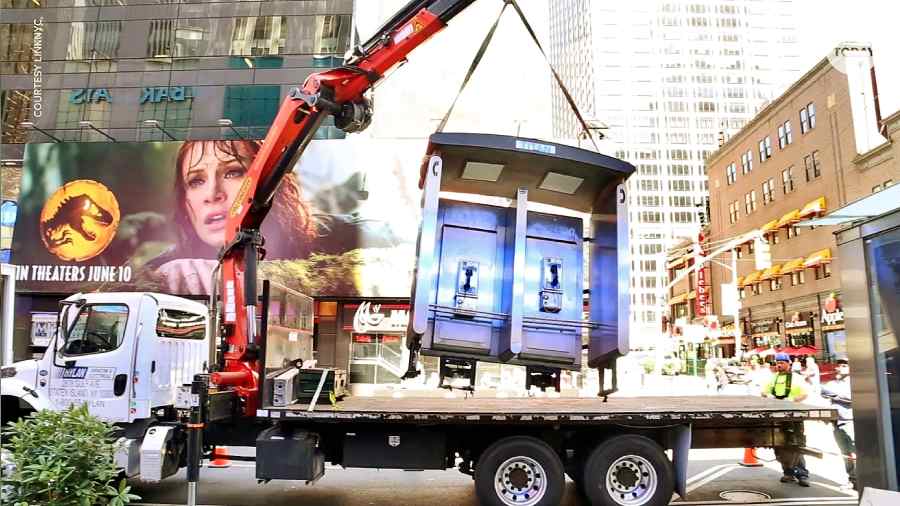 ---
Published 04.06.22, 02:09 AM
|
---
Last call 
New York City has just had its last street payphone removed. Kids growing up today will one day only see them as an ancient relic in photographs and films. While nostalgic, it was a practical decision given the proliferation of cell phones. The project to remove all the city's payphones started back in 2015, handled, ironically, by the company called LinkNYC, which had established the city's notable digital billboards and even high-speed WiFi and 5G access. The solitary remaining payphone was located on 50th street and 7th avenue, right on Times Square. It will be displayed at the Museum of the City of New York as part of an exhibition, Analog City, which showcases what life was like in the city before the advent of computers and machines. At this exhibition, visitors can try out items like the rotary phone and typewriters.  "As a native New Yorker, saying goodbye to the last street payphone is bittersweet because of the prominent place they've held in the city's physical landscape for decades," said Matthew Fraser, Commissioner of the Office of Technology and Innovation. Many people and media organizations are calling this an 'end of an era'. The Manhattan borough president, Mark Levine, shared a video on Twitter of the payphone being lifted off the street by a crane.  But everyone realises that with more and more WiFi hotspots and 5G connections, we are moving from one lifeline to another.
United stand
The horrific tragedy of a mass shooting of two teachers and 19 schoolchildren in Uvalde, Texas, has brought the country back, yet again, to familiar conversations around the friction between stricter gun laws and the protection of constitutional rights. While lawmakers and politicians are trying to hash out these conversations, some celebrities stepped in to offer their condolences on the matter. Meghan Markle was seen visiting a makeshift memorial outside the courthouse at Uvalde, paying tribute to the victims, to the surprise of many. A spokesperson for Markle and Prince Harry told Harper's Bazaar that the Duchess visited 'in a personal capacity as a mother, to offer her condolences and support in person to a community experiencing unimaginable grief'. She reportedly went to a local community centre afterwards that was hosting a blood drive.  Another familiar figure, the actor, Matthew McConaughey, also shared his grievances. McConaughey himself was born and brought up in Uvalde with his mother teaching at a high school a mile away from the site of the shooting. He was one of the first people to speak out after the tragedy and subsequently visited the local community centre and spent time with the families of the victims. He called for action, not unlike other public figures. Kim Kardashian wrote a long statement on Twitter in which she called for a complete ban on assault weapons and an increase in the legal age to purchase firearms. Selena Gomez, also a Texan like McConaughey, articulated similar feelings on social media. "If children aren't safe at school, where are they safe?" the actress enquired. 
In memoriam
Memorial Day was celebrated on May 30 with travelling and cookouts, and unfortunately a steady spike in the country's Covid cases. On this day, people pay tribute to those who fought for America and sacrificed their lives for the country. Given that it is always a three-day weekend, it is also an unofficial start to the Summer which people use to travel around. Celebrations took place around the country. In New York, a 100-foot flag was rolled out at the annual celebration at the Intrepid Sea, Air & Space Museum. People and family members of veterans also visit various memorial sites and cemeteries, such as the Vietnam Veterans Memorial in DC or the Arlington National Cemetery which was visited by President Joe Biden, honouring those who died while on service.  In Washington, DC, the National Memorial Day Parade returned. The parade featured floats, performances, storytelling of American history and the American Revolution, a marching band and a riderless horse to honor the fallen soldiers. Also taking place over the weekend is the Rolling To Remember demonstration ride, an annual motorcycle rally that was created to call attention to soldiers who are missing in action or prisoners of war, as well as to raise awareness of the growing suicide rate among veterans. When it comes to travel, the price of gas, flight and hotels have gone up compared to last year, yet the weekend travel volume is predicted to have been around 8 per cent higher than last year according to the AAA, the American Automobile Association.
Footnote
There is a 25-foot-long statue of "Reclining Liberty" installed in Harlem. It is a sculpture of the Statue of Liberty in a Buddha-like laying down position that has become a landmark of that area. The statue was moved to the sprawling waterfront Liberty State Park in Jersey City. A campaign on Kickstarter had been launched this month to fund the statue's move. The real Lady Liberty can be seen unobstructed from the same park.
Suhashini Sarkar