New spectre
High inflation dents hopes of an economic resurgence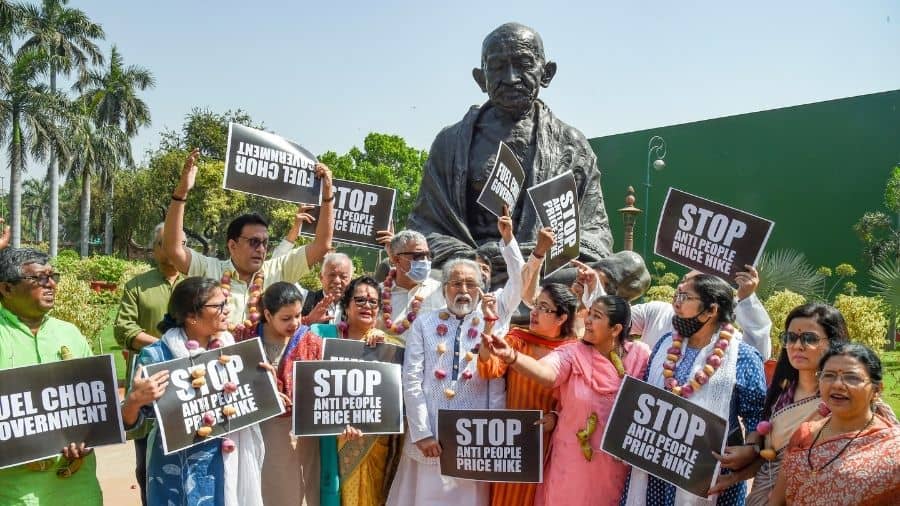 Protest over fuel price hike and rising inflation at Parliament House complex in New Delhi
File Picture
---
Published 19.04.22, 01:26 AM
|
---
Inflation's resurgence is a threat to India's budding economic revival. Soaring prices of food, fuels and much else have firmly ensconced it centre stage, pushing aside other problems and testing economic management. At the start of the new fiscal year, growth expectations lie lowered, monetary tightening is on the anvil, and it is debatable how long fiscal policy can withstand the adjustment or financing pressures of higher food, fuel and fertilizer prices. The biggest setback is its interruption of the nascent upturn in the business cycle. This is a serious risk as households and businesses postpone or scale down expenditures even before these had resumed properly or taken off. In the backdrop of their emasculated state, during the pandemic and before that, an inflationary resurgence does not augur well for a strong recovery.
That prices were rising all of last year is well-known. But the price growth had skipped foods; that in fuels was countered by reduced levies and a freeze on price increases last November, while firms absorbed more input costs and passed on less to the consumers. At the start of the year and until February, when the budget was framed and monetary policy reviewed, retail inflation was expected to be moderating during the last quarter itself. Subsequent developments have overridden that understanding. For one, the Russia-Ukraine war and the related economic sanctions have pushed up the global prices of oil, commodities, fertilizers, food grains, metals and more; a fresh round of disruptions to world trade has compounded these. Then, from mid-March onwards, the government steadily passed on higher import costs to retail prices of all fuels, cooking and transport — petrol, diesel, LPG, LNG, CNG and so on. More recently, the Omicron outbreak in China has added to global supply woes with its strict lockdowns in major cities.
Inflationary pressures persist abroad as well. It has been noted that the inflation rates in the United States of America and the European Union exceeded India's last month. However, the respective wellsprings and economic contexts are very different. In the advanced countries, inflation is a result of their large fiscal packages in the wake of the pandemic, exacerbated by the related supply deficiencies and demand distortions; fresh scarcities caused by the military conflict aggravated it further. The presence of both demand-pull and cost-push forces is compelling the central banks in the US and other advanced countries to raise interest rates and scale back liquidity measures. These measures are necessary to moderate excess demand and cool down an overheated US economy that is facing immense shortages of workers and rising wages.
India's case is reverse: unemployment remains high, incomes are yet to be restored to the pre-pandemic strength, consumption remains depressed, and the 7.2 per cent growth anticipated this year isn't as strong as it seems because it follows a -6.6 per cent contraction last year. The commonality with the rest of the world lies in the war-induced effects, especially food and energy prices, which have synchronized inflation in the world economy.
The context of this inflation is also different from India's own recent past. For example, the post-2008 period saw energy and food prices pacing even faster but incomes were growing strongly at the time, reinforced by expansionary monetary and fiscal policies and, hence, pushing up general price growth — not unlike the US today.
Of chief concern is the steep increase in food prices where the growth has outpaced that of rural wages, squeezing real disposable incomes. Food inflation in India has the singular capacity to encourage households to expect higher inflation in other goods and services in the future. It dents demand for non-food items that allow a choice of postposing or giving up purchases altogether, such as that of refrigerators, air-conditioners, cars, motorbikes and pricier packaged foods. Marginal households reduce consumption and/or shift to cheaper foods. It also impacts the government expenditure by pushing up claims for higher food subsidies (also fertilizers), pulling away resources or planned spending from elsewhere; food being an essential need, and costlier food being politically costly as well, the government is often left with little choice but to yield.
Consumers are also impacted as firms pass on their raised input costs to final sale prices. Upon an unprecedented and sustained increase in producer prices throughout last year, the fresh outburst this year has led companies to revise selling prices in another round that wasn't expected earlier. Higher costs also render many projects — planned and those in progress — unviable or subject to revisions, slowing advancement of business investments overall. In aggregate, therefore, higher inflation is a drag upon private consumption and investments as well as public expenditures.
On the economic management side, the centrality of inflation is squeezing policies into an exceedingly narrow path ahead. Food inflation is mostly amenable to supply-side management — that is government interventions to influence prices and quantities of specific items. In the present instance, the global context of food scarcities and rising prices, the unavailability of key inputs such as fertilizers or consumption items such as edible oils, are magnifying the task of its containment through export and/or import restrictions. Farmers, too, are excited by higher market prices and brightened export prospects after years of depressed farm prices. Next, the strained financial position poses a question mark upon the government's ability to cut fuel duties in order to restrain transport, distribution and other consumer prices.
Handling high growth with high inflation — such as in the case of the US — is comparably easier because raising interest rates or cost of funds moderate consumer and investment demand, which is what is required to balance vis-à-vis supply capacities. There is, of course, the test to manoeuvre a 'soft landing' — not to push the economy into a recession due to overtightening. Bringing down inflation sparked by a negative turn in terms-of-trade (high oil-commodity prices) when growth is far below potential results in a difficult sacrifice owing to higher interest rates. For the Reserve Bank of India, which lowered its growth forecast by 60 basis points and increased that of inflation by double the magnitude earlier this month, this isn't the only challenge. It must also reckon with the US monetary policy reversal as well as the impact upon short-term external capital flows, a wider current account deficit and exchange rate pressures that can exacerbate domestic inflation and so on. The central bank has a difficult balancing task ahead.
The many facets of inflation are testing its management under the present circumstances. Its resurgence at a time when the economic cycle had just acquired an upward tilt, but not gained self-sustaining strength, is a grievous hit. The threat this poses to short- and medium-term growth is obvious.
(Renu Kohli is a macroeconomist)