Money bags: SC allows sale of electoral bonds
A citizens' fund for political donations to be accessed on the basis of political performance or other parameters that safeguards democracy should be created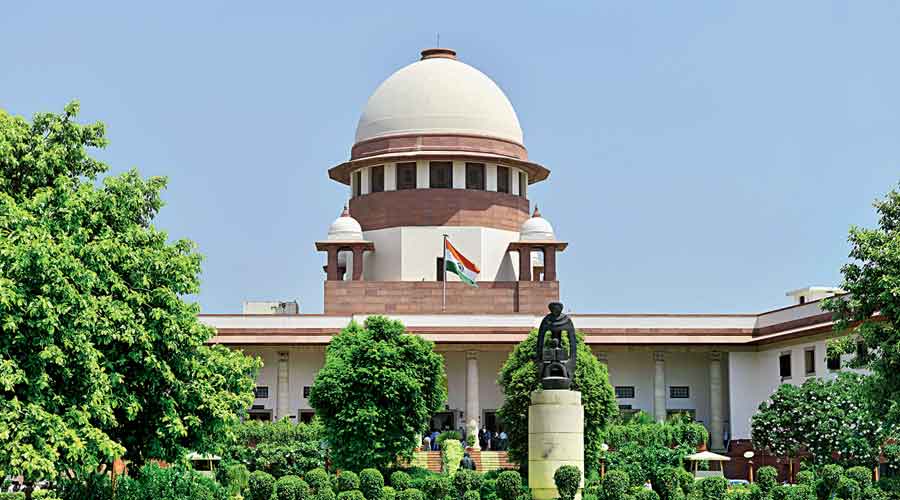 Supreme Court of India.
Shutterstock
---
Published 09.04.21, 01:19 AM
|
---
While dismissing the petition seeking to stay the sale of electoral bonds before assembly elections began in several states, the Supreme Court had said that there is no illegality or anonymity in the periodic issuing of these documents since adequate firewalls are in place on the basis of the suggestions of the Reserve Bank of India and the Election Commission. The apex court's nod has enabled the finance ministry to launch its quarterly sale of bonds to political outfits. The window period, on this occasion, will last till April 10. In spite of the highest court's assurance, it will be fair to say that murmurs about the opacity of the mechanism persist. Earlier, every transaction greater than the value of Rs 20,000 had to be reported to the EC: this clause has been done away with in order to uphold donors' secrecy. There is worry that this kind of anonymity could lead to the creation of a quid pro quo arrangement between business donors with deep pockets and the government. Such a patron-client relationship is disastrous for democratic equality; the party in government, flush with funds from influential donors, would have an unfair advantage over its rivals during elections; its patron, too, is likely to have considerable leverage on the levers of power on account of being the financer. There is also evidence that the field of electoral financing is far from equal. Before the last Lok Sabha elections in 2019, the ruling Bharatiya Janata Party had raised the lion's share of its finances — 61 per cent — through this shadowy portal of electoral bonds, raising allegations of the deepening of the ties between State and corporations. Reservations have also been expressed — the EC had raised this very point earlier — that electoral bonds could encourage the channelling of black money into politics. The EC's change of stance on the matter is mystifying.
Opacity is antithetical to democracy. The Supreme Court has repeatedly highlighted the importance of transparency: in a path-breaking judgment, the court had made it compulsory for contestants to declare their assets and criminal antecedents, if any, while filing nominations. The thrust towards transparency should be taken forward to create a citizens' fund for political donations that can be accessed on the basis of political performance or other parameters that safeguard the spirit of democracy.