Modi talking about horse-trading makes a mockery of democracy
Can anyone in independent India remember a prime minister openly admitting to what, in effect, amounts to horse-trading?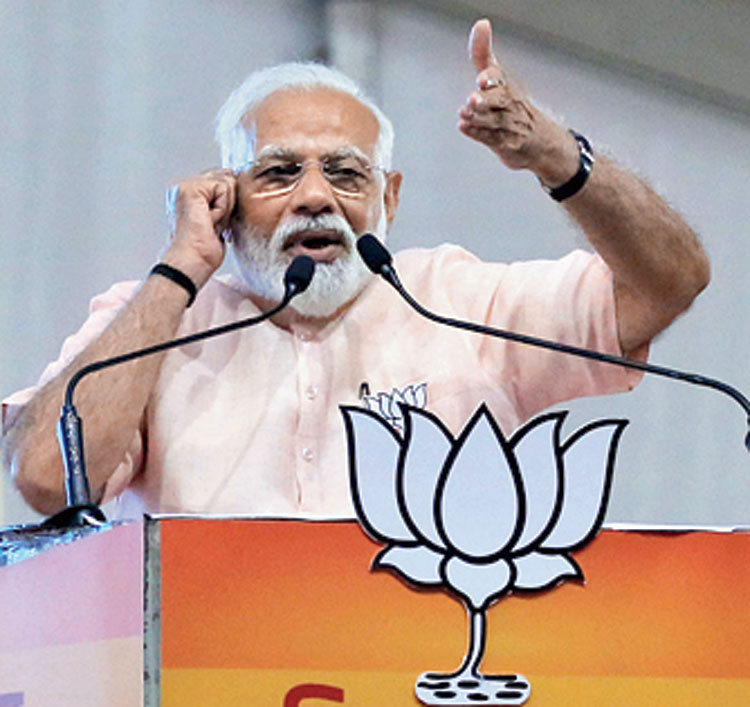 ---
---
Sir — People have become used to the empty rhetoric dished out by the prime minister, Narendra Modi. But the declaration that 40 Trinamul Congress members are in touch with him and that they will desert the TMC once the results are declared is too much even by his standards ("Horse mitron...", April 30). Can anyone in the history of independent India remember a prime minister openly admitting to what, in effect, amounts to horse-trading? This from a person who claims to be the protector of honesty and integrity in India. It is clear that Modi and his Bharatiya Janata Party are ready to go to any lengths to hold on to power.
It is unfortunate that even while the elections are on, the prime minister is talking about horse-trading. This makes a mockery of the democratic process. What is even more worrying, however, is the seeming inaction of the Election Commission, which is tasked with upholding the constitutional values that form the foundation of democracy. Is the EC unwilling to save the democratic process?
Bidyut Kumar Chatterjee
Faridabad
Sir — It is bizarre that the prime minister announced his intentions of horse-trading after the elections at a public rally. It is unheard of not only in India but also in any other free country. Even dictators would think twice before making such nefarious intentions plainly known to the people. Why is the EC silent on such a blatant violation of the model code of conduct?
Since institutions charged with upholding democracy seem to have been rendered ineffectual, it is up to the people to deliver a resounding rejection to the chowkidar who thinks he can get away with anything by playing on religious insecurities.
Kalyan Ghosh
Calcutta
Sir — The prime minister's claim that 40 Trinamul Congress members are in touch with the BJP with the intention of joining that party reveals a weakness in the Indian democratic setup. Morality has no place in politics anymore. Elected representatives prefer changing their allegiance instead of standing their ideological ground. It reminds us of a well-known fact that politicians who are denied a ticket during the elections often switch parties. Shifting loyalties are common also in case of hung legislatures. All of this amounts to cheating voters.
Subhash Chandra Agrawal
Dariba, Delhi
Sir — It is a shame that in spite of being the holder of a high constitutional office, the prime minister openly induced legislators to switch loyalties and tried to drive a wedge in an Opposition party. The EC must take immediate action against Narendra Modi.
Yet, it must also be mentioned here that Mamata Banerjee seems to be suffering from selective amnesia. Has she forgotten the accusations against her and her party of engineering the defections of numerous members from other parties?
Some kind of system must be instituted wherein people who want to switch parties have to give advance notice to their party chief or obtain no-objection certificates from their parties for doing the same. Otherwise there will always be a possibility for horse-trading.
Khokan Das
Calcutta
Sir — Indians are being forced to feel that there is little point in casting a vote if electoral malpractices will ensure that a party that has lost the confidence of people will come back to power.
S. Bhandari
Calcutta
Immense value

Sir — There is no dearth of talent in Calcutta when it comes to Western music. The city has produced some of the best musicians and bands in the country. However, those trying to make a living playing music here keep struggling for years because their audiences do not want to pay to listen to live music. Most Calcuttans want to attend shows for free; do they not realize that by doing so, they are systematically ruining the city's Western music scene? Making music is a creative, arduous process; musicians deserve to be paid for their labour as much as professionals from other fields.
Shalini Roy
Calcutta