Meeting Shahed Saleem at Ramadan Pavilion
Eye on England | At a time when the Indian government has opposed same-sex marriages, a BBC documentary has dealt sympathetically with the case of 28-year-old Anish Pathak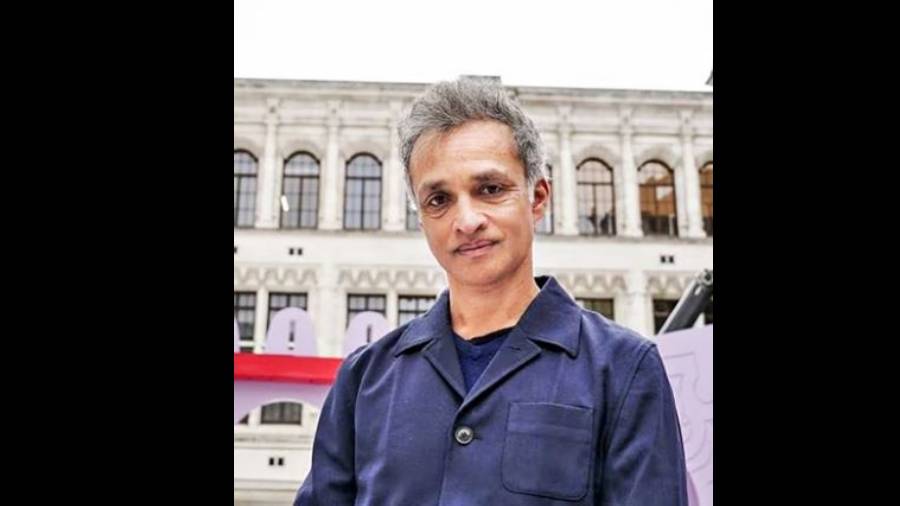 Shahed Saleem: Artistic eye
Sourced by The Telegraph
---
Published 18.03.23, 04:52 AM
|
---
Celebrating faith
Britain has some 2,000 mosques, I am told by the architect, Shahed Saleem, who teaches at the University of Westminster and has written The British Mosque: An Architectural and Social History. The latest mosque is one Saleem built from wood and painted yellow, orange, green, red and purple. It has been exhibited at the Victoria and Albert Museum to mark ramazan from March 22 to April 21. The installation is a collaboration between the V&A and the Ramadan Tent, a charity set up in 2013 with "a mission of bringing communities together" and also developing a more sympathetic understanding of Islam through artistic, cultural and creative events.
I visit the V&A on a day when Saleem is up on a hoist, supervising construction. Saleem's design of the "Ramadan Pavilion", as the V&A's initiative is called, has been inspired by Britain's mosques as well as from the museum's archives, which includes the first mosque-like structure in Kew Gardens. The beautiful Shah Jahan Mosque in Woking, Surrey, which went up in 1889, still stands.
I also meet Omar Salha, the Ramadan Tent's Turkish-Lebanese origin founder and chief executive, who tells me the V&A mosque will be used for prayer, cultural workshops on calligraphy and Turkish-style Ebru painting, and two free iftar events where biryani, courtesy of the Indian celebrity chef, Asma Khan, will definitely be served.
Uniquely Indian
Shekhar Kapur has been a friend from his days directing Bandit Queen. From Dubai, he gave his reaction to the Oscars for "Naatu Naatu" and The Elephant Whisperers. "What's happened to Indian cinema is amazing!" he sums up. "What RRR has done is that a fundamentally Indian company has not tried to be a so-called 'Oscar winning film'. It is a celebration of what Indian cinema does best — 'over the top' cinema. It's great. The person that directed The Elephant Whisperers [Kartiki Gonsalves] has been a wildlife photographer for years. And Guneet Monga has been a producer for 20 years in India, constantly battling to take Indian films overseas. But this is her first big international success."
On what constitutes an 'Indian' film, we discuss Slumdog Millionaire, which won eight Oscars in 2009. "Well, I've always considered it an Indian film. And I've been very disappointed that it never gets called an Indian film, it gets called a British film. I was quite upset about that. Danny Boyle directed it and Simon [Beaufoy] wrote it and they're British, but it was based on a novel by an Indian [Vikas Swarup], it had Indian actors based in India, and the songs were by A.R. Rahman."
Diverse show
On a dark, rainy night, I take the train from Waterloo to Windsor & Eton Riverside, walk 15 minutes across the river and arrive for an exhibition of Chila Burman's art at the Drawing Schools of Eton College. Chila was invited there by Caroline Atwill, head of art at Eton. The two women became friends many years ago when they were fellow teachers at Villiers High School in Southall which is dominated by Punjabi pupils. "Such an exhibition [by a British-Asian artist] would not have happened at Eton 20 years ago," declares Amay Chaurasia, who estimates there are 20-25 Asian boys in his year "and it is much the same in other years" in a now diverse school with 1,350 pupils. Eton — once a very white institution — has produced 20 prime ministers, including David Cameron and Boris Johnson. It does have India connections but from colonial times. In 2005, I went to an exhibition, Eton and India, which emphasised that 11 viceroys and five governor-generals [among them Curzon, Cornwallis, Canning, Roberts, Lansdowne, Irwin and Linlithgow] had been pupils at Eton.
Sympathetic history
At a time when the Indian government has opposed same-sex marriages, a BBC documentary has dealt sympathetically with the case of 28-year-old Anish Pathak, who has struggled to reconcile his Hindu faith with being gay. He was subjected to homophobic bullying at school and only came out when he arrived at the age of 18 at Selwyn College, Cambridge, to read law. In the programme, My Hindu Coming Out Story, we see Anish find solace when he meets a woman counsellor at the Shree Ghanapathy Temple in southwest London where he is told that "nowhere is homosexuality proscribed in the Hindu scriptures." He is informed that in the Mahabharata, Arjuna spends a year disguised as a eunuch and that some Hindu gods are depicted as "half man, half woman." As far as I could tell, Anish's family does not appear anywhere.
Footnote
At the Questors Theatre in west London, Meneka Das has done a brilliant job of directing Tanika Gupta's adaptation of Henrik Ibsen's A Doll's House, set in Calcutta in 1879. As we filed out of the theatre, an Englishwoman volunteered: "Best play I've seen for a long time." In this case, the husband, Tom Helmer, is English, his wife, Niru, a Bengali. So are her widowed friend, Krishna Lahiri, and maidservant, Umadi. Much of the fun comes from the examination of what it means to be an Indian in colonial India.