Mamata Banerjee's greatest success may also have been her greatest failure
Bengal seems to be awaiting a future that can grimly be glimpsed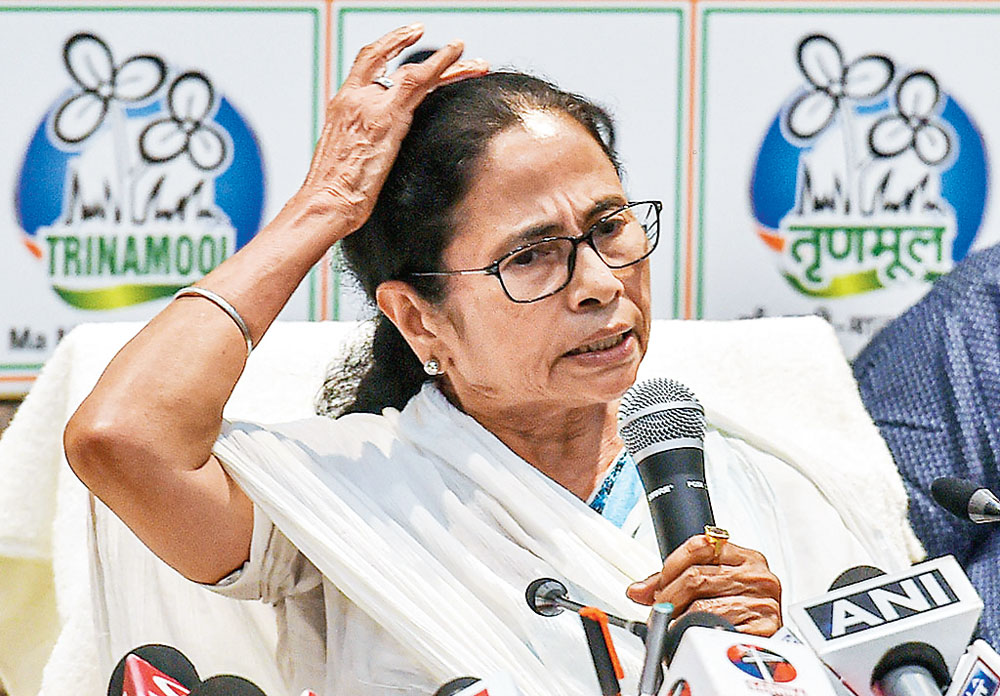 ---
Published 01.06.19, 06:30 AM
|
---
Mamata Banerjee's refusal to attend the new Central government's swearing-in was understandable. What she earlier called a "constitutional courtesy" lost that neutral label when it became clear the two sides are locking horns in political conflict. Narendra Modi would have done well not to invite Bharatiya Janata Party supporters from West Bengal who claim their relatives were victims of Trinamul Congress violence. That converted a solemn State ritual attended by foreign dignitaries into a raucous party triumph.
Shyama Prasad Mookerjee would have been pained at this political exploitation of a human tragedy on a formal occasion. In its anxiety to seize power, the BJP, which claims descent from his own Bharatiya Jana Sangh, need not ride roughshod over the ideals and principles and sense of dignity that shaped Shyama Prasad's public life. Like Britain's 19th century newspaper revolution which meant mass circulation dailies that gave the people what they wanted (not what they deserved or was good for them) through cheap papers that were said to be "written by office boys for office boys", the BJP has given voters a taste of the Hindutva to come. Some might welcome this but it won't make for stability.
Listening to Dilip Ghosh, the BJP's state chief, and some of the defectors from the Trinamul Congress currying favour with cow belt bosses by answering questions in Hindi on national television, I was reminded of Rabindranath Tagore delivering Calcutta University's convocation address in Bengali for the first time. Shyama Prasad was then the university's youngest vice-chancellor. Riotous events like attacks on Muslims in places as far apart as Begusarai and Gurugram, barracking Mamata Banerjee with aggressive slogans, ghar wapsi, church desecration, gau rakshak lynching, love jihad and other forms of turbulence that the BJP allows the sangh parivar to indulge in recall Shyama Prasad's letter to Bengal's governor, Sir John Herbert, on July 26, 1942. Explaining that he did not support the Quit India movement which could "stir up mass feeling, resulting [in] internal disturbances or insecurity", Shyama Prasad stressed it was the government's duty to resist such lawlessness.
Both parallels are apposite as Bengal marks time to a future that can grimly be glimpsed. People sitting in the next row of chairs in Delhi airport's domestic departure lounge on Wednesday evening were loudly discussing Narendra Modi's first compulsion in his second term. The consensus was that he would have no problems enforcing his will on the nation but for his weakness in the Rajya Sabha. Even that wasn't seen as an insuperable obstacle. Karnataka was bound to fall in the BJP's lap in a day or two, so went the verdict. As for Bengal, Modi and Amit Shah might conceivably have to wait till 2021 but probably not. Although the conversation was in Hindi, "law and order" and "Article 356" were mentioned in English more than once. The speakers knew that a small group of protesters had gathered at Delhi's Jantar Mantar last Sunday to object to what they called Mamata Banerjee's "non-acceptance of [the] Lok Sabha mandate" and her "Kashmirisation of Bengal", whatever that might be. That can snowball into a major constitutional crisis. No state can compete with the Centre in this respect.
Not that the chief minister is only an innocent victim of BJP machinations. But then neither has the National Democratic Alliance lived up to its election pledges of jobs, exports, purge of black money and vigorous free market enterprise. Unemployment is higher than at any time in the recent past. Despite handsome fees to APCO Worldwide and other public relations consultants, and generous help from many of India's statutory institutions, the Index of Economic Freedom calls the India of capitalists like Adani and Ambani "mostly unfree" and places it 129th out of 186 countries in the freedom list. Domestic voters are enthused because, as Kamal Nath pointed out the other day, the NDA/BJP gives them the circus of religion instead of the bread of a thriving economy. Dismissing the BJP's appeal as "just Hindutva, nothing else", he added, "Once people decide they are voting as Hindus they forget everything else." No wonder religious polarization has sharply increased.
Mamata Banerjee tried the same magic with her hijab, namaz and "Khuda Hafiz". But there are just not enough Muslim voters in Bengal to make it worthwhile. Her latest mistake was to appoint Firhad (Bobby) Hakim, a Muslim politician with no municipal experience, mayor of Calcutta. Before that she announced stipends of Rs 2,500 and land for house construction to 30,000 imams and muezzins. Though the courts struck down this largesse, the suspicion persists that she found circuitous ways of making the payments. She must lately have realized the folly of so markedly patronizing Muslims. Trying to repair the damage, she got Hakim to promise Rs 380 to Brahmin priests per corpse at the cremation ghat but this was too little too late. By then she had made one strategic blunder after another, alienating the non-Bengali business community that accounts for 40 per cent of Calcutta's population, controls the city's money bags, and is the BJP's natural constituency. Like the comprador class everywhere, it was ready to play ball with Jyoti Basu's successor. But she drove Tata Motors into Modi's arms in Gujarat, and failed to check the bullying and protection rackets run by people around her.
The promise of free entry for investors that she held out in an early session of the Indian Chamber of Commerce that loudly applauded her every word wasn't kept. It was a complaint, especially by builders, that while the Left Front operated a streamlined system of collecting funds, her regime was up for grabs because its many representatives acknowledged no central authority. She herself may be untouched by scandal but that can hardly be said of all her protégés. Few if any Trinamul politicians can claim public respect or even an identity that doesn't depend on her. Unfortunately, that is even more true of the new crop of BJP politicians. Babul Supriyo is an engaging young entertainer with a chequered past who was again sworn in last Thursday as a minister of state. But Debasree Chaudhuri, the new young MP from Raiganj, is a novice. If Modi is planning the conquest of Bengal, he is not yet deploying his heavy artillery even though Debasree Chaudhuri claims that Trinamul will be finished in a few months. Whether or not it is finished, we can expect clashes such as those that marked the Communist Party of India (Marxist)'s ride to power in the 1970s.
Mamata Banerjee's greatest success may also have been her greatest failure. She ousted the Left Front after it had been in power for 34 years without realizing it was paying the penalty of success. The CPI(M)'s land reforms, village schools and a successful agricultural wages policy had created a new awakening in the Bengal countryside. The young sons of cultivators nursed new aspirations and yearned for middle class respectability. I had seen the phenomenon many years ago in Punjab where students of the agricultural university in Ludhiana, all the promising sons of successful cultivators, who had been selected on the understanding that they would take their newly learnt classroom skills to the field and improve agriculture. Nothing could have been farther from their vision of the future. Having attended university, they thought physical labour demeaning. The bhadralok is an all-India phenomenon.
Eight years ago when the ragtag and bobtail Trinamul mob was unexpectedly catapulted to power, this column warned that Bengal might be preparing to jump from the frying pan into the fire. That warning seems apposite again as the BJP prepares to mount a major assault on what remains of the Trinamul citadel. Mamata Banerjee must put her house in order with honest and pragmatic economic policies if she wishes to survive.