'Marital rape is no less than rape'
The government thinks that marital rape is not applicable to Indian society. But Sharmistha Ghosal begs to differ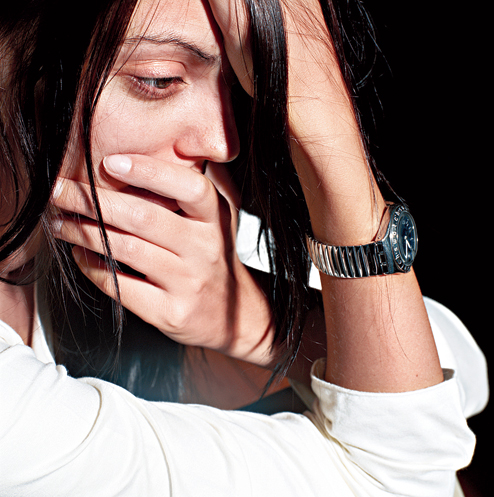 ---
Published 06.05.15, 12:00 AM
|
---
The girl from Barrackpore was just 19 when she was married. The marriage didn't last long — within 10 months, she'd returned home, traumatised by her husband's constant demand for sex. Literally raped on the first night of the marriage, she was pressured to have sex in various ways more than twice every day.
"I am relieved that phase is over, but I wish I could punish him for what he did to me. It's no less than rape," says the young woman, who has now filed for divorce.
But the government does not think her husband deserves punishment. Last Wednesday, the Centre told the Rajya Sabha — in reply to a question by member of Parliament K. Kanimozhi — that the concept of marital rape was not applicable to Indian society where marriage was viewed as "sacred".
The government's position has drawn criticism from all quarters. The UN Committee on Elimination of Discrimination against Women had twice (in 2007 and 2014) urged India to criminalise marital rape. Kanimozhi in Parliament cited a UN report which said that 75 per cent of women in India were raped in marriages.
"Marital rape continues to be a specific exception in the Indian Penal Code (IPC) though it's unconstitutional. Even the Criminal Law Act amendment in 2013 speaks of rights to a woman's bodily integrity, dignity and sexual autonomy," says Supreme Court lawyer Vrinda Grover, who specialises in domestic violence and human rights.
The government took steps against domestic violence with a law against it. Marital rape was, however, not in its ambit. But experts believe that there has to be a provision for such abuse, for sexual violence is a part of domestic violence.
The problem is that marital rape is not reported as much as other forms of violence, possibly because of the shame and stigma attached to it. Women may also under-report such acts of violence because sexual coercion in marriages is often perceived as "normal", say reports released in 2014 by the International Center for Research on Women on "Masculinity, Intimate Partner Violence and Son Preference in India".
In defence of the government's position, the minister of state for home, Haribhai Parathibhai Chaudhary, also said in Parliament that the 172nd report of the Law Commission of India of 2000 did not recommend criminalisation of marital rape. But lawyers don't buy that, pointing out that the report is old and has been superseded by more recent reports.
"The Law Commission's report is a dated one. The Justice Verma Commission report, which came later, has in so many words recommended criminalisation of marital rape," points out criminal law expert Kaushik Gupta.
The Justice Verma Committee report of 2013 recommends that "the exception for marital rape be removed" from the law. It states that "the law ought to specify that a marital or other relationship between the perpetrator and victim is not a valid defence against the crimes of rape... The fact that the accused and victim are married or in another intimate relationship may not be regarded as a mitigating factor justifying lower sentences for rape".
Gupta believes that not including marital rape as a crime violates Article 21 of the Constitution which guarantees the right to life. "It [life] also means living with dignity. By not recognising marital rape as a crime, that very dignity is denied," he says.
But there is a flipside to the argument — and that's the fear that criminalisation of marital rape could lead to a slew of false charges and abuse. Husbands can be falsely charged with marital rape in cases of marital dispute.
"Under the existing laws the husband is always guilty unless proven innocent. How will one prove that no rape has taken place? Then every honeymoon would be a rape," says Rajesh Vakharia, president, Save Indian Family Foundation, Delhi.
Vakharia holds that men can also face unusual sexual demands. "If at all any criminalisation of marital rape should take place, make it gender neutral," he adds.
But activists do not believe the clause will be misused widely to settle scores. Grover points out that most women go through a lot before they actually complain. "So all those who speak of abuse of law perhaps don't want women to be equal in the eyes of the law," she states.
Some activists, however, stress that the law does have provision for women who face marital rape. "IPC Section 498A and the Domestic Violence Act include remedy for cruelty to wife, and isn't marital rape a cruelty," asks Flavia Agnes, lawyer and women's rights activist.
The Protection of Women from Domestic Violence Act, 2005, has enough redress and provisions such as alternative accommodation, maintenance and custody. But the hitch is that it's time consuming and takes more than six months to a year for proper implementation.
Lawyers also feel that there is another very potent section under the IPC that has strict penal provisions. "Section 377 of the IPC, which is usually known as an anti-gay law, actually does provide remedy for victims of unusual sex. Anyone who compels a person (male or female) to indulge in such carnal acts, if proven, can get a jail term of up to 10 years or life imprisonment," says Debashish Banerjee, advocate at the Calcutta High Court, who also heads the Human Rights Law Network in the city.
"I often ask my clients who are victims of such sexual abuses from their husbands to invoke Section 377 but few want to do so," Banerjee says.
The problem, the experts say, is that the law is all there but hardly implemented. "These laws should be strictly implemented. Where the conviction rate for rape is 10-15 per cent, do you think marital rape would stand any chance," Agnes asks.
The veteran activist believes that marital rape needs to be addressed differently. "More than 60 per cent of Indian marriages are arranged with under-18 girls, for whom the first night of marriage itself is rape. By that logic, all those men should be behind bars. Marital rape is a different kind of offence, needing a different redressing and punishment system," Agnes stresses.
But the minister's position indicates that the government does not think marital rape is an issue at all. For the government, marriages are "sacred" and therefore marital rape is a contradiction in terms.