Lost voice: Editorial on industry and politics
The business fraternity must rediscover its lost voice for the sake of the nation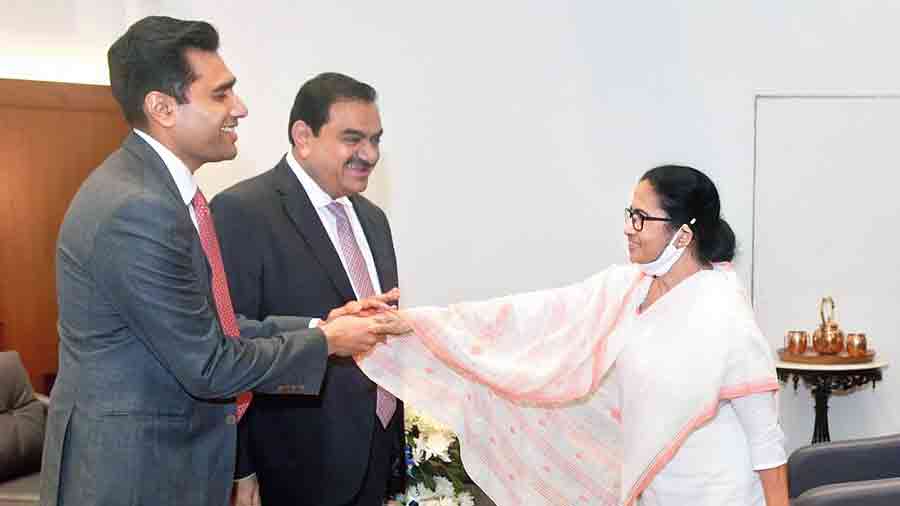 CM Mamata Banerjee greets industrialist Karan Adani and his father Gautam Adani at the Bengal Global Business Summit on Wednesday.
Telegraph photo
---
Published 22.04.22, 12:29 AM
|
---
The sixth edition of the Bengal Global Business Summit began with a slew of promises from the titans of Indian industry. Gautam Adani, to cite one example, announced an investment of Rs 10,000 crore to be spread over a decade. It remains to be seen whether these pledges transform Bengal's industrial landscape that lies barren in spite of changes in political regimes. The opening session of this edition of the BGBS drew attention not only because of the assurances on investment. In the course of her address, the chief minister, Mamata Banerjee, made a remark that unveiled the proverbial elephant in India Inc's boardroom — the spectre of intimidation by the Centre. Ms Banerjee cheekily requested the governor — the Centre's eyes and ears in Bengal? — to convey the message that industrialists should be spared the trauma of being hounded by investigative agencies. Ms Banerjee was undoubtedly attempting to score a political point but her allegation is by no means a figment of imagination. Rahul Bajaj, a rare voice of courage, had the temerity to speak up against the ambience of intimidation by saying that the Narendra Modi government did not have the courtesy or the courage to digest criticism from industrialists. Unfortunately, most of Mr Bajaj's peers have chosen a grey silence. Meanwhile, Indian society and industry remain besieged by a litany of formidable challenges: a sluggish economy, fluctuating demand, rising inflation, global instability as well as domestic volatility. The last threat — India's worsening communal discord, allegedly aided and abetted by a complicit administration — was mentioned by Kiran Mazumdar-Shaw recently when she suggested that the virus of communalism would debilitate Karnataka's business and body politic.
One possible explanation for Indian industry's perceived passivity may be the quid pro quo arrangement that has existed between business and politics. But what the republic is facing now is an unprecedented situation. An authoritarian government has let loose its stormtroopers against its opponents. Citizens, including businessmen, speaking up in favour of fair competition and democratic ethos are being rewarded with the dreaded midnight knock on their doors. A perpetual environment of engineered hate and unrest is bound to weaken businesses and the economy further. Ms Banerjee's speech was reportedly met by a thunderous applause. Such shows of appreciation, while welcome, are not enough. The business fraternity must rediscover the voice it has lost for the sake of industry and nation.