Little Indias
A despatch from Dharwad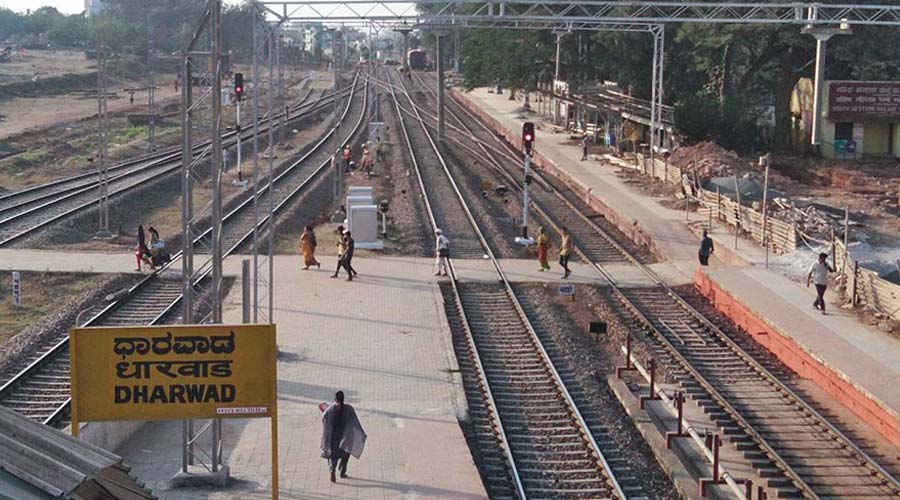 ---
Published 13.04.22, 12:19 AM
|
---
Dharwad, where I live, is a small town. If the population of India in 1941 was somewhere near 36 crore, that of Dharwad was 47 thousand, seven or eight thousandth part of the total. When the Indian population crossed 120 crore, the population in Dharwad-Hubli was close to 12 lakh, a thousandth part of the total. Since Independence, numerically, the town has shown a lot higher growth than towns smaller than it and a growth much smaller than the towns larger than it. Dharwad has merged with Hubli, which lies at a distance of 20-odd kilometres to the south. To its north, at a distance of 20 odd-km, is Kittur, which is fast moving to become an extension of Dharwad. In a couple of decades, the three together are likely to have a population of about 60 lakh spread over an area 80 km long, 25 km wide, and a total of 2,000 sq km. The emerging Dharwad will then be about 250th part of India.
This rhythm of its growth is in tune with growth patterns elsewhere in India. This microcosm of India stands on a rock-system named the 'Dharwad Rock System' by geologists that came into existence 180 crore years ago. Homo sapiens have dwelt here for several millennia and agriculture has been practised in the region for at least six millennia. It developed its own traditions of weaving and silver-work during the first millennium. Over the last fifteen centuries, Dharwad has seen a number of rulers and dynasties emerging and declining, bringing with them new cultural practices and styles of architecture. They include the Badami and Kalyan Chalukyas, the Rashtrakutas, the Bahmani sultans, the Vijayanagara kings, Adil Shah, the Marathas, Hyder Ali and the British. The resistance put up to the imposition of British rule was significant. Baba Sahib of Nargund and Chennamma Rani of Kittur fought tooth and nail to stop the British. Previously, the spread of the Portuguese from Goa, which is to the west of Dharwad, had been successfully stalled by the people of Dharwad.
During the twelfth century, it participated most actively in the Lingayat movement of Basava, challenging caste and creed discrimination and gender injustice. It generated the first move towards bringing all areas speaking Kannada together in the form of a Karnataka state. It gave rise to the most remembered movement of farmers in Karnataka since Independence. It sparked the Kannada language movement and also the freedom of expression movement by writers. Dharwad has had a wonderful mix of thinkers, writers, singers and social activists among its citizens. It also has a remarkable place in India's literary history, with three Jnanpith laureates to its credit: D.R. Bendre, V.K. Gokak and Girish Karnad. Many other important writers, scholars, film-makers and dramatists have emerged in the past from this small town.
Dharwad has had intimate connections with B.R. Ambedkar, Shahu Maharaj of Kolhapur and Mahatma Gandhi. In 1856, Erloo bin Narayan, a boy from the stigmatized Mahar community, wanted to study in school. When admission was denied to him, he sent a complaint to the authorities in Bombay. His case reached from Bombay to Calcutta, and from there to London, and he was finally allowed to join school. One does not know what exactly happened to him; but seven decades later, as Ambedkar was looking through the archives of the Bombay government, he noticed the file related to the case. Struck by the boy's fight for his rights, Ambedkar decided to visit Dharwad and trace the descendants of Narayan. Even though he could not find them, Ambedkar sought land for creating a hostel for students from poor families during this visit. He got the land and built the hostel. Later, in his absence, his wife, Ramabai, took care of the children, fed them, raised funds for their education, and even sold her personal jewellery for the cause. Shahu Maharaj was sent to Dharwad for a short time before his coronation to a Christian high school in Dharwad which later motivated him to bring in several progressive legislations in Kolhapur. Mahatma Gandhi made his first visit to North Karnataka in 1921. He went to Belgaum, Dharwad, Hubli and Gadag and held meetings with Harijans, Brahmins, Jains, Lingayats and Muslims. Many of them felt inspired by his idea of freedom and formed a group to help him under the leadership of N.S. Hardikar. In a few years, that group expanded and helped Gandhi in the Congress sessions, soon becoming the Seva Dal.
During the last century, Dharwad emerged as an icon for classical music. Abdul Karim Khan visited it first on his way from Baroda to Mysore. He decided to make Dharwad his home in 1922 after Tarabai Mane, whom he had married defying resistance from the Baroda royals, left him. Here, he trained Kesarbai Kerkar, probably the most regarded classical singer of her time. He also trained Sawai Gandharva who, in turn, trained Gangubai Hangal and Bhimsen Joshi. These individuals, along with Mallikarjun Mansur, Basavaraj Rajguru, Phakirappa Kundugol and Pandit Puttaraj Gawai, made Dharwad the most musical place in India. The music tradition of Dharwad admits no communal sentiment. Music has taught Dharwad not to think of humans as Hindus and Muslims. Recently, when the hijab controversy was the most debated topic in television studios, a concert was held in Dharwad. Seven descendants of the sitarist, Rahimat Khan, were together in the performance. Chhote Rahimat Khan, Rafique Khan, Shafique Khan, Rais Khan, Hafiz Khan, Mohsin Khan and Mansoor Khan were all dressed in their trade-mark black kurtas. The large concert hall was full to its capacity. They left the audience enthralled with the magic of their sitars. No one thought of them as Muslim or their equally gifted tabla player, Raghunath Nakod, as Hindu. The many rulers that Dharwad has seen over the centuries brought with them Sunnis, Jains, Buddhists, Shias, Christians, Lingayats and Hindus. Dharwad belongs to all of them; they all belong to Dharwad. Buddha, Mahavira, Basava, Ambedkar, Gandhi and Lohiya all belong to Dharwad as Dharwad belongs to them. In the past, the parliamentarians returned from Dharwad included Karmarkar, Mahishi, Sanadi, Naikar, Sankeshwar and Joshi — Brahmins, Lingayats, Vokkaligas and Muslims.
There is a raging debate in India as to what should be the 'Idea of India'. Dharwad, and many other towns in other states, such as Nadiad in Gujarat, Kolhapur in Maharashtra, Dewas in Madhya Pradesh, Patiala in Punjab, Cuttack in Odisha and many more, all are examples of the 'Idea of India'. Fortunately, they are still around and despite enraged rulers coming and going, they shall still be there for India. The timelessness of the idea they embody is, in essence, the Idea of India. Enraged rulers overlook this, but India continues to exist with the idea of India at its heart.
G.N. Devy is Chair, The People's Linguistic Survey of India