Lights camera, attention
At every election, the gulf between candidates and non-plussed voters remains too yawning to be bridged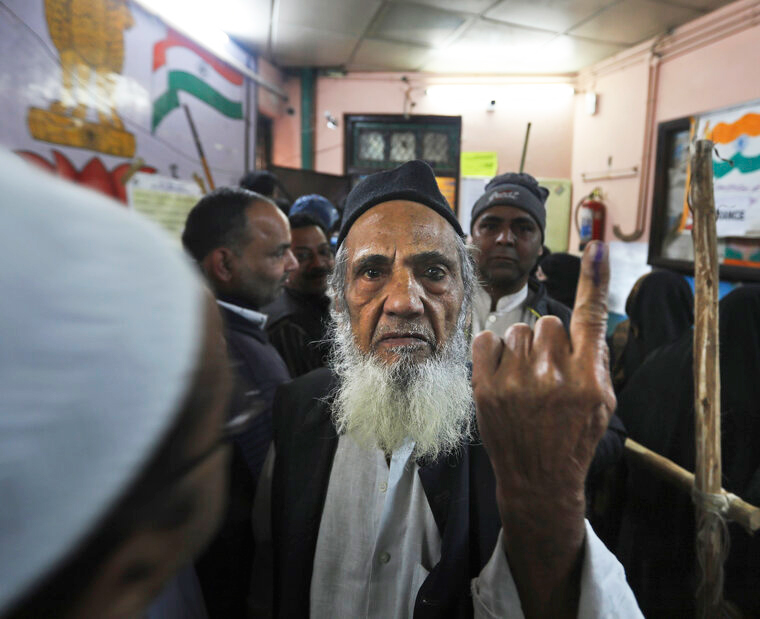 An elderly man shows the indelible ink mark on his finger after casting his vote at a polling station in the old quarters of New Delhi, Saturday, February 8, 2020.
(AP)
---
Published 10.02.20, 08:22 PM
|
---
Every time an election approaches in the world's largest democracy, be it to Parliament, assembly or local municipal corporations, the great Indian circus unfurls its act with melodramatic nuances. With civic polls in Calcutta coming up, the councillors are doing the rounds of their wards, not as concerned representatives but like VIPs beating their own drums of "achievement".
Our residential locality, where we have to take the initiative to restore non-functional street lights and bear with an apology of a road, was graced by a starlet-turned-councillor one morning, with a bevy of hangers-on announcing her arrival by ringing doorbells with a directive to appear on the threshold to "welcome" the visiting civic leader.
"How are you, Mashima?" she gushed to our elderly neighbour. "See how I have arranged these street lights for you, they make your lane so bright!" Since the lights were already switched off at that hour of day, her audience looked bemused. "The road is in very bad shape, it makes my bones rattle," Mashima contended tartly. The councillor was in no mood to listen to recriminations. "Chalo, chalo..." she gestured to her flock and hurried away.
This tableau is replicated during every election, the gulf between acquisitive candidates and nonplussed voters too yawning to be bridged. Be it class, gender, caste or religion, the divisions are acute. Even more stark is the 'VIP culture' flaunted at we the people. The red beacons atop government vehicles may have been replaced by blue ones, but are the lights necessary at all? Why must elected representatives have right of way or the power to raise their salaries manifold when their job is to see to the welfare of the populace, not line their pockets? Or build palaces for themselves with taxpayers' money.
Those who have the occasion to travel alongside dignitaries and politicians have learnt how difficult they make the journey for fellow passengers. Ministers are known to keep flights and trains waiting, they have right of way (queues are for the common man) along with their convoys/security entourage/sycophants. They habitually disturb peace and grab the best seats. Yet, they are the very people who come pleading for votes every election, almost ready to fall at our feet for that one beep on the EVM.
While political parties, the key players in a democracy, are becoming less trusted as institutions, the leaders themselves, certainly a majority of them, love being pandered to. In turn, they resort to appeasing the electorate, because it gives the vote-seeker a short-term jump in popularity, just enough to garner the vote. In recent elections, parties have even announced freebies like mobile phones and laptops to attract first-time voters or free foodgrains for the rural populace.
On the campaign trail, it is customary for candidates to adopt strategic behaviour, because the voter will only realize the hollow promises at the end of a five-year term. During that time, ill-gotten wealth will have been amassed, power and perks savoured to the hilt and if they do happen to contribute to the constituency, such as build a fence around a park or plant flowering shrubs around a pond, there will be a large hoarding proclaiming that it is the doing of the politician (name in capital letters), thanks to the "MP Development Fund".
Besides leaders of political parties, even those holding constitutional posts strut their "position". During a recent flight, an octogenarian governor seated near us kept whining to his aide-de-camp about the poor quality of his hearing aid. The latter placated him as one would a child, saying, "As soon as we land, I will get you a new one." Once the aircraft touched down, he shed the petulance and metamorphosed into His Excellency: right of way please, we are VIPs!