Life on the margins in Lesbos
Many NGOs expect refugees to perform the role of victims, and the asylum process is governed by their state of despair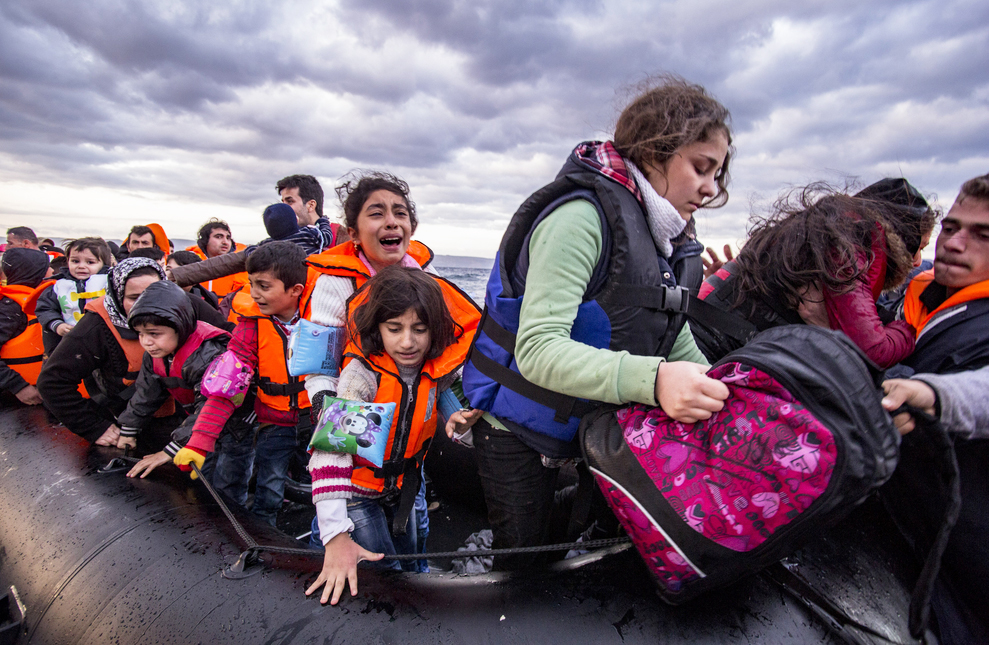 File photo (2015) of Syrian refugees arriving via Turkey, near the Greek island of Lesbos. Many of the refugees on the island are lively and strong people, but they transform themselves into sad and vulnerable beings on the days of their interviews
(Shutterstock)
---
Published 08.05.19, 11:26 AM
|
---
Collaboration and solidarity are keywords on the island of Lesbos. Located in the east Aegean sea, it is home to more than 7,000 refugees, according to the official UNHCR reports from March 2019. The majority are from Afghanistan (80 per cent), Iraq (5 per cent) and Syria (4 per cent), with smaller communities from North and West Africa, Burma, Yemen, Pakistan, Kurdistan and Iran as well.
Photographs of neon orange life-jackets and hands grasping amidst sea foam or coastguards in choppy waves and terrified (or hopeful) faces form an imagery that has contributed to international reactions, ranging from the closing of borders and tightening immigration policies to increasing aid in the global north.
For a privileged and politicized individual, a common response to social inequality and injustice would be to challenge the systems that put them in place and form alliances with vulnerable communities. But whilst projects on the island of Lesbos focus on working with displaced communities, bridging gaps and transcending borders among nations, and whilst one can talk of solidarity with refugees as a political narrative, how does this sentiment manifest on a daily basis? What does it mean to help and what are the challenges that arise whilst doing so?
I ran a community garden on Lesbos for a period of seven months in 2018. Through conversations and moments spent together with asylum-seekers, I felt boredom and frustration defining the people's lives. People are stuck in transit for a year or more whilst their papers are processed, lost within an administrative mess that is incomprehensible without an understanding of Greek or English.Whilst waiting for their interview dates to be released and claims for asylum to be accepted, opportunities to engage with the island are few and curtailed within a new set of very specific borders.
Lesbos is a beautiful and multi-faceted island, one of clear water, pebble beaches and wildflower meadows. There are holiday homes and Turkish tourists and German backpackers who explore the green hills and the endless olive groves even as boats sail on its waters and creeks. There are small fishing communities and the mainland Greeks who have escaped the heat and stifling chaos of Athens in summer. It is as though there are two worlds living one on top of another—the Mediterranean idyll of the island life and the exhausting and stressful days at the Moria Detention Centre, the largest camp on the island — crowded tents and broken toilets; the hours-long queue for prepackaged and, often, rotten food; the steady flow of medicines and tranquilizers that numb traumas and headaches; exhaustion, injury and the exhilaration of having reached Europe combined with the realization that a new wait, a new unknown, has just begun.
Over the course of the year, I noticed how refugees are expected by many NGOs to perform the role of a victim and how their entire asylum process is governed by their state of despair. Many of our friends, lively and strong people, would transform themselves into sad and vulnerable beings on the days of their interviews. Scars and injuries were often displayed during conversations. 'This is what ISIS did to me' and 'I am not well' are phrases that are repeated as often as 'Tomorrow I am leaving for Athens' and 'Moria Camp no good'.
The stipend migrants receive is meagre: less than a 100 euros a month for daily expenses; for the spontaneity of an energy drink by the water and the necessity of a pair of shoes to walk the eight-kilometre stretch from camp to town. People find their ways around the barriers — swimming on free beaches, eating healthy meals at community centres, contributing time and skills in exchange for housing and clothing, signing up months in advance for free legal advice and participating in activities for a sense of community and purpose. Still, these are not end-solutions and the constant dependence on others can get exhausting as many of my friends have told me.
I often felt like I was not doing enough when I confronted the complexities of life on the island. But whilst I recognize my privilege as someone with the right papers, the ability to move, and a stable financial situation, it was important to realize where we could make a genuine impact. A relationship that transcends volunteer-refugee hierarchies is a powerful action in itself. I believe that we need to move beyond victimizing those in need, pushing them further into a position of insecurity. While actively working towards change through formal policy, what matters equally are connections based on agency, dialogue and reciprocity and actions founded on love, warmth and friendship.
Vulnerable communities are also resilient, resourceful and strong. Working with this through practical exchanges of skills, knowledge and emotion will lead to the true non-hierarchical bridging of gaps and the transcending of borders.