Letters to the Editor: Why dapper Chadha is competition for Modi
Readers write in from Ambala City (Haryana), Chennai, Noida, Visakhapatnam, Mumbai, Bangalore and Calcutta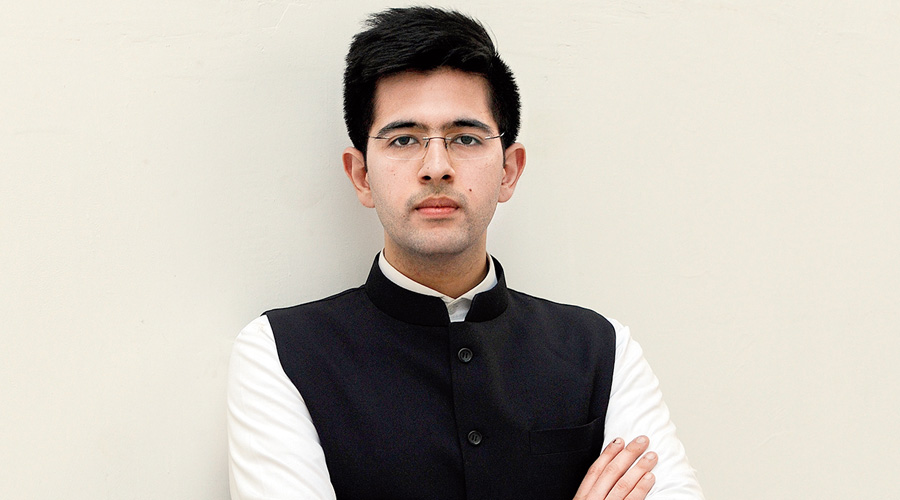 Raghav Chadha.
File photo
---
Published 06.12.21, 01:30 AM
|
---
Fashion first
Sir — Being in public life can have its pitfalls. For instance, fashion faux pas are never taken kindly. Is this why Indian politicians rarely ever dare to be adventurous sartorially? Most of them opt for the conventional kurta-pyjama or sari. But this does not hold true for the Aam Aadmi Party member of legislative assembly, Raghav Chadha, who was recently named the 'most stylish politician' for his dapper outfits. But Chadha's award may not sit well with the prime minister given the latter's penchant for keeping the nation talking about what he is wearing, if not about what he is saying, on the international stage. But Covid, not Chadha, might be to blame for doing away with opportunities to play dress-up.
Sreya Das,
Calcutta
Perfect ten
Sir — The New Zealand spinner, Ajaz Patel, has created history by becoming only the third bowler in men's Test cricket to take 10 wickets in an innings. Before him, Jim Laker and Anil Kumble achieved this feat in 1956 and 1999, respectively ("10/119", Dec 5). With his 10-wicket-haul mark, Patel surpassed the record of the great Richard Hadlee — he had taken nine wickets for 52 runs against Australia in 1985 — for the best figures by a New Zealand bowler.
C.K. Subramaniam,
Ambala City, Haryana
Sir — Ajaz Patel deserves to be lauded after his stellar achievement against India. However, this does not dismiss the fact that this was not New Zealand's best performance. The Kiwis were bowled out for 62 runs in their first innings, thereby giving India a huge lead. At present, the scoreboard suggests a thumping victory for the home team.
N. Mahadevan,
Chennai
Sir — In cricket, spinning the ball for prolonged periods is not an easy task. Ajaz Patel should thus be congratulated for his magical spell and for joining an elite club of bowlers. Interestingly, Jim Laker, Anil Kumble and Patel, all of whom have taken 10 wickets in a Test match innings, are spinners.
Such feats are rare and can be achieved only through perseverance. That Patel had bowled almost half of his team's overs to claim the 10 wickets exemplifies his hard work.
Bal Govind,
Noida
Sir — Ajaz Patel's achievement was special because it came in the city of his birth, Mumbai. Patel has now etched his name in history. He is the first left-arm spinner to achieve this feat and also the first bowler to do so in the first innings of a Test. One hopes for more such triumphs by Patel in the future.  
Sravana Ramachandran,
Chennai
Unique case
Sir — The editorial, "Those unborn" (Dec 4), is well-written with anecdotal references, even though it is on a subject that is not much discussed. The case of the 20-year-old Briton, Evie Toombes, is unique in the world of law: she was born with a defect in the spine that rendered her wheelchair-bound for life and, for that reason, she sued her mother's doctor. Toombes won the case against the doctor, who did not give her mother iron supplements during her pregnancy, a professional negligence that led to life-long suffering for Toombes.
The case may have wide-ranging repercussions across the world, especially in underdeveloped countries where more women suffer from iron deficiency and are not given proper prenatal care.
K. Nehru Patnaik,
Visakhapatnam
Great loss
Sir — It was saddening to read about the death of the veteran journalist, Vinod Dua — he passed away at the age of 67. Dua was a pioneer in Hindi broadcast journalism with stints in Doordarshan and NDTV. He lived an inimitable life, rising from the refugee colonies of Delhi to the peak of journalistic excellence in his 42-year-long career. He was never afraid to speak truth to power.
Bhagwan Thadani,
Mumbai
Sir — The death of Vinod Dua is a loss not only for the journalistic fraternity but also for the entire nation. A man of indomitable spirit, Dua was the first electronic media journalist to win the Ramnath Goenka for Excellence in Journalism Award in 1996 and he received the Padma Shri in 2008.  
Sunil Chopra,
Ludhiana
Out of tune
Sir — Five members of the Bihar legislative assembly, all belonging to the All India Majlis-e-Ittehadul Muslimeen, sparked a row when they refused to sing the national song on the concluding day of the winter session of the state assembly. The AIMIM's state chief, Akhtarul Iman, claimed that the group has reservations about singing "Vande Mataram". Quite absurdly, he linked this choice to that of choosing vegetarian or non-vegetarianism. This is unfortunate. "Vande Mataram" was the song of the Indian freedom struggle. Such acts of defiance should not be
encouraged.
K.V. Seetharamaiah,
Bangalore
Sir — While it is true that nobody can be forced to sing the national song or be called anti-national for not singing it, it must also be asked how "Vande Mataram" is religious. It is sung in praise of the motherland. The AIMIM has a tendency of painting everything in communal colours.
Niyati Singh,
Bhopal
Costly rain
Sir — Yet again, unseasonal rains caused by Jawad will have an impact on farming and prices of vegetables — winter has some of the best produce — will shoot up. As a result, both farmers and common people will suffer.
Rima Roy,
Calcutta