Letters to the Editor: Why 'alter ego' robots spell danger
Readers write in from Chandernagore, Visakhapatnam, Nadia, Mumbai and Calcutta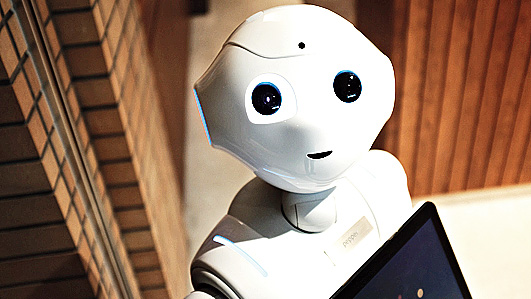 Representational image.
Unsplash
---
Published 04.12.21, 04:00 AM
|
---
Home alone
Sir — It was speculated that the rise of the machines would wipe out man. That fear increasingly seems misplaced. But there is another very real threat that must be considered. Japan has developed an 'alter-ego' robot that will allow people to go out and meet others without them having to actually step out of the house. This is dangerous. The pandemic has already left us house-bound and had an adverse impact on social bonds. Humans are social creatures; being stuck at home is a guaranteed path to extinction. Robots might wipe out humans after all, just not the way previously imagined.
Roshni Sen,
Calcutta
Shameful state
Sir — It is disheartening that Munawar Faruqui, a young and promising comic, is having to contemplate retirement ("'My name is Munawar & I am done. Hate wins'", Nov 29). The satirist from Gujarat had previously been falsely accused of disrespecting Hindu deities and kept in police custody for 36 days before getting bail. Much to the dismay of his fans, his shows have also been cancelled repeatedly. A collusion between the Hindutva brigade and law-enforcement agencies is obvious.
This impedes freedom of speech and expression in the country. Without opposing voices, there is a chance that the government will soon turn India into an autocracy in a very real sense.
Soham Das,
Chandernagore
Sir — The cancellation of Munawar Faruqui's Bangalore show was shocking. His decision to retire reflects yet another blow to the freedom of expression. I am surprised that Bangalore, considered to be a modern city, fell prey to such religious extremism.
Debasish Chatterjee,
Calcutta
Sir — Munawar Faruqui should not lose heart. His disappointment is understandable but the youth of the nation are with him in these difficult times.
Sohini Saha,
Calcutta
Stay together
Sir — Unless a coalition like the United Progressive Alliance is formed, it will not be possible to defeat the National Democratic Alliance in 2024 ("Disharmony", Dec 3). It will be unfortunate if the Congress is not a part of such an alliance owing to internal conflicts. There is clearly a crisis of leadership — even though he is unwilling to lead the party, Rahul Gandhi is still the face of the Congress. It is a matter of time before he takes charge again. As such, Mamata Banerjee should keep Rahul by her side and strive for a united Opposition, including the Congress.
K. Nehru Patnaik,
Visakhapatnam
Sir — It is possible that after two terms of the NDA, people will yearn for change. But they are not ready for the kind of change desired by the Trinamul Congress chief, Mamata Banerjee. She has neither the experience of running a national coalition nor adequate following outside Bengal. If she tries to achieve a Congress-mukt Opposition, she will be no better than the Bharatiya Janata Party. Perhaps Banerjee needs to pay heed to what the Nationalist Congress Party leader, Sharad Pawar, hinted at after meeting her recently and include the Congress.
However, fierce competition within the Opposition is a healthy development that can rouse the beleaguered Congress into finally getting its act together.
S.S. Paul,
Nadia
PARTING SHOT
Sir — New Delhi has been facing a severe crisis in the form of serious air pollution. Even though it is caused partly by factors like stubble burning and toxic fumes from factories, there have been other elements contributing to air pollution.
Interestingly, places like Korkai, Tuticorin, Tiruchendur, Nagercoil, Tirunelveli and Kanyakumari in Tamil Nadu are home to big trees and significant forest cover. The green canopy has been acting as a safety net against pollution threats and weather vagaries. Perhaps areas like Delhi are in need of more green cover.
P. Senthil Saravana Durai,
Mumbai