Letters to the editor: Tracing the origin of music
Readers write in from Bangalore, Nadia and Calcutta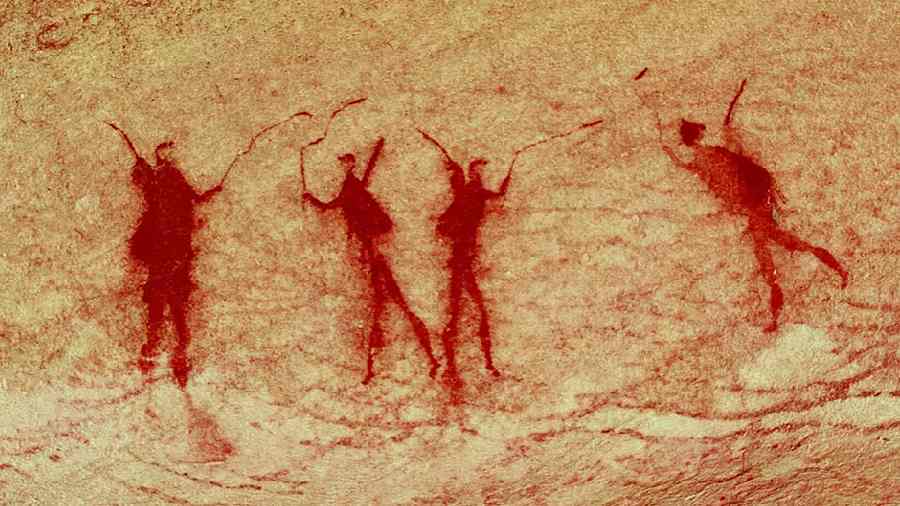 ---
Published 04.07.22, 04:38 AM
|
---
Ancient music
Sir — Rock paintings are considered to be the most ancient form of visual art. Recent archaeoacoustic research focuses on bringing to life sounds made by people living in the past from rock paintings. Human figures in a cave painting in the Cederberg Mountains in South Africa's Western Cape province had previously been interpreted as healers holding a trance-dance. But scientists have combined digital image recovery techniques with instruments made from life-size templates to conclude that these figures were actually playing an ancient musical instrument called '!goin !goin'. Could it be argued that this will help us trace the origin of music and what it sounded like when it did not have to compete with the cacophony of modern life?
Nandini Roy, Calcutta
Target practice
Sir — It is disturbing that the Pulitzer-winning photojournalist, Sanna Irshad Mattoo, was not allowed to fly to Paris without an apparent reason ("Blocked from flying: Pulitzer winner", July 3). It is clear that this is yet another instance of a Kashmiri journalist being harassed. They are increasingly facing arbitrary arrests, trumpedup charges, threats, physical attacks and raids since Article 370 was revoked in August 2019.
It is heartening that the Committee to Protect Journalists came out in support of Mattoo and urged the government to allow her to travel freely. The authorities must stop this targeting of Kashmiri journalists at once.
S.S. Paul, Nadia
Sir — It should have been a moment of pride for India that an Indian photojournalist had been invited to a prestigious event in Paris. Instead, the country has drawn international shame by not allowing Sanna Irshad Mattoo to travel. This move is clearly motivated by the government's Hindutva agenda. One cannot help but wonder if the government is settling scores with Mattoo for exposing its mismanagement of the Covid-19 pandemic — she won a Pulitzer for photographs taken during this period — to the whole world.
The current dispensation at the Centre is known for being vindictive and settling scores with its detractors. The arrests of the journalist, Mohammed Zubair, and the activist, Teesta Setalvad, are cases in point. Civil society should unite in support of Mattoo.
Prachi Agrawal, Calcutta
Stand united
Sir — Faizan Mustafa, the vice-chancellor of the National Academy of Legal Studies and Research, Hyderabad, recently addressed the inaugural Stan Memorial lecture in Ranchi ("Needed in India: rights defenders", July 3). Not only did he pay rich tributes to Father Stan Swamy but he also criticised the arrest of human rights activists in the country. But defending human rights is not the job of a handful of individuals. It is a task that the executive and the judiciary are supposed to carry out. But even more important, it is the duty of each and every individual in society. Silence at the trampling of the human rights of some people leaves the door open for such transgressions against all citizens. Nothing should be above humanity. Each individual should strive to uphold the human rights of his fellow countrymen if he or she expects his or her rights to be upheld.
Ashok Kumar Ghosh, Calcutta
Unfair burden
Sir — The railways used to give senior citizens a minimum of 40 per cent concession on train fares. This was stopped in March 2020, citing the need to cut subsidy bills. Yet, a petition under the Right to Information Act has shown that members and even ex-members of Parliament still travel on discounted fares or for free. This is unfair to say the least. India's aged population is growing and the cost of living is going up. Senior citizens have additional travel expenses owing to reasons like healthcare — they are forced to travel from one place to another in search of good hospitals and doctors. The concession in train fare would go a long way in mitigating the financial hardship of senior citizens. The railways would do well to restore the travel concession.
K.V. Seetharamaiah, Bangalore
Nostalgic moment
Sir — I read Ramachandra Guha's fascinating article, "Deep imprint" (July 2), with interest. He is effusive in his praise for The Telegraph. I was a college student in the early 1960s in a district town in Bengal and used to read The Statesman at my father's insistence in order to learn English. But I have been a regular reader of this paper since the late 1990s and the articles penned by the likes of Guha, Gopalkrishna Gandhi and others are very interesting. Guha has certainly paid his dues towards this newspaper. 
Jahar Saha, Calcutta
Sir — As a regular reader of both The Statesman and The Telegraph, I agree with Ramachandra Guha's assessment that the breaching of the "wall between editorial and management" led to the steady decline of the former. However, Guha has not got the chronology right. This breach began in the late Eighties and early Nineties, and not from 1980 as he mentioned. Indeed, this happened even as the two newspapers competed for readership all through the Eighties.
While each had a distinct style of presentation, The Telegraph clearly edged out The Statesman. Two former senior members of The Statesman's editorial team, Sunanda K. Datta-Ray and Swapan Dasgupta, remain regular columnists of The Telegraph, while a third, Rajkamal Jha, is now the editor of The Indian Express. It is clear that these intellectuals, too, knew that all was not well at The Statesman. The Telegraph, on the other hand, has maintained its rich intellectual tradition.
Suvagato Chowdhury, Calcutta
Sir — Ramachandra Guha's article on the origin of this newspaper was the perfect mix of nostalgic anecdotes and objectivity.
Roshni Sen, Calcutta