Letters to the Editor: The mirage of yellow taxis in Calcutta
Readers write in Calcutta, Coimbatore, Nainital, Ujjain, Siliguri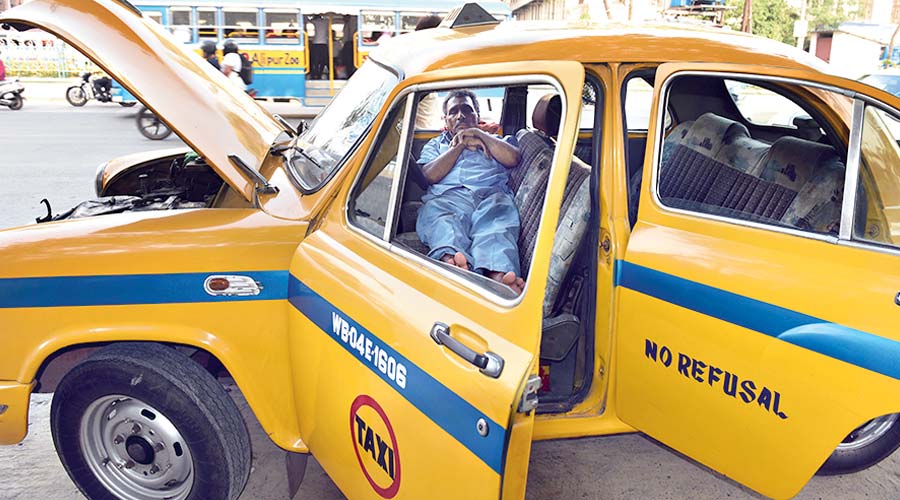 Representational image.
Library
---
Published 15.03.22, 12:38 AM
|
---
Cancelled ride
Sir — Whether it is a film on Calcutta or a photograph of the city, one will be hard-pressed not to find a yellow taxi cruising down Howrah Bridge or speeding past Princep Ghat. Those falling for this mirage, however, will be quickly disillusioned. Managing to find a yellow taxi in Calcutta that agrees to go to the destination of your choice is nothing short of a miracle. The 'No Refusal' painted on the cab door is for decorative purposes only. Even if the destination is agreeable, the fare rarely is. Taxis need to practise what they preach on their doors and not hike fares. If need be, the base price of a ride should be increased more frequently in tandem with the rising price of fuel.

Aditya Bose,
Calcutta
Dubious drug
Sir — The Union ministry of ayurveda, yoga and naturopathy, unani, siddha and homeopathy has been advocating the use of a herb called giloy — readily available in retail stores — as a shield against Covid-19. However, doctors from 12 cities across the country have now documented the adverse effects of consuming it in peer-reviewed journals ("Concern over 'safe' tag on Covid shield herb", Mar 10). Doctors claim that in patients with underlying conditions, it may cause serious liver damage and even death.
Giloy is not the only spurious Covid-19 treatment out there. A year ago, the then health minister, Harsh Vardhan, launched Coronil with Baba Ramdev, a yoga guru close to the ruling party. Manufactured by Ramdev's Patanjali Ayurved, Coronil was posited as a treatment for Covid-19 with falsified certification from the World Health Organization. The government has lost its credibility by endorsing such bogus medicines.

Jahar Saha,
Calcutta

Sir — Doctors are justifiably concerned about the continued promotion of giloy as an antidote to Covid-19. Consuming giloy can actually do more harm than good. Moreover, the idea of such a 'magic potion' gives people a false sense of security and makes them careless when it comes to precautionary measures.
Further, this is not the first time that such a natural cure has gained popularity. For instance, it was widely believed that the herb, chaparral, could cure cancer, tuberculosis and a host of other ailments. There is no scientific evidence backing the use of such herbs. Many people opt for such natural remedies under the impression that herbs cannot cause any harm. But just like allopathic medicine, it is always advisable to consult a medical practitioner before consuming such products.

Kiran Agarwal,
Calcutta

Sir — The health ministry should release a detailed advisory about the herb, giloy, and its side-effects, verifying whether it is effective against Covid. It was irresponsible of the ministry to promote the herb without extensive scientific research. People should not trust endorsements — even ones that come from the government — blindly and be more careful about what they consume.

Suparni Haldar,
Calcutta

Unfair burden
Sir — The Kerala High Court's recognition of the difficulties faced by single parents has been lauded across the country ("HC chides passport staff for hassling single parents", Mar 4). This is a heartening development. Convoluted bureaucratic procedures, such as the one for re-issuing passports of minors, increase the trials of single parents.
However, one feels sympathy for the assistant passport officer who has been fined Rs 25,000 for his "high-handedness". He is just one cog in a wheel. What about an absent, often uncooperative, parent who withholds the consent needed for such paperwork? It is not unheard of for a parent — mostly men — weaponizing the system to make life difficult for former partners. They should not be allowed to go scot-free.

Srimati Roy,
Calcutta

Murky past
Sir — The Australian cricketer, David Warner, recently said that 'Mankading' — a run-out at the non-striker's end that was legalized by the Marylebone Cricket Club recently — remains a "spirit of cricket" issue. It is surprising to hear such statements from an Australian cricketer. The 2018 Sandpaper fiasco or Adam Gilchrist's use of squash balls inside his gloves during the 2007 World Cup final are just a few instances when the 'spirit of cricket' had been violated. Warner should think before he speaks.

N. Viswanathan,
Coimbatore

Danger ahead
Sir — Even seemingly useful inventions can be dangerous in the long run. Plastic is one such invention — it is cheap and convenient in the short-term. But these advantages are outweighed by the harm that it causes to the environment. The use of plastic should be phased out as soon as possible.
 
Vijay Singh Adhikari,
Nainital

Sir — With each passing day, the problem of plastic waste is getting harder to tackle. Nowadays, plastic is used in everything. Few people are willing to stop using plastic products, especially bags, even though its harmful effects are well-known. Only a few countries have been able to ban plastic bags completely. It is good that the Government of India will ban most single-use plastic items from July 2022. Large-scale awareness programmes should be arranged for this.

Vishal Patidar,
Ujjain
Parting shot
Sir — In smaller cities like Siliguri and Durgapur, people still depend on infrequent public transport. The West Bengal government should start metro or circular railway services in these cities.

Unmesh Kundu,
Siliguri