Letters to the Editor: Santragachhi Jheel not fit for fish
Readers write in from Calcutta, Chennai, Ujjain and Kannur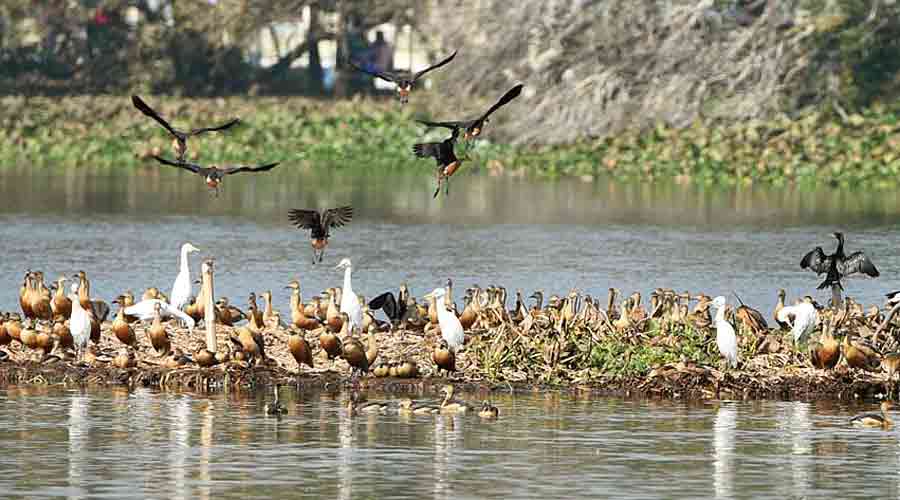 Migratory ducks at Santragachi Jheel (Lake) as seen on National Bird Day, in Howrah district, Wednesday, Jan. 5, 2022.
File photo.
---
Published 13.01.22, 12:43 AM
---
Risky perch
 
Sir — Around 6,000 birds were recorded during a recent count conducted at Santragachhi Jheel. Considering the fact that the number had fallen to about 800 in 2018, this is cause for joy. However, a report by the West Bengal Pollution Control Board based on a study of water samples collected from the jheel showed that its biochemical oxygen demand, a parameter of waste water and sewage pollution, was 10.63 milligramme per litre — the permissible limit is 3 mg. The jheel is thus not fit for wildlife and fish. One hopes that the migratory birds that have flocked to the waterbody do not fall sick or die owing to the toxicity of the water. The civic authorities should carry out emergency tests to avoid such a catastrophe.

Dola Chakraborty,
Calcutta
Wrong choice

Sir — Why is it that every time Covid-19 infections spike, the education system has to bear its brunt? Melas and political gatherings continue unabated, malls and salons remain open but schools and colleges are shut down. It is true that schoolchildren are not vaccinated, but college and university students are both vaccinated and mature enough to know the fallouts of violating Covid protocols. Why are they being kept at home?

Online education has already had an adverse impact on students. How long will education suffer while it is business as usual for all other sectors? Educational institutions should be opened at the earliest.

Sena Sarkar,
Calcutta

Sir — The government should reconsider its decision to shut educational institutions. Instead of pushing for online education, perhaps it should arrange for open-air spaces around the city where classes can be held with proper social distancing and both teachers and students are safe. Nothing can replace physical classes when it comes to imparting education.

Rajesh Kumar,
Ujjain


Tough competition

Sir — The Congress leader, Rahul Gandhi, is right in saying that the forthcoming assembly elections provide an opportunity to defeat hatred. But elections are about more than just that. Fortunately, voters are smart enough to know which party is trying to dupe them, irrespective of their religious affiliations.

If the Congress thinks that this anti-hate will go in its favour in some of the states, it should think again. Regional parties like the Trinamul Congress and the Aam Aadmi Party will give the national ones a stiff competition.

N. Mahadevan,
Chennai

Take heart

Sir — In what can be called a giant leap for medical science, surgeons in
the United States of America have successfully implanted a heart from a genetically modified pig into a 57-year-old man. This could help solve the chronic shortage of organs for transplant. At present, patients have to wait for months, if not years, for cadaveric organs, leading to a disproportionate number of deaths, which can now be avoided.

M. Pradyu,
Kannur

Sir — While the transplant of a heart from a genetically modified pig into a human is rightly being celebrated, not much is being said about raising animals for slaughter. Protests about slaughtering animals for fur or testing cosmetics on animals are always more voluble than voices against animals that are sacrificed at the altar of science. For instance, while cruelty-free cosmetics are all the rage these days, has anyone ever heard of cruelty-free medication? When it comes to choosing between human and animal lives, the former always wins.

Piyali Das,
Calcutta

Sir — It is heartening that genetically engineered animal organs stand a chance of revolutionizing medical science. But awareness must still be raised about the importance of donating human organs after one's death. There can be no replacement for this.

Sohini Saha,
Calcutta


Striking similarity

Sir — Two articles in The Telegraph on January 9, "Ageing Pains" and "Many splendoured is my provenance", speak of Calcutta's past, its present and its possible future. This reminded me of a book about travelling across India written by a soldier of the East India Company. What I noticed was that descriptions in the book of Chandni Chowk, Lalbazar, Mechuabazar and Chitpur are still applicable to these places. Nothing seems to have changed in over 200 years. While the past and the present remain unchanged, one hopes that the future is different.

Alok Ganguly,
Nadia

Sir — The article, "Ageing Pains" (Jan 9), was timely. The expansion of cities, anywhere across the globe, tells the same story. In the name of infrastructure development and employment generation, vast stretches of open land, ecologically fragile water bodies and even heritage sites are given away to real estate tycoons. Laws are tweaked willy-nilly for this purpose. This leaves the future of the world in the dark for present gains.

S.K. Som,
Calcutta


In focus

Sir — It was a pleasant surprise to read The Telegraph's coverage of the ongoing Africa Cup of Nations being held in Cameroon. Indian media has long ignored this competition, much to the bafflement of football lovers. There has been no live telecast of this event in India. Recently, there was a ray of hope when it was announced that a popular sports channel had bought the rights for a live telecast of the event in India. Alas, not a single match has been telecast, so far. This apathy towards African football reeks of racism.

Sudipta Sur,
Calcutta