Letters to the Editor: Overload if information leads to vaccine mistrust
Readers write in from Ujjain, New Delhi and Calcutta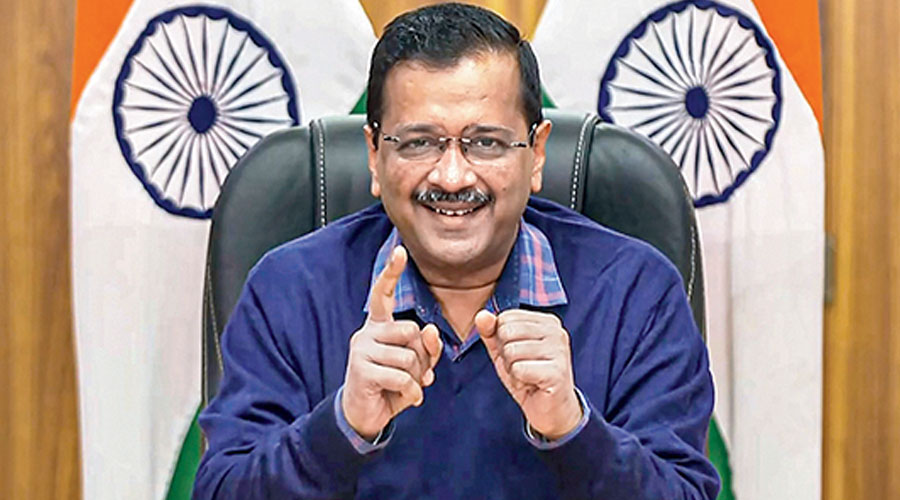 Delhi CM and AAP convenor Arvind Kejriwal addresses a press conference regarding his government's Ayodhya visit scheme for senior citizens.
[PTI Photo]
---
Published 05.12.21, 01:30 AM
|
---
Witch's brew
Sir — Conspiracy theories crop up after unusual events and thrive when there is a lack of information. For instance, in 17th century Denmark, catastrophic events like floods along with the massive changes brought about by industrialization started conspiracy theories about witches. For those isolated on small farms, access to trusted information was scarce and stories about witches took hold. Now, the overload of information online is producing the same effect that Danish farmers faced several centuries ago — a lack of trusted information, leading to vaccine mistrust.
Yashodhara Sen,
Calcutta
Political playbook
Sir — M.K. Gandhi's political idiom was inextricably linked to religion. The Congress, even under the atheist Jawaharlal Nehru, was not beyond using Hindu iconography in its political messaging. With the rise of the Bharatiya Janata Party and Narendra Modi, politicians from Rahul Gandhi and Akhilesh Yadav to Mamata Banerjee have been forced to pay public tributes to Hindu deities. But Arvind Kejriwal's statement, "We're the real Hindutva", takes things a step too far.
The Delhi chief minister and Aam Aadmi Party leader is making a conscious effort to reorient his party. He came to power on the back of public outrage over misgovernance by pretending to rally for the proverbial aam aadmi. Kejriwal realizes that while Delhi may trust him to set things right — indeed his government's track record is not bad — other states will not. He is thus entering the communal fray by declaring himself a Hindutvavadi as opposed to merely a Hindu.
Swati Singh,
Ujjain
Sir — Mixing religion with politics is the new normal. No one party is to blame for this. Rahul Gandhi visits temples in every state headed for polls before cameras, Mamata Banerjee recites the "Chandi Path" from a political platform and Arvind Kejriwal proclaims himself to be a 'Ram bhakt'.
 But Kejriwal is not a career politician, unlike his peers. He was a senior officer in the income tax department before jumping into politics. He and his party are handicapped by the absence of an ideology. In 2012 when he formed the AAP, the Hindu vote bank had not yet been crystallized, and catering to Muslim voters was still in vogue. Kejriwal was then seen donning the Muslim skull cap and attending iftars. But since 2014, projecting oneself as a Hindu has become politically beneficial. This shows that Kejriwal is not communal, but just an opportunist — in other words, a politician.
S.K. Sinha,
New Delhi
Sir — Observe the AAP's recent actions and it is abundantly clear that it is out to steal BJP's time-tested formula of using Hindutva — expressed through an emphasis on nationalism, Hindu history, glorification of the military and so on. If the AAP succeeds in winning on the back of this strategy, it will be the death knell for secularism in India.
Krishna Dey,
Calcutta
Ironic words
Sir — Mukesh Ambani outlining the requirements for an "equitable society" is the height of irony. According to Ambani, data is the new oil and each citizen has the right to protect his or her privacy. One would have to ask what his company, Jio, which is sitting on a gold mine of data owing to its wide customer base, is doing to ensure data privacy?
R. Datta,
Calcutta
Parting shot
Sir — Prashant Kishor has been rightly rebuffed by the Congress. He is a consultant not committed to any ideology and ready to serve anyone who pays him more. It is highly audacious of him to give sermons to a party which has been practising ethical politics for over a century ("Gloves off and masks off", Dec 3). Mamata Banerjee's past reveals that she is not a credible anti-BJP force. Her efforts will help the BJP come back to power in 2024.
Sukhamay Biswas,
Calcutta