Letters to the editor: Mirabai Chanu wins silver at Olympics, deteriorating condition of the Great Barrier Reef
Readers write in from Calcutta, Noida, Chennai, Hyderabad and Nellimarla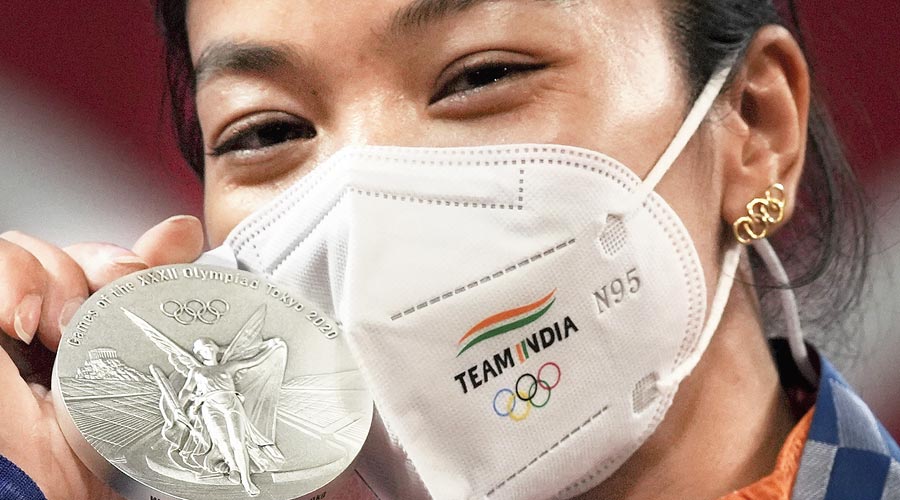 Mirabai Chanu.
File picture
---
Published 28.07.21, 01:04 AM
|
---
Moment of glory
Sir — India has reasons to be elated because for the first time in its history, the country has won an Olympic medal on the very first day of the event ("Chanu lifts India out of bronze age", July 25). For Mirabai Chanu, who failed at all her three attempts in the clean and jerk section at Rio de Janeiro five years back, winning a silver medal in Tokyo was nothing less than redemption and a show of grit. Not only did she have to literally lift weight, but she also had to bear the weight of the hopes of the millions; and she did not disappoint. Chanu's silver will hopefully encourage many youngsters to pick this sport as a career. May this be the first of many medals India wins in this edition.
Bal Govind,
Noida
Sir — Mirabai Chanu must be congratulated for ending India's two-decade long wait for a medal in weight-lifting at the Olympics by winning silver this time. Her historic triumph is the fruit of five years of hard work, after her failure at the Rio Olympics.
That Chanu won a silver on the opening day should help boost the morale of the entire contingent and motivate other athletes to win medals this time. It is also encouraging that the Indian Olympic Association has decided to reward her coach, Vijay Shankar. But Rs 10 lakh seems to be a pittance; the association should increase the amounts to Rs 20 lakh for a gold medal, Rs 15 lakh for silver and Rs 10 lakh for bronze for the winners' coaches.
Janaki Mahadevan,
Chennai
Sir — Congratulations to Mirabai Chanu for creating history at the Tokyo Olympics by winning the first silver medal for India in weight-lifting. Interestingly, this is also the first time that India has won a medal on the opening day in any Olympics edition. With this win, Chanu buried the ghosts of the 2016 Games at Rio de Janeiro where she finished without any successful lifts.
As a 13-year old girl from a low-income family living in a nondescript village in Imphal, Chanu was tenacious and uncompromising with her dream of earning fame as a sportsperson. Her efforts — years of rigorous workouts, travelling 22 kilometres by bus every day in the early morning for training — have finally borne fruit.
Ranganathan Sivakumar,
Chennai
Sir — The first day of the Tokyo Olympics was marked by Mirabai Chanu winning a silver medal. Clearly, Indian women prove their mettle in every field.
One must also acknowledge the efforts of the sports ministry for initiatives such as 'Khelo India', which has been a boon for sports enthusiasts. This has encouraged especially those from rural backgrounds to display their talents. These days, several athletes from rural areas take interest in sports. More youngsters from both rural and urban parts of the country should select sport as a career. The sports ministry should open sports universities in all Indian cities and districts and help sports lovers acquire basic education in the field. The future of Indian sports looks bright and one expects that in the days to come Indians will dominate the world of sports at the international level.
Syed Nissar,
Hyderabad
Sir — Mirabai Chanu must be lauded for winning the silver medal. The good start to the prestigious global sports event with over 200 participating countries is encouraging for the country. With proper planning and focus on its demography, India can reap rich dividends with regard to competitive sports and improve its records in the field. Young sportspersons in the country are shining in spite of all odds.
D.V.G. Sankararao,
Nellimarla, Andhra Pradesh
Sir — The star weightlifter, Mirabai Chanu, deserves to be congratulated for winning silver in the women's 49 kilogrammes category. Undoubtedly, this stunning achievement of the ace sportswoman would boost the confidence of all other Indian players who are participating in this edition and one hopes this helps them clinch more medals for our country.
Sourish Misra,
Calcutta
Wrong list
Sir — Given the deteriorating condition of the Great Barrier Reef, the Unesco had rightly decided to downgrade its World Heritage status. But Australia has managed to defer this move, asking for more time to work on conservation measures. This is a poor excuse; the government was issued a warning as early as 2014. The 'in danger' list could have protected the Great Barrier Reef to some extent. But, clearly, it is more important for the government to protect its reputation. One hopes that the country wakes up to the threat of climate change before it is too late.
Sraddha Mehta,
Calcutta