Letters to the editor: Killing of civillians in Kashmir
Readers write in from Kozhikode, Ludhiana, Kannur, Mumbai, Noida, Visakhapatnam and Calcutta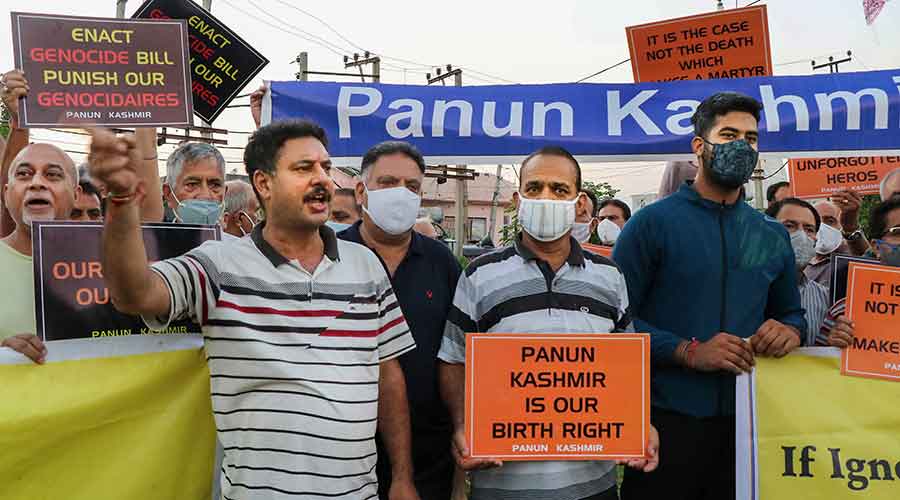 Members of Panun Kashmir shout slogans during a protest after militants shot dead two teachers in Srinagars Eidgah Sangam area, in Jammu on Thursday, Oct. 7, 2021.
PTI
---
Published 15.10.21, 12:21 AM
|
---
In turmoil
Sir — The killing of at least seven civilians in Kashmir is condemnable ("Blood returns", Oct 11). It is unfortunate that a country like India, whose democratic set-up is a legacy, has been struggling to restore peace and harmony in the Valley. A number of those killed belong to minority communities in the region. The murder of a principal and a teacher at a government-run school in Srinagar evoked concerns over the safety of Sikhs and Kashmiri Pandits. It further conjured up widespread protests against The Resistance Front, a terror outfit which claimed responsibility for the incident.
The Indian subcontinent has always been a safe abode for people from diverse regional, religious and linguistic backgrounds. Unfortunately, this long-nurtured tradition is gradually losing its glory owing to the emergence of religious fundamentalism and political megalomania. We must fight tooth and nail against this. Investigation must begin on a war footing to identify the culprits. The government must take steps to prevent the exodus of minority communities.
Prabhakaran Vallath,
Kozhikode, Kerala
Sir — The economy of the Valley is already suffering. Many families are now trying to have their wards settled overseas. It is unfortunate that political leaders only pay lip service every time there are targeted killings of minority communities. A number of policemen and army men have also lost their lives fighting extremists. The Centre's decision of abrogating Article 370 and bifurcating the erstwhile state of Jammu and Kashmir should have resulted in improved efficiency in tackling separatist forces. The centuries-old legacy of harmonious life in the Valley must be restored and the lost paradise regained.
Brij B. Goyal,
Ludhiana
Be safe
Sir — It is welcome news that Bharat Biotech's Covaxin for children above two years of age has been approved by the expert panel for emergency use ("Covaxin approved for use in kids", Oct 13). The fact that doses of Zydus Cadila's ZyCoV-D are also ready further inspires hope in people.
As some states have reopened schools and many others are planning on doing the same, anxiety has been mounting among parents and teachers regarding the safety of children. Even though the severity of the infection has hitherto been low among the latter, immediate inoculation is required in order to avoid the risk of them becoming superspreaders once the institutions reopen. This could arrest the rise of a third wave.
M. Pradyu,
Kannur
Sir — A vaccine for children has finally been approved. Although a subject expert committee has thoroughly studied the clinical data before making the decision, one cannot help but worry about how safe it would be. Even some adults are wary of taking the vaccine — many have succumbed to Covid even after having taken the vaccine. In fact, cases are still on the rise in Mumbai. Is the vaccine, then, truly effective?
Melville X. D'Souza,
Mumbai
Sir — It is heartening that a Covid vaccine has been approved for children. But the coronavirus continues to pose an additional challenge to the government as India still has a long way to go in vaccinating the entire adult population with both doses. The pace of vaccination must be increased and more investments made in research. When it comes to the vaccination of children, the government as well as the pharmaceutical companies must share all relevant data and details to make parents feel safe.
Bal Govind,
Noida
Sir — The approval of the vaccine for children is a timely intervention. This is because the third wave is being considered to be dangerous for children; all the more so, as they had until now been beyond the scope of vaccination. Now that the SEC has given its nod for emergency use authorization, states should gear up to inoculate children on a priority basis so that the moment the vaccine is available in the market, the process can begin. Vaccination drives should be held in all schools since they are highly prone to spreading infection.
K. Nehru Patnaik,
Visakhapatnam
Deep divide
Sir — The real world has come to be threatened by the virtual one. Instagram — it had previously been accused of increasing the 'fear of missing out' among users — has now been found to make body-image issues worse for one in every three teenaged girls. It is common for social media to amplify one's deepest insecurities. But, in reality, this is an illusion — most people tend to display only the highlights of their lives on social media. Posts from celebrity users and influencers raising awareness about this reality could help impressionable minds cope and feel inspired to unleash their own creativity on the platforms.
Mohona Bhattacharya,
Calcutta
Parting shot
Sir — Durga Puja has come to an end. It is common among families in Bengal to greet one another by means of an embrace or by smearing vermilion on each other. Difficult as it may be, we should avoid physical contact at all costs in order to prevent the spread of the pandemic. Care must also be taken that massive bisarjan processions are not held. This would set a positive example before the rest of the country.
Shalini Gupta,
Calcutta