Letters to the Editor: Kalbaishakhis are becoming increasingly rare
Readers write in from Calcutta, Jalpaiguri, Nadia, Chennai, Kalyani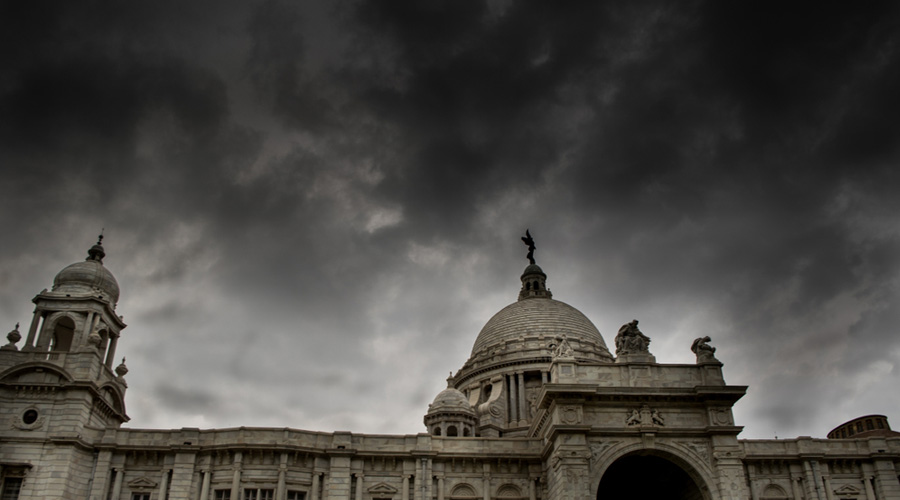 Representational image
Shutterstock
---
Published 21.04.22, 01:12 AM
|
---
Receding storm
Sir — In the month of April and May, nor'westers — kalbaishakhis in local parlance — bring relief from the stifling and sultry Calcutta summer. When dark clouds descend upon the city's skyline after a scorching summer afternoon, heralding the arrival of heavy showers accompanied by gusty winds, Calcuttans breathe a sigh of relief in the hope of the mercury dipping momentarily. Kalbaishakhis have been famously portrayed by Satyajit Ray in Pather Panchali. But such squalls are becoming increasingly rare. Calcutta has been reeling under intense heat with no rainfall having been recorded in the past 50 days. Climate change is no longer just a scientific concept; it is our reality.

Basabdatta Kar,
Calcutta
Poisoned ties
Sir — Communal clashes broke out during a peaceful Hanuman Jayanti procession in Jahangirpuri in northwest Delhi. Such orchestrated violence seems to be a desperate bid by lumpen elements to disrupt peace ("How we let down our Gods", April 18). Communal violence has increased across states in recent times. This spells doom for the secular and democratic ethics of the country.
The failure of the Delhi police to take timely action against armed participants of the rally in a communally-sensitive area betrays their incompetence. The wounds of the February 2020 riots in northeast Delhi — the Delhi police have been accused of bias in their investigation of this case — are still fresh. The authorities must bring the perpetrators to book at once.

Janga Bahadur Sunuwar,
Jalpaiguri

Sir — Unsurprisingly, the communal clashes in Delhi come on the heels of demands for a ban on the hijab, halal meat and other things associated with Islam. The attacks on Muslims perpetrated by saffron groups seem to have the tacit support of the ruling regime. In that case, whom should the Muslim community turn to for protection against such violence? The government must ensure peaceful conduct during religious rallies.

Shovanlal Chakraborty,
Calcutta
Sir — It is disheartening that the prime minister of India, Narendra Modi, has failed to condemn the alleged Hindutva goons who are perpetrating communal violence across several states ("United voice vs Modi's silence", April 17). The prime minister's silence indicates encouragement for divisive forces. Modi should realize that he is the prime minister of the whole country and not just a particular community. Strict action from Modi could stop the chaos.

Iftekhar Ahmed,
Calcutta

Arbitrary rules
Sir — The Union home ministry has suggested that Indian Police Service officers who do not available for Central deputation at the superintendent of police and deputy-inspector general levels might be debarred from Central postings for the rest of their careers. The proposal comes amidst simmering tensions between the Centre and the states.
In January, many states, including those in which the Bharatiya Janata Party is in power, had opposed the Centre's bid to change the rules of the Indian Administrative Service. Thereafter, the decision to scrap the empanelment requirement for DIG-level IPS officers for Central deputation invited similar criticism. Such rules violate the federal structure of the Indian polity. The Centre must consider the states' points of view.  

S.S. Paul,
Nadia

Bittersweet victory
Sir — Hearteningly, the Trinamul Congress retained the Ballygunge assembly seat and managed to wrest the Asansol Lok Sabha seat from the Bharatiya Janata Party in the latest by-elections. The results indicate a backlash against the BJP for failing to curb inflation and unemployment. But the Ballygunge verdict should serve as a warning for the TMC as the BJP turncoat, Babul Supriyo, managed to win the minority-dominated TMC stronghold only by a narrow margin ("TMC wins, with alert on Babul", April 17).
Incidents such as the reported murder of Anis Khan, the Bogtui massacre and the heckling of the vice-chancellor of Alia University by a TMC student leader have dented the pro-minority image of the ruling party. Further, Supriyo's candidature did not go down well owing to his incendiary remarks against Muslims in the past.

Khokan Das,
Calcutta

Clear sight
Sir — The Supreme Court must be lauded for directing the Pune-based Film and Television Institute of India to allow colour-blind students into all film-making and editing courses. The rule barring such candidates from pursuing some film-making courses was discriminatory and had no relevance to the role of a film editor. Those suffering from colour blindness must be treated equally and with empathy. 

Ranganathan Sivakumar,
Chennai

Places to see
Sir — Tourism in West Bengal is restricted to a few well-known places. But new and unexplored destinations are now becoming major attractions. The reason behind this is the sprouting of homestays in such places. Homestays — where visitors share houses with local residents — are popular among tourists. Moreover, government initiatives, too, have helped. For instance, Jhargram has now turned into a major tourist hub. The government must develop other areas to ensure a regular influx of tourists.

Alok Ganguly,
Kalyani

Sir — West Bengal is brimming with both cultural heritage and natural beauty. Its full potential as a tourist destination is yet to be realized. More must be done in this respect by the government.

Rima Roy,
Calcutta