Letters to the editor: Journalists and philosophers do have a lot in common
Readers write in from Gurgaon, Jhargram, Chennai, Calcutta, Udupi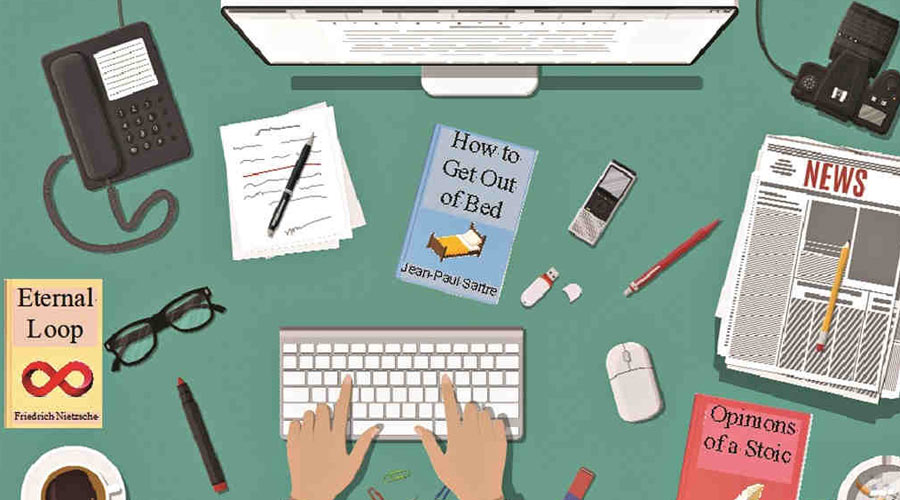 Representational image.
Telegraph file picture
---
Published 03.10.21, 12:37 AM
|
---
Spot the difference
Sir — The Union minister for women and child development, Smriti Irani, claims that India has the highest number of women in political offices globally if one includes female members of panchayat. It is common knowledge that in most of these cases, the women are just figureheads and the decision-making rests with their male family members. But the more important question is this: since women are not a homogenous group — caste, religion, geography divide them — what is the guarantee that the women who get elected will represent the interests of all their peers?
Jharna Murmu,
Jhargram
Kindred spirits
Sir — As strange as it may seem at first, philosophers and journalists do have a lot in common ("Philosopher's stone", Sep 29). Both analyse facts, pursue the truth, ask whether objectivity is possible and have a tendency of becoming passionately involved in the politics of ethics. Yet, there exists a chasm between the two worlds that neither side is ready to breach.
If this gap is breached, both professions can benefit. Some of the ways have been outlined by Uddalak Mukherjee in his article. Besides those, philosophers can draw out the philosophical implications of stories in the news as well as improve the work of advocacy that journalists undertake — especially editorial boards — in public interest. Without journalists, philosophers would have nothing to analyse. It is the news and happenings from around the world that journalists carefully search out that allow philosophical thought to progress.
Abhay Kashyap,
Gurgaon
Image matters
Sir — While the entire nation celebrated Gandhi Jayanti yesterday, Madurai was ahead of the rest of India when it organized the centenary celebrations of M.K. Gandhi's 'dress revolution' that took place there on September 22, 1921. Here Gandhi shed his Western attire and chose to wear a shawl and a half-dhoti, which remained his chosen apparel till his death.
Gandhi's iconic makeover went on to make him the symbol of the common man and bore testament to his spiritual strength. It is a matter of great pride that Gandhi elected the path of truth and simplicity to lead the nation to freedom.
Ranganathan Sivakumar,
Chennai
Sir — On his trip to Madurai to urge civil disobedience among people, Mahatma Gandhi realized that the poor of his country were too poor to afford even khadi. This led him to shed his traditional Gujarati garb and don the legendary loincloth that later became synonymous with him.
One hundred years later, at a time when the number of poor has increased to a staggering 134 million in India, the country's prime minister shed his absent-minded ascetic image with a beard and hair trim before travelling to the United States of America. Image, truly, is everything.
K.K. Navada,
Udupi, Karnataka
Hot wheels
Sir — The bicycle sharing system introduced by the Greater Chennai Corporation was welcomed by one and all. But the programme seems to be running at a loss. The primary reason behind this is the exorbitant rent. While the charge of Rs 5.50 for the first hour for the next-gen and the eco-bike is reasonable, Rs 9.90 for the subsequent half an hour is too high for the common people who avail this service. The charges for the electric cycle are even more expensive where after Rs 10 for the first 10 minutes, one has to shell out Re 1 per minute. Unless the rates are made affordable, the programme would continue to incur a loss.
N. Mahadevan,
Chennai
Parting shot
Sir — It is encouraging that the Institute of Neurosciences, Kolkata has started a monthly cognitive reorientation clinic for dementia patients. Mental health needs more attention in India.
Pranav Mishra,
Calcutta