Letters to the Editor: Calcutta Metro bids farewell to non-AC rakes
Readers write in from Calcutta, Jamshedpur, New Delhi, Bangalore, and Maruthancode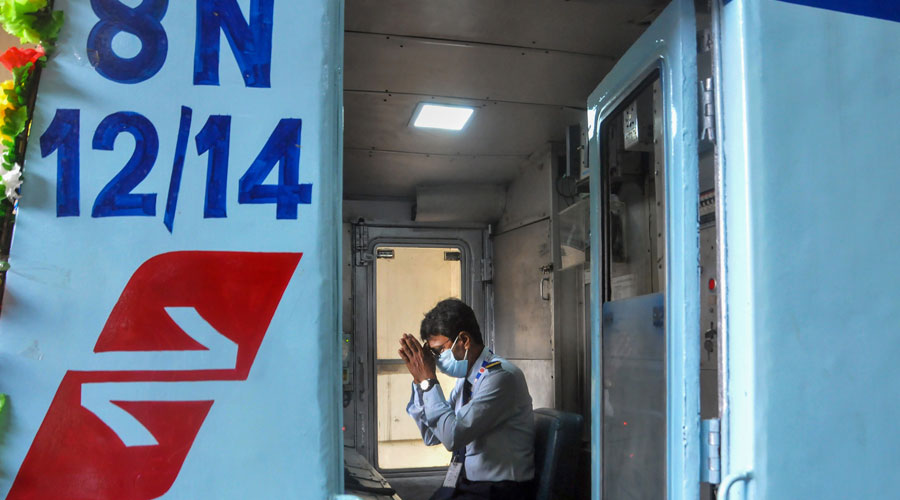 An engineman of Calcutta Metro Railway offer prayer at the pilot seat during the farewell ceremony of Non-AC Metro rakes on the occasion of 37th foundation Day of Metro Railway, in Calcutta on Sunday.
PTI
---
Published 28.10.21, 01:25 AM
|
---
Final goodbye
Sir — The Metro Railway in Calcutta has formally bid farewell to the non-air conditioned rakes, some of which had been in service since its inception in 1984. When the AC coaches were first introduced, many of us were eager to travel on these as they provided respite from Calcutta's sweltering heat and humidity. Over time, it became clear that the non-AC rakes provide much better ventilation when the coaches get crowded during rush hour. The rakes were, however, old and rickety and certainly needed to be retired. But those of us who have grown up with the old Calcutta metro — from going to college to ultimately braving the crowd for office — will always fondly remember the older coaches.  
Ananya Chakraborty,
Calcutta
Rough roads ahead
Sir — Days ahead of the United Nations Climate Change Conference, 2021, a report from the UN has stated that the current commitments to cut down on greenhouse gas emissions are not enough and has predicted an about 2.7 degrees Celsius temperature rise for the planet in this century. It further revealed that countries will need to "redouble their climate efforts if they are to prevent disastrous global heating in the future".
This is a scary revelation and proves beyond doubt that the nations who were party to the Paris Agreement have failed to uphold their pledges. Australia, one of the world's top polluters, has finally agreed to move towards zero carbon emissions by 2050 and Saudi Arabia, the biggest oil exporter, has committed to net zero emissions by 2060. According to experts, the countries should have set a much earlier date for achieving net zero emissions. Many other countries, including India, are yet to set a date. If this lackadaisical attitude does not change, there is no way that climate change can be stopped.
Jang Bahadur Singh,
Jamshedpur
Sir — Every time a new report is released on the lack of progress made on mitigating climate change, countries around the world sit up and pledge to do better. But in reality, nothing changes. We are already heading towards catastrophe that will leave nations and communities struggling to survive. Unless countries collectively prioritize tackling climate change, the situation will get worse.  
Ritobroto Sinha,
Calcutta
Sir — The latest report on climate change by the UN is cause for concern. Many people who are sensitive to the needs of the planet argue for a transition from diesel and petrol-run vehicles to electric vehicles. But does it make sense to opt for EVs if the electricity comes from fossil fuel-powered plants? If we truly want to make a difference, countries must first transition from primary fossil fuel energy sources to renewable energy. This should be coupled with a drastic reduction in privately-owned vehicles.
Anwar Saeed,
Calcutta
Sir — There is no doubt that EVs are the future of travel, but it is also time to reduce the number of private cars altogether. The pandemic has shown us that cycles are a sustainable, yet speedy, way of travelling across the city. We should adopt such measures without being prodded by the government if climate change is to be checked.
Nitya Srivastav,
New Delhi
Tangled mess
Sir — The accusations of intimidation and extortion in the Aryan Khan case should be a wake-up call for the country ("Aryan bail hearing continues", Oct 27). While it is too early to gauge the entire truth, reports indicate that there is a larger conspiracy to implicate Khan and that the Narcotics Control Bureau officials are guilty of misconduct.
Ever since the National Democratic Alliance came to power in 2014, the country has witnessed a trend of Central agencies selectively targeting political rivals and critics of the regime. Irrespective of which political party is in power, such blatant misuse of government agencies will destroy their credibility in the eyes of the people. Whether Khan is guilty or not is a matter of investigation and the courts will decide on the veracity of the charges. India is a democratic nation and one expects the custodians of law to conduct themselves accordingly.
N. Sadhasiva Reddy,
Bangalore
Sir — The arrest of Aryan Khan on drug charges has captured the attention of the nation with news channels sensationalizing the story to maximize viewership. With new details emerging every day, the case has become a Bollywood drama in itself.
Strikingly, Khan neither consumed nor possessed drugs but continues to be denied bail on the flimsy ground of 'conscious possession'; the former attorney-general, Mukul Rohatgi, who appeared on behalf of Khan, argued that 'conscious possession' cannot be held against his client and that the small quantity of drugs recovered from Arbaaz Merchant, Khan's friend who has been arrested for possession, is not enough to keep Khan in jail.
The case is getting murkier and the charges levelled against Mumbai zonal director of the NCB, Sameer Wankhede, by one of its own witnesses has added a new twist. It will certainly be a long road to justice for Khan.
G. David Milton,
Maruthancode, Tamil Nadu
Sir — The politicization of the Aryan Khan case has complicated matters. It is up to the courts to decide whether a person is guilty; yet many seem to be passing verdicts on a matter that is sub judice. This includes the Nationalist Congress Party leader, Chhagan Bhujbal, who remarked at a public event that drugs would become sugar powder if Shah Rukh Khan were to join the Bharatiya Janata Party. Whatever may be the truth, politicians should refrain from making such polarizing statements.
K.V. Seetharamaiah,
Bangalore
Sir — The charges against Sameer Wankhede, if proven, will complicate the Aryan Khan case further. They must be cleared up at once.
Shiuli Ghatak,
Calcutta