Letters to the editor: Brushing gender inequality under the carpet
Readers write in from Bangalore, Mumbai, Visakhapatnam, Navi Mumbai and Hooghly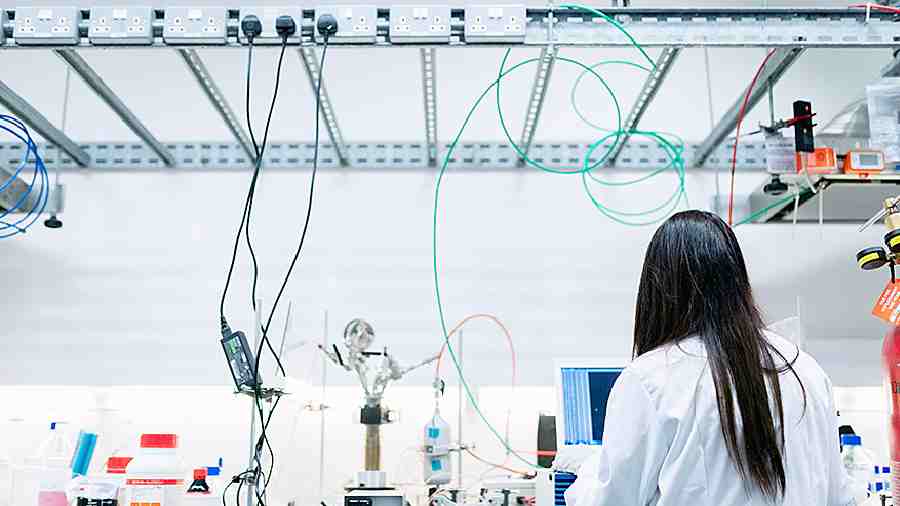 Previous research on gender inequality in the workplace has yielded similar results.
Telegraph Picture
---
Published 24.06.22, 03:46 AM
|
---
Empty words
Sir — Gender inequality in academia is usually brushed under the carpet. A new study has found that female scientists are less likely to receive authorship credit or be named on patents compared to their male co-workers. Previous research on gender inequality in the workplace has yielded similar results. Universities often vow to rectify the gender imbalance in hiring and admission but such proclamations rarely lead to any concrete change. All institutions must have mandatory gender sensitisation programmes and effective grievance redressal cells. These initiatives would be the right step forward.  
Preetha Sen, Mumbai 
Messy affair
Sir — The coalition government in Maharashtra is in a crisis. Reports emerged on Tuesday that the Shiv Sena minister, Eknath Shinde, has rebelled against the chief minister, Uddhav Thackeray, with the support of over 40 members of the legislative assembly ("Rebellion with Surat shelter", June 22). This does not bode well for the Maha Vikas Aghadi government.  Earlier this month, all three Rajya Sabha candidates who were fielded by the Bharatiya Janata Party in Maharashtra were elected to the upper House. This indicated that the Shiv Sena could be losing its foothold in the state. The anti-defection law in India has failed to stop disgruntled lawmakers from jumping ship. The law must be strengthened. 
N. Sadhasiva Reddy,  Bangalore
Sir — The uneasy coalition of the Shiv Sena, the Congress and the Nationalist Congress Party was riddled with problems from the beginning. However, it is curious that many Opposition-led states have seen similar crises ever since the BJP came to power, which ultimately ended with the fall of the state governments. Such underhanded tactics are not good for the health of a democracy. 
K. Nehru Patnaik, Visakhapatnam
Sir — It seems that coalition governments in India can collapse at the slightest hint of trouble. The Shiv Sena-led MVA government in Maharashtra is on shaky ground after the rebellion of Eknath Shinde. It was initially reported that Shinde and his supporters have taken shelter in Gujarat but now they seem to have shifted to Assam — both Gujarat and Assam are BJP-ruled states. The turmoil in Maharashtra will likely continue for some time. 
C.K. Subramaniam Iyer, Navi Mumbai 
Find the truth
Sir — Nine members of a family of two brothers were found dead in their houses in Mhaisal village in Maharashtra. They were allegedly being harassed by moneylenders. The police have arrested at least 13 people for abetment of suicide and have also booked them under the Scheduled Caste and Scheduled Tribe (Prevention of Atrocities) Act as well as the Maharashtra MoneyLending (Regulation) Act. 
The police are still trying to ascertain the exact amount that was loaned but it is abundantly clear that the accused had constantly harassed and humiliated the family. This is a serious offence and the authorities must ensure that such incidents do not recur. The activities of moneylenders and their recovery process should be closely monitored. 
R.C.K. Subramaniam,  Tiruchirappalli
Basic need
Sir — The government of West Bengal has announced that it will set up a commission to investigate complaints against private schools about fee hikes ("Panel to keep tabs on private school fees", June 22). This is welcome. Although it is true that the standard of teaching in private English-medium schools is much superior to those of government schools, it is not ethical of educational institutions to demand exorbitant fees. 
Some institutions have raised objections regarding setting up a commission — if school fees are fixed by the commission it would amount to interference. But this would not have come to pass had private schools desisted from raising their fees willy-nilly. 
Sanjit Ghatak, Calcutta
Sir — All children deserve to have access to quality education. But parents often have to pay an arm and a leg for their children's education. This is unfortunate. 
Mainak Guha, Calcutta
Crucial miss
Sir — The parliamentary standing committee on communications and information technology was not given permission for an in-person deposition by the former Facebook scientist, Sophie Zhang, on a crucial matter. The permission was sought by the panel chairman, Shashi Tharoor, as Zhang had shared proof of the social media giant's inaction regarding inauthentic accounts linked to a Bharatiya Janata Party parliamentarian. 
The Speaker of the Lok Sabha, Om Birla, said he could not allow a foreign national to appear before a parliamentary committee. However, Zhang's allegations were serious and committee would have benefited from her testimony. The committee will have to depend solely on the written testimony provided by Zhang. This will have an impact on the final report. 
Sukhendu Bhattacharjee,  Hooghly 
Letters should be sent to: 6 Prafulla Sarkar Street, Calcutta 700001 or ttedit@abp.in