Letters to the Editor: Banality of beauty pageants: Meow like a cat?
Readers write in from Chennai, Nadia, Ernakulam and Calcutta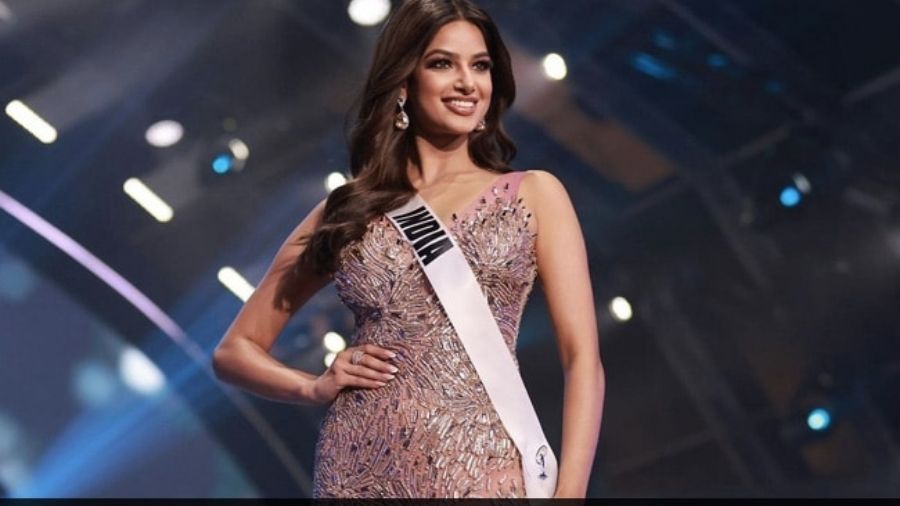 Harnaaz Sandhu.
File photo
---
Published 18.12.21, 01:02 AM
|
---
Juvenile query
Sir — The questions posed to participants of beauty pageants are banal at best. But things touched a new low when Harnaaz Sandhu from India, who went on to become Miss Universe 2021, was asked to do her best animal impersonation — she 'meow-ed' like a cat. It may take hours of practice and a keen ear to perfect the art of meowing, but surely to ask a contestant who claims to be an advocate of women's empowerment to purr is both sexist and a waste of time? Each participant is asked only a handful of questions; organizers should ensure these are not out of a playschool questionnaire.
Esha Paul,
Calcutta
Battle stations
Sir — It is surprising that the war of words between Virat Kohli, the captain of the Indian men's Test team, and Sourav Ganguly, the president of the Board of Control for Cricket in India, has reached a point that strains civility ("Kohli contradicts Sourav", Dec 16). Such differences in opinion should not have been allowed to flare up. The incident has brought disgrace to the BCCI and Indian cricket.
Arun Kumar Baksi,
Calcutta
Sir — The rift between the BCCI president and the Test captain, Virat Kohli, is painful to witness. It seems that the mud-slinging started after the retirement of Ravi Shastri as the head coach. But such discontent is not new. Shastri and Kohli, too, have been accused of axing talented players to accommodate their favourites.
Since Sourav Ganguly himself had faced such bias in his playing career, it is hoped he will not mete out such unfairness to those under him. Administrators and players are both essential components of any game. If they do not work in harmony, Indian cricket will suffer. We wish India all the best for the South Africa tour.  
N. Mahadevan,
Chennai
Sir — Sourav Ganguly and Rahul Dravid have been in the position that Virat Kohli and Rohit Sharma are today. The two stalwarts should put their heads together to ensure that bitterness regarding team selection does not affect two of the strongest players on the Indian side. Formation of cliques within the team should be avoided if India is to succeed at the international level. As the head coach, Dravid should ensure there is no bad blood in the dressing room.
Surabhi Pal,
Calcutta
Promising start
Sir — It is unfortunate that talks of women's empowerment do not extend beyond poll promises ("Strategic shade", Dec 16). The Congress general-secretary, Priyanka Gandhi Vadra, recently launched the pink manifesto, especially for women for the upcoming Uttar Pradesh assembly elections, making a slew of promises, including 40 per cent reservation for women in government jobs, if her party wins.
While this is a radical and timely idea, political parties have been hypocritical on this issue before. The tardiness cutting across political lines when it comes to passing the women's reservation bill is proof of this. The Congress' move is commendable; any real change though would require steadfast adherence to the manifesto.
S.S. Paul,
Nadia
Musical genius
Sir — Paravaikkalam, a documentary film on the life of nagaswaram maestro, Karukurichi P. Arunachalam, extols the greatness of his music. Arunachalam's birth centenary is being celebrated this year. Arunachalam had a huge fan following enhanced by his contribution to the blockbuster Tamil film, Konjum Salangai. A song from the film, "Singaravele deva", in which the playback singer, S. Janaki, performed with Arunachalam, was a runaway hit.  
Ranganathan Sivakumar,
Chennai
Sir — Paravaikkalam was a pleasure to watch. It highlighted hidden facets of the music industry and Karukurichi P. Arunachalam's contributions to it. It is a must-watch for music aficionados.
Kaveri Raj,
Ernakulam