Handle with care: Norwegian outrage over the removal of mural
The act is being interpreted as an attack on the country's cultural heritage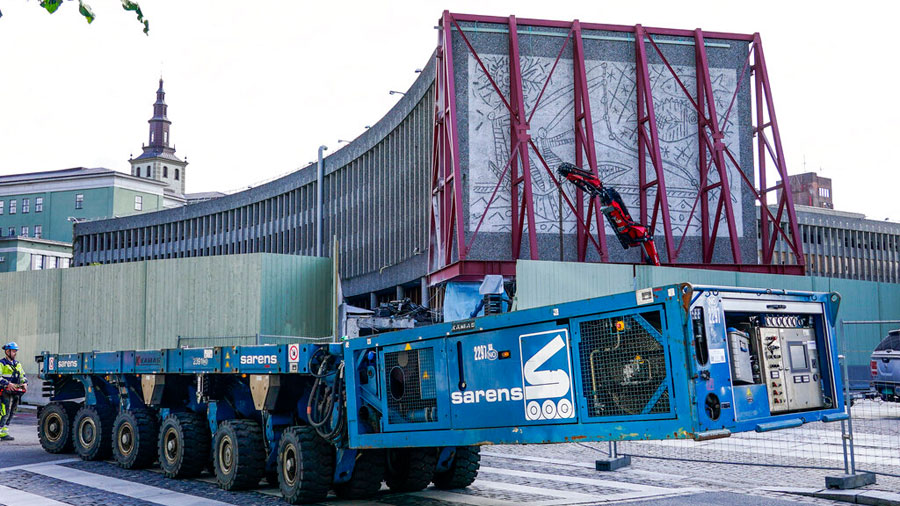 Art works Fishermen and Seagull by Pablo Picasso and Carl Nesjar are prepared to be removed in Oslo
AP
---
Published 05.08.20, 12:53 AM
|
---
Sir — The outrage of many Norwegians over the removal of a mural by Pablo Picasso and Carl Nesjar from its original, prominent position in Oslo is understandable — this act is being interpreted as an attack on the country's cultural heritage. But for someone living in a country where scant attention is paid to the restoration of art and architecture, it was refreshing to see people's concern about and the efforts of the authorities in handling the artwork. Several political leaders in India boast of India's heritage. They should ensure that their words are translated into action too.
Abhirupa Dutta
Calcutta
Hidden truth
Sir — In his article, "Limitless power" (Aug 1), Ramachandra Guha has brilliantly chronicled the personality cults of leading political personalities in history who have ruled over different countries in different periods of time, with instances ranging from the communist and fascist regimes — Mao Zedong's China and Adolf Hitler's Germany — to the recent, democratic ones in India, under Indira Gandhi and Narendra Modi. 
Cults of personality are deliberately created by authoritarian rulers in order to stabilize and extend their rule. This ensures that the common people feel obliged to respect them, like their messiah, especially during times of crises. To this end, the ruling dispensation whips up a nationalistic and religious fervour that helps generate popular support for the leader. But such majoritarianism invariably leads to serious consequences for minority communities. 
It is clear that the Bharatiya Janata Party under the leadership of the current prime minister and with the backing of the Rashtriya Swayamsevak Sangh think-tank is operating steadfast along these lines. This is also evident from its efforts to subvert the autonomous and constitutional institutions such as the Election Commission, the judiciary, the banking and financial institutions and their controller, the Reserve Bank of India, higher educational and research centres and so on. Most of these institutions are being compelled to work towards the benefit of the strongman leader at the Centre. As a result, democratic values are going down the drain, and the voices of opposition, however feeble, are being throttled into silence. This, in turn, makes it easier to perpetuate the image of the leader as the only choice in governance. 
Lord Acton had said that power tends to corrupt, and absolute power corrupts absolutely. This seems to explain the situation with many world leaders at present — surely India's premier is not the only example. While this would not be surprising in a military dictatorship, it is a matter of concern when such trends become manifest in democracies.
P.N. Pal
Calcutta 
Sir — It was good to read the article by Ramachandra Guha. At a time when darkness is descending upon the political sphere in India and free minds like those of Gautam Navlakha, Varavara Rao and Sudha Bharadwaj are being persecuted, the writer has shown exemplary courage in pointing out some home truths about oppressive methods of governance.
D. Mukherjee
Jamshedpur
Sir — Ramachandra Guha's article underscores that we are approaching a state of an undeclared emergency. History is said to be a great teacher; yet we seem to not have learnt our lesson from it. However, the silver lining is that history repeats itself. One hopes that the culture of cults dies out soon, and this generation is there to witness it.
P.T. Mallik 
Calcutta
Game on
Sir — In view of the upcoming series against India, the Australian cricketer, Matthew Wade, has commented that he does not think that pace bowling from the Indian side will be as effective as that of Neil Wagner — the Kiwi bowler stood out in the last Test series against New Zealand. Coming from Australian cricketers, such tactics meant to unsettle or agitate the opposing side are not surprising. This should not deter the performance of Virat Kohli's team. Hardik Pandya, among others, could be a game-changer in this series played Down Under.
N. Mahadevan
Chennai