Letters to the Editor: Art may salvage the future of printed calendars
Readers write in from New Delhi, Tamil Nadu, Bangalore, Ujjain, Calcutta, Bankura, Gurgaon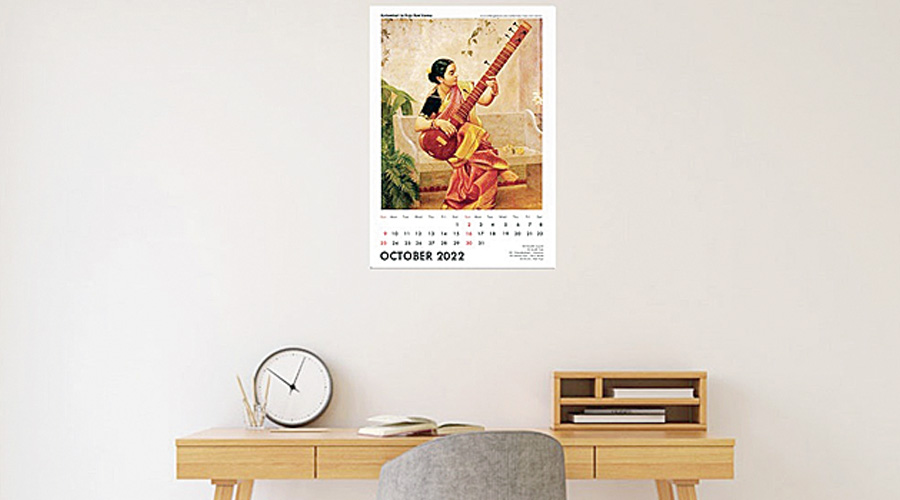 Representational image.
File picture
---
Published 07.01.22, 12:56 AM
|
---
Artfully dated
Sir — The printed calendar, which had managed to survive the digital age, has now been rendered into a pointless artefact by the pandemic. Reports show that the sale of calendars had taken a serious hit in 2020 and 2021, with orders down by up to 60 per cent in places. Unprecedented disruptions in the social, personal and professional lives of people seem to have rendered calendaring unimportant. Perhaps it is time to revisit an increasingly-fraying link that had helped calendars survive the digital age: art. There was a time when great artists like Raja Ravi Varma created art specifically for calendars. Perhaps art created exclusively for calendars may salvage their future.
Jhelum Roychowdhury,
New Delhi
Battle royale
Sir — The upcoming assembly polls in five states could explain the Bharatiya Janata Party's reticence in response to the comments made about the prime minister, Narendra Modi, by the governor of Meghalaya, Satya Pal Malik ("Too tall", Jan 5). Malik accused the prime minister of being arrogant about the death of protesting farmers. This is not the first time that Malik has spoken up against the party. Malik had even organized a rally in his home district, Baghpat, against the Modi government for bulldozing the three farm laws in Parliament. But a direct accusation against Modi was unexpected. His current statements may be interpreted as a desire to play kingmaker in Uttar Pradesh in the assembly polls slated for this year.
Buddhadev Nandi,
Bankura
Sir — One cannot fault Satya Pal Malik for voicing his concern for farmers who died protesting the three farm laws. It is also not hard to believe that the prime minister did indeed give him the reply that Malik says he did — after all, self-righteousness is a defining personality trait of Narendra Modi.
The Modi government has not sacked Malik for fear of alienating the Jat community in Uttar Pradesh. It seems that when it comes to votes, even accusing the prime minister's moral authority will be tolerated.
G. David Milton,
Maruthancode, Tamil Nadu
Sir — There is no dearth of instances where chief ministers and governors have locked horns. But it is surprising that Satya Pal Malik, who was appointed a governor by the current dispensation, has chosen to confront the prime minister on the farm laws. It would be better if Malik remembered his constitutional role instead of making controversial statements. If he has a moral disagreement with the Centre, he should step down. The sanctity of the gubernatorial post must not be sullied.
K.V. Seetharamaiah,
Bangalore
Sir — It is one thing for the prime minister's domestic rivals or his foreign critics to call him arrogant; it is an altogether different thing for a governor allied to the BJP to call him names. Yet, sacking Satya Pal Malik — he hails from the powerful Jat community in Uttar Pradesh — for seemingly sympathizing with the farmers can amount to political suicide for the BJP before the UP assembly polls. It will be interesting to see how the BJP handles this one.
Rajesh Kumar,
Ujjain
Double fault
Sir — It is shocking that Novak Djokovic had been granted permission to play by the Australian Open even though he is not inoculated against Covid-19. Hearteningly, he was stopped by border officials on arrival to Australia. He has appealed against the cancellation of his visa. It is astonishing that Djokovic refuses to get vaccinated even though he had contracted the virus in 2020 after he played a series of exhibition matches with zero social distancing at the height of the pandemic. It is irresponsible of an event of the stature of the Australian Open to make an exception for Djokovic.
Sayantan Ghosh,
Calcutta
Sir — As soon as the Australian Open announced that players could apply for a medical exemption from the Covid-19 inoculation requirement, people knew that this was for the benefit of Novak Djokovic, the vaccine-averse, 20-time Grand Slam champion.
Djokovic already displayed a cavalier disregard for the health of others — in 2020, he played a series of matches and attended a party afterwards where he and many others got infected. Djokovic can afford the best of healthcare, the same cannot be said of the staff and all the others who are behind organizing the Australian Open.
Amit Ranjan Pal,
Calcutta
Sir — The Australian government has done the right thing by cancelling Novak Djokovic's visa. He should not be allowed to play in the Australian Open.
Indranil Sen,
Calcutta
Spotty idea
Sir — After going extinct from India in 1952, the cheetah is all set to return to the country. The Centre has launched an action plan under which 50 of these big cats will be introduced in India over the next five years. But is India capable of looking after these animals? Their numbers are already precariously low globally — unless India is certain that it can keep all 50 animals alive and safe, they should not be brought back to India.
Najeem Ahmed,
Calcutta
Sir — It will be great if India can manage to re-introduce the cheetah — the big cats can restore the balance of the country's grasslands. But an important factor that needs to be kept in mind is this — unless there is a sufficient base of wild prey, the cheetahs will hunt on cattle. India's grasslands are home to nomadic communities whose primary occupation is animal husbandry. This could lead to increased man-animal conflict in the region.
Sudeep Hansda,
Calcutta
Useless exercise
Sir — One fails to understand the purpose of night curfews that are being imposed in several states in the light of the third wave of Covid-19. Not only are they brazenly flouted, but they also achieve little since it is daytime that draws most of the crowds. Instead of pulling wool over the public's eyes, the government should ensure that proper protocols are followed stringently as they were in the early days of the pandemic.
Aditya Bannerjee,
Gurgaon