Letters to the Editor: Afghanistan's food crisis is fuelling illegal trades
Readers write in from Delhi, Ujjain, Chennai, Asansol, Nadia and Calcutta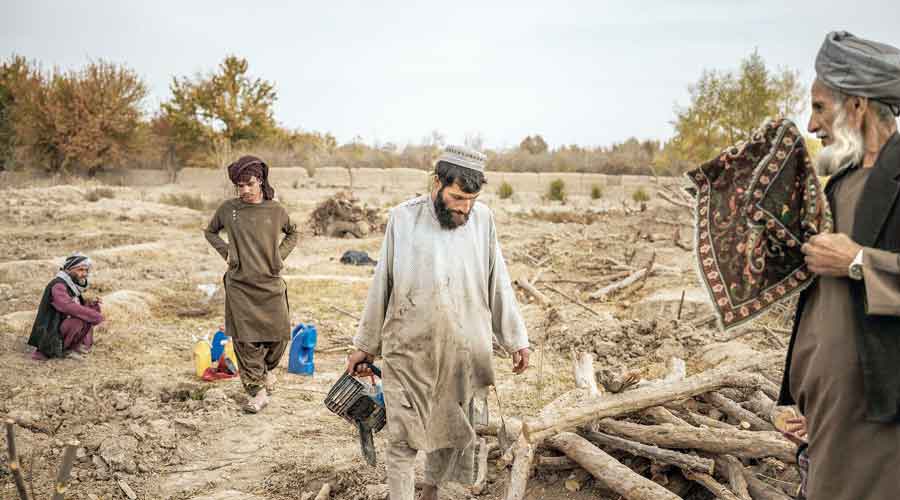 Abdul Hamid (right) with farmhands at his pomegranate orchard in Arghandab, Afghanistan.
Jim Huylebroek/NYT
---
Published 23.11.21, 02:53 AM
|
---
Easy choice
Sir — Soon after seizing power in Afghanistan, the Taliban had asked farmers to stop cultivating opium poppies. However, recent reports suggest that farmers are increasingly taking up poppy cultivation. The production and smuggling of illegal drugs, especially opium, have long been problems in Afghanistan. But this surge must be understood in the context of the growing food crisis in the country. Opium prices have been hiked, which allows farmers to make a greater profit and provide for their families. Unless the food crisis in Afghanistan is resolved, more people will be compelled to take up illegal trades to meet their needs. The choice between starvation and ethics is not a difficult one in reality.
Srestha Dasgupta,
Calcutta
A rejoinder
Sir — The article, "Briefing for boss: China not budging" (Nov 19), mentions a "closed-door meeting" where Power-Point presentations were made by senior military officials to the Raksha Mantri during his visit to Ladakh on November 18 to inaugurate a renovated war memorial at Rezang La. This is to inform you that the Raksha Mantri and other senior functionaries of the government are regularly updated on matters of national security. The "closed-door meeting" and the purported discussions, as reported by The Telegraph, did not take place. The information is incorrect and misleading.
Sudhir Chamoli, Col, PRO (Army),
New Delhi
Momentous win
Sir — The Australian cricket team won their maiden Twenty20 World Cup in a remarkable match against New Zealand ("Brutal & fearless, the Aussie way", Nov 15). The team was chasing a significant target of 173 runs but Mitchell Marsh and David Warner pulled the team through with 77 and 53 runs respectively. Unlike other teams, Australia was not driven by analytics. They started slow in the tournament but went from strength to strength. There could not have been more deserving winners.
Shashank Patil,
Ujjain
Sir — Most of us did not think that the T20 World Cup, 2021 would be won by Australia. The team had been champions in the 50-over format on multiple occasions, but the T20 World Cup had eluded them since its inception. Yet, indomitable spirit coupled with steady performance ensured that the Aussies lifted the Cup this year. The Indian team, which was knocked out much earlier than anticipated, must draw lessons in perseverance from Australia.
Ranganathan Sivakumar,
Chennai
Sir — Australia was not the only team that played remarkably well at the T20 World Cup finals; New Zealand put up a great show too. Both teams must be congratulated. However, there seems to be a pattern to the wins and the losses suffered by the teams. Moisture and dew seem to help teams who bowl first, thus tilting the game in the favour of chasing teams. Out of the 23 matches played between full-member nations from the Super 12 round onwards, 18 were won by the team chasing, and 15 by the team that won the toss. If this is indeed true, then it is an unfair advantage. The International Cricket Council should look into the matter at the earliest.
Murali Bharat,
Asansol
Show the way
Sir — The National Education Policy lays stress on the importance of imparting education in the mother tongue. But reality can be far more complicated. In Odisha, the adivasi communities speak 21 languages, which can be further divided into 74 dialects. But the state is trying to resolve this problem. The Scheduled Tribe and Scheduled Caste Development Department is working on a project called Samhati to address the language issues faced by tribal students.
The school and mass education department already manages about 1,500 schools in 17 tribal-dominated districts where students are taught in tribal languages. Additionally, more than 302 textbooks and 2,500 supplementary reading materials including story books and pictures charts in 21 tribal languages have been developed. The Odisha government must be commended for braving all odds to bring about an inclusive model of education.
Tarun Patidar,
Ujjain
Tight grip
Sir — The chief significance of this year's conclave of the Communist Party of China was the passing of a rare and historic document  to pave the way for a third term for the incumbent president, Xi Jinping ("Leg-up", Nov 17). The CPC passed an updated version of the official history of Communist China — this is only the third time in history with the first two taking place in 1945 and 1981 under Mao Zedong and Deng Xiaoping respectively.
This is clearly an effort to cement Xi's place in history as one of the tallest leaders of the Communist Party. In 2018, the CPC had changed its Constitution to remove the two-term limit for the leadership, thus allowing Xi to remain in power beyond the stipulated term. It seems that China is set to take a significant political turn under Xi, just like it had under Deng, who, in a departure from Mao's vision, had ushered in a new, liberalized era for the people of China.
S.S. Paul,
Nadia
Sir — Xi Jinping has slowly but surely tightened his grip over all institutions in China. Whether he becomes as historically significant as Mao Zedong or Deng Xiaoping — both architects of modern China — remains to be seen, but he is certainly shaping up to be far more assertive than his immediate predecessors. Xi has not only pursued an aggressive 'wolf warrior' foreign policy but has also come down heavily on the business and film fraternity in the country. Xi's growing power coupled with the United States of America's retreat as a world leader is bound to result in major geopolitical upheavals.
Arundhuti Banerjee,
Calcutta
Sir — Xi Jinping has consolidated his foothold in China for good. This will have foreign policy implications for India, which should start working the diplomatic channels.
Raina Sen,
Calcutta