Letters to the Editor: A perfume, which smells of socialism
Readers write in from Ujjain, Calcutta, Nainital, Jalpaiguri, and Birbhum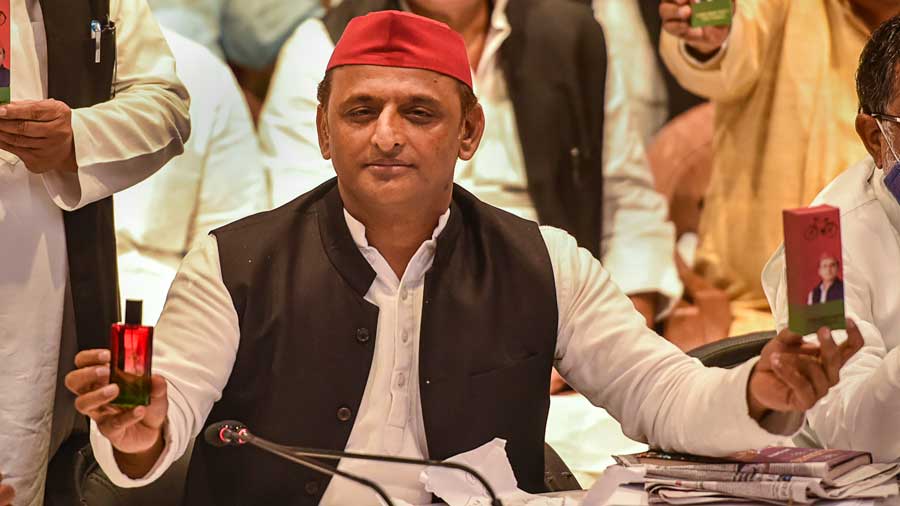 Samajwadi Party President Akhikesh Yadav at a press conference at the party office in Lucknow, Tuesday, Nov.9 2021.
PTI
---
Published 15.11.21, 12:55 AM
|
---
Smell the reality
Sir — Can all the perfumes of Kannauj wipe away the stench of violence and communalism that is emerging from all quarters of Uttar Pradesh ("Aromatic strategy", Nov 13)? The Samajwadi Party has launched a perfume, which, it claims, smells of samajwad. Yet, grass-root socialism is not associated with perfume but with the smell of blood, sweat and earth. It must not be forgotten that ideas of purity and pollution are closely connected to smell. As such, distributing perfumes among its followers might just misfire. It could send the message that the party is trying to spray away the scent of the 'great unwashed'. This plays right into the hands of the Bharatiya Janata Party's allegations of elitism.
Arunabh Acharya,
Ujjain
Wrong path
Sir — At a time when coal has been identified as one of the primary sources of harmful carbon emissions, it is strange that the West Bengal government is bent on operationalizing the Deocha-Pachami and Harisingha-Dewanganj coal mines in Birbhum. The cost of land compensations and operationalizing the mine will come to around
Rs 45,000 crore. This money would be better spent on building renewable energy sources.
West Bengal gets strong sunlight all year round and has ample lakes upon which solar panels can be placed. Wind farms along its coastline could generate much more power than what is obtained from coal-fired thermal power plants. If finance is a constraint, the state should approach developed countries for help.
Sunil M. Caleb,
Calcutta
Sir — It is heartening that the state government will wait for a month before it starts work on the Deocha-Pachami coal mining project to allow some 21,000 locals to properly consider the Rs 10,000-crore rehabilitation package that has been announced. But it must be ensured that such time is not used by local political goons to scare the people into submission. Those who will have to uproot their entire lives must do so after measuring all the pros and cons. Even if one person has some qualms, he or she should be heard out. It must also be ensured that rival political parties do not get to poison the minds of locals.
Subhoranjan Palit,
Calcutta
Young guns
Sir — A myriad fearless and young home-grown start-ups are making a mark  in the business arena. Out of over 800 unicorns (companies with a valuation of one billion dollars or more) about 72 are Indian. This is promising. Tapping the markets to raise capital has reaped rich dividends — the success of Zomato, OYO, Byju's, among others, attests to this. This not only bears proof of the depth of the domestic market, but also the willingness shown by the investors to back start-ups. The start-up economy has even found backers in private equity funds. What India needs is an array of such companies rather than the concentration of business in the hands of a few monopolies. Most encouraging is that the adversities posed by Covid-19 provided a boost to the domestic start-up ecosystem. If they are given an environment conducive to growth, Indian start-ups can even compete with the likes of Apple and Meta.
Vijay Singh Adhikari,
Nainital, Uttarakhand
Delayed justice
Sir — The Uttar Pradesh government is playing fast and loose by delaying the naming of a former judge to monitor the special investigation team probe into the Lakhimpur Kheri incident ("Time till Monday on Lakhimpur", Nov 13). This suggests that it does not want the truth to come out. The government must not forget that this may lead to further embarrassment in the future.
Arun Gupta,
Calcutta
Sir — If the Uttar Pradesh government does not name a judge to monitor the SIT probe into the violence at Lakhimpur Kheri, the court should take the decision out of its hands. Why is it so difficult to choose between two impartial figures? What does the government hope to achieve by such delays? Justice will take its course, one way or another.
Jayanta Sinha,
Calcutta
Dangerous law
Sir — It is unfortunate that the Unlawful Activities (Prevention) Act is being misused to target dissent as well as those who do not toe the Bharatiya Janata Party's diktats. Its constitutional validity is thus rightly being challenged in the Supreme Court. It has become a trend for the Centre and BJP-ruled states to misuse the UAPA to jail critics, social workers, journalists and so on. What is happening in Tripura is especially alarming. The court should scrap this draconian law and free those who are languishing in jail for daring to speak the truth.
Janga Bahadur Sunuwar,
Jalpaiguri
Slow system
Sir — India is supposed to be going digital but some sectors of banking are still dependent on primitive means. People receiving a pension still need to go through a lot of trouble to provide evidence of life to banks. With the value of UPI transactions crossing the $100 billion mark in October alone, surely there are better ways for banks to verify evidence of life? Video calls and biometric verifications could be two viable alternatives. Given the challenges posed to the health of senior citizens by the pandemic, physical presence at banks should be discouraged.
Aniruddha Bandopadhyay,
Birbhum
Parting shot
Sir — The unpredictable weather in West Bengal is stealing even the fleeting winter that the state used to enjoy.
Rima Roy,
Calcutta