Lead the way: Bashing sexism in US Congress
Readers' Speak: US Congresswoman Alexandria Ocasio-Cortez spekas out against sexism; death of single-screen theatres during Covid-19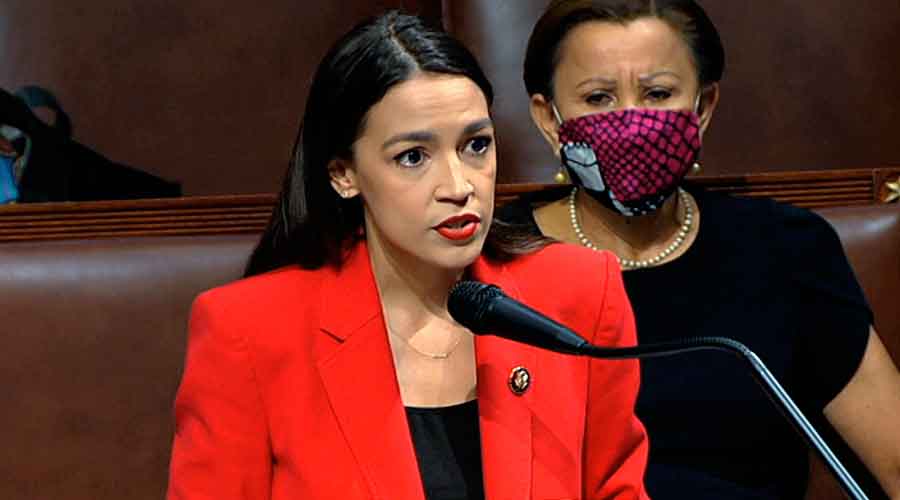 Rep. Alexandria Ocasio-Cortez, D-N.Y., speaks on the House floor on Thursday, 23 July, on Capitol Hill in Washington.
AP file photo
---
Published 31.07.20, 04:19 AM
|
---
Sir — The firebrand American political leader, Alexandria Ocasio-Cortez, has once again proved her mettle by calling out her colleague, Ted Yoho, for his misbehaviour and sexism. She was absolutely on point in stating that having a wife or a daughter does not make one a good person if he is disrespectful towards other people, women in particular. Her speech at the US Capitol is an inspiration for all.
Parama Ghosh,
Calcutta
Bleak future
Sir — It truly appears that Covid-19 will be the final nail in the coffin for single-screen cinema halls in West Bengal ("Covid bleeds single-screen halls", July 25). The emergence of multiple-screen theatres had already dwindled the footfall in single-screen theatres and eaten into their revenues. But the onset of the pandemic and the lockdown have dealt them a fatal blow. For four months now, these theatres have been suffering huge losses.
It is likely that many of the theatre owners will have to shut down the halls and convert the buildings into wedding venues or markets. This would lead to the monopoly of multiplexes, and cause a huge setback to the middle and lower income groups of the population, who would certainly find it difficult to afford the prices set there. At multiplexes, all products are expensive — starting from tickets to food and beverage. Further, if the multiplexes have tie-ups with shopping malls, the allure of other products would invariably punch a bigger hole in the pocket of the common citizen. The government must come up with a solution in order to save both the single-screen theatres and the consumers of their services.
Vinay Asawa,
Howrah
Sir — Business will no longer remain the usual for the owners of single-screen theatres. These days, many prefer to watch films at multiplexes instead of stand-alone theatres. The lack of revenue has caused many of the vintage theatres in the city to shut down. The pandemic has now made the situation worse. 
While the multiplexes can pay off their debts to the shopping malls they are partners with as and when the pandemic subsides and the lockdown ends, it will be difficult for the single-screen theatres to get back on their feet. The cost of sanitization and proper upkeep will be too high for them to afford. The government must not forget that the employees of these theatres have mouths to feed at home. Steps should be taken to ensure that they are not laid off. 
Cinema-goers who have grown up in the 1980s — many of them must have memories of bunking classes to catch a film associated with these theatres — should also try and help out the old theatres in their time of need.
Biplab Dutta,
Calcutta