Precious resources: Mining in Cook Islands
Readers' Speak: Mining on Cook Islands, 100 years of Satyajit Ray, CA family murder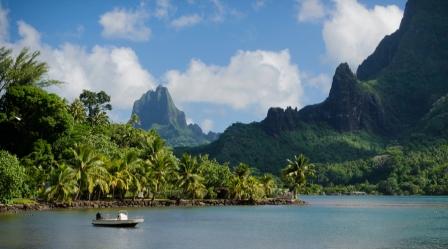 ---
---
Sir — It is unfortunate that at a time when activists are urging authorities to protect the environment, the government of Cook Islands is planning to allow mining operators to mine manganese and cobalt nodules in the Pacific Ocean. Experts argue that if mining were to take place in the Pacific seabed, it would take a long time simply to understand its impact on marine ecosystems. Unlike natural resources on land, which have been thoroughly exploited, oceans are relatively unexplored. But if such projects are approved, it would not be long before oceanic ecosystems, too, are damaged beyond repair.

Avani Sinha Roy,
Calcutta
Fond memories
Sir — Satyajit Ray's stories of the adventures of Feluda, that took the sleuthing trio — Feluda, Topshe and Jatayu — to different corners of the country instilled in me a love of geography ("Voyages out", June 26). Although I am yet to set foot in Rajasthan, Varanasi or the Ellora caves, I can easily smell the forts and sand dunes of Jaisalmer, the ghats by the Ganges, the alleys of the Kashi Vishwanath temple or the caves of the ancient rock-cut monasteries.
It is wonderful how our cultural and historical understanding of the world can get entangled with a detective story. When I set foot in the historic Durbar Square in Kathmandu or gazed at the Himalayan range from Darjeeling, I was immediately reminded of the adventures that Feluda and his trusted companions undertook in these locations. In fact, it felt as if I were visiting these places for the second time, having experienced them all through the eyes of Ray. Just like Feluda, Professor Shonku was one of Ray's finest creations. Indeed, these evergreen works of fiction can bring a much-needed breath of fresh air in such troubling times when stepping out of the home has become dangerous.
Bhaswati Chakravorty is right in her assertion that with such stories in his kitty, Ray can never truly be old. Ray, with his stories and characters, is indeed timeless, always sparking in the reader positivity, wanderlust and unadulterated happiness.

Kajal Chatterjee,
Calcutta

Sir — It was an exercise in nostalgia to read about the creations of my favourite author, Satyajit Ray, in Bhaswati Chakravorty's article, "Voyages out". I have been an ardent admirer of Trilokeshwar Shonku, or Professor Shonku as he is popularly known, and Pradosh C. Mitter or Feluda. Ray gave Bengali literature two of its finest characters.
The article brought back memories attached to these timeless characters. When I was in school, like so many other young readers of Feluda, I would wait with bated breath for Desh which would publish new stories of Feluda on the occasion of Durga Puja. Similarly, I would wait for Anandamela to read about Professor Shonku's new adventures. In fact, all the young children in the house would fight among themselves as soon as the vendor delivered those editions to our house to determine who would get to read the stories first. Such wonderful memories tied to Professor Shonku and Feluda and, thus, to Ray, have enriched my reading experiences and my childhood.

Sourish Misra,
Calcutta

Truly shocking
Sir — It was shocking to learn that a 42-year-old chartered accountant from Uttarpara, Amit Agarwal, had travelled to Bangalore to murder his estranged wife in her home ("CA accused of multi-city murder run", June 23). Then he returned to Calcutta and went to his in-laws' flat in Kankurgachhi where he reportedly shot his mother-in-law dead and proceeded to commit suicide. His father-in-law, who witnessed the murder of his wife, somehow escaped and alerted the police. The alleged killer and his deceased wife are survived by their 10-year-old son.
Incidents such as these raise the question as to why people who are perceived to be upstanding members of society end up committing such violent crimes. It has been reported that the couple were in the middle of acrimonious divorce proceedings that might have also involved disputes over property. One cannot say that this was a crime of passion as the preliminary investigation indicates that Agarwal had gone to his wife's place in Bangalore and to his in-laws' house with the intention of killing them.
One cannot imagine how difficult this time must be for the couple's child. It is natural for problems to crop up in a marriage. But people must work towards resolving conflicts through patience and communication and try their best to remain cordial for the sake of their children.

Kiran Agarwal,
Calcutta