Keep track
READERS' SPEAK: Tracking the movement of wild animals during lockdown; members of the medical community being attacked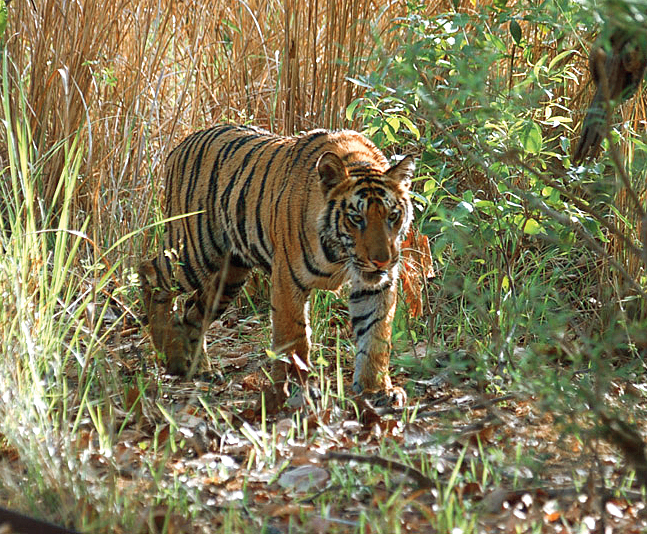 The 'lockdown wildlife tracker' apparently collects data on the whereabouts of animals as they move through human habitation at this time, and is supposed to be a significant step in ramping up conservation efforts.
(File picture)
---
Published 19.04.20, 08:24 PM
|
---
Sir — It was interesting to read that the Wildlife Institute of India, during this lockdown period, is planning to use an app to track the movement of wild animals that stray outside their habitats. The 'lockdown wildlife tracker' apparently collects data on the whereabouts of animals as they move through human habitation at this time, and is supposed to be a significant step in ramping up conservation efforts. While such innovations can be a godsend at a time of limited human movement, access to the app must be closely guarded so that poachers and traffickers of animal parts cannot use it by any means.
Rohini Bose,
Calcutta
For shame
Sir — It was appalling to read about the incident in which two resident doctors of Delhi's Safdarjung Hospital — they are also sisters — who had stepped out to buy fruits and vegetables were assaulted by a man who accused them of 'spreading' the coronavirus in the Gautam Nagar area of the national capital. The attacker was their neighbour. The incident has, quite rightly, infuriated many people, among whom is the Bollywood actor, Ajay Devgn.
In the midst of this acute crisis in the nation, when the Covid-19 pandemic has been claiming multiple lives, countless doctors, nurses and medical staff have emerged as our greatest hope for beating the disease. They are endangering their own lives for us. In spite of this, there are citizens who are unleashing violence on doctors and accusing them of spreading the very sickness that they are fighting relentlessly to stop. What has happened to our humanity? And why is the government dragging its feet over taking swift and strict action in such cases?
A.M.S. Nadwi,
Lucknow
Sir — There can be no doubt that in the time of a global contagion, doctors, nurses and other medical professionals are the real heroes. They are sacrificing their time with their own families and putting themselves at risk to rid the nation of this deadly disease. In spite of the thankless task they are carrying out, members of the medical community are being attacked by law breakers. State governments and the Centre, especially at this time, should be doing everything in their power to keep doctors and nurses safe. There is no way we can emerge from these trying times without the efforts that they have been putting in.
Nur Ahmad,
Hyderabad
Sir — Many doctors and nurses, especially those on Covid-19 duty, are testing positive for the disease. Some are even dying. That, however, is not stopping the others from continuing the fight against the pandemic. And yet, it is not just the disease that is posing a threat to their lives; they are also at risk of violence at the hands of their fellow citizens. This was evident when two doctors were attacked by their neighbour on the grounds that they were spreading the infection. As a nation, we should hang our heads in shame.
Mandira Khanna,
Delhi
Find a way
Sir — The report, "Kids log on for play dates and birthday parties" (April 13), was timely. It is not just adults who are having a hard time staying cooped up indoors, sometimes even in one room. Children are probably facing a bigger problem remaining inside at all times; many of them are used to going outside to play with friends. Children in the age group of 0-5 years can perhaps be managed by allowing them access to cartoons on television or suitable video games on smartphones, but helping those between the ages of 6-11 deal with their boredom and angst at this time will prove to be challenging. These are the kids who are used to stepping out of the house everyday to go to school and meet their friends, or just perform various activities outdoors.
The greatest difficulty, however, is likely to be faced by young people between the ages of 12-18 years. While online classes have proved to be a novel way of learning, and this new mode of interacting with teachers and classmates might be fascinating to them, classes can go on for several hours. In such a situation, the students' concentration levels will drop, and they will become distracted by social media. Too much of online classes will saturate them easily; it is not the same as sitting in a classroom.
Making matters worse is the fact that these students keenly feel the absence of the physical activities that they get to do in school. At a time like this, the parents play a vital role. They must remain fully involved in their child's life so as to ensure that their ward does not feel isolated or lonely at home.
Abhijit Chakraborty,
Howrah
Sir — Even sensible adults who are fully aware of the importance of self-isolation and social distancing at this time are struggling with having to stay indoors at all times; one can only imagine how difficult the situation must be for young children who perhaps do not understand the gravity of the situation and are confused about why their usual routines have been disrupted in such a significant way. Most of them must be missing the company of their friends and playmates. As such, it was heartening to read that play dates usually held in game zones and at parks have now gone online during this lockdown period.
This would also be a good time for parents with children who have birthdays during this period to celebrate the occasion by coordinating with other parents and arranging group video call parties. Adults are doing this all the time to stay connected to their friends and loved ones; why can't the same be done for children who are missing their friends?
Moreover, online play dates can also be educational; a group of friends could play the virtual versions of games such as chess to exercise their brains, or they could even read together. There are many ways in which technology can be harnessed at this time to make the lockdown period easier for children; parents and teachers must explore all the options available to them.
Suchi Chakravarti,
Calcutta