Late reaction
Readers' Speak: Kumbh Mela; increasing Covid cases; Indian healthcare system;Twitter; India's patriarchal attitude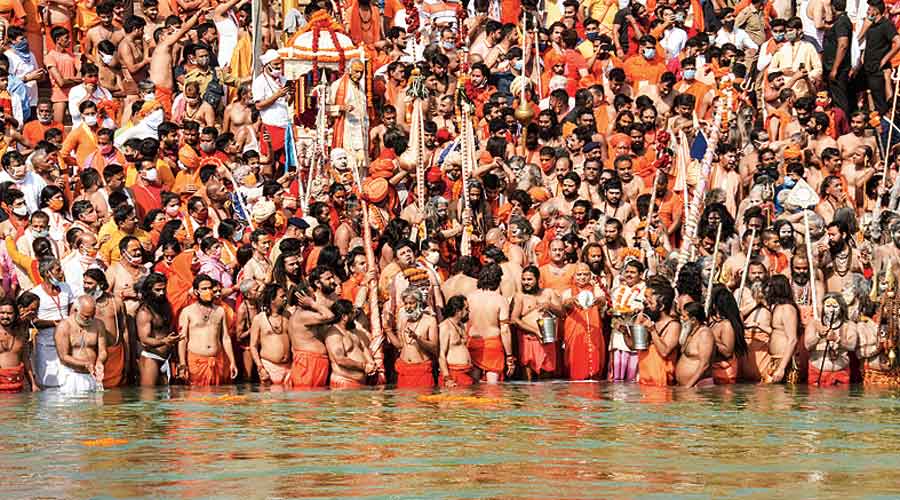 Devotees gather to offer prayers during the third 'Shahi Snan' of the Kumbh Mela 2021
PTI
---
Published 18.04.21, 12:17 AM
|
---
Sir — There is little point in bolting the stable doors after the horse has escaped. This is the proverb that comes to mind on hearing the prime minister's request that the rest of the events at the Kumbh Mela be undertaken symbolically. Given the lakhs of people who have congregated there, even curtailing the event will achieve little as these people will go back across the country, many of them bearing the infection. The government does not have the wherewithal to test every person at the mela. How does it intend to stop them from spreading Covid-19 across India?

S. Bhattacharjee,
Calcutta
Helpful network
Sir — The heat of the crisis in the Indian healthcare system is so intense that one can feel it even on the microblogging platform, Twitter. Celebrities, influencers and ordinary users alike are tagging and tweeting to ask for help amidst a surge in Covid-19 cases across the country. Many want help finding oxygen supply and hospital beds, others are in search of ambulance services, few are even asking for remdesivir, tocilizumab and doxycycline; others still are sending out requests for plasma donors. Heart-wrenching photographs have also surfaced of distressed patients sharing beds, long queues of ambulances in front of hospitals and those of hearses at the crematorium. Ironically, alongside these are ignorant tweets boasting of crowds at political jamborees and religious congregations.
 It is good that people are taking advantage of digital technology. But this is also a convenient cop-out where rather than asking for accountability or actually helping out on the ground, people tweet up a storm. Hearteningly, a few Good Samaritans like Sonu Sood crop up occasionally. But they cannot cater to the scale of the crisis in the country.
 Every SOS on social media regarding Covid-19 bears testimony to a doomed and failing healthcare system. Each cry for help is also a chink in the armour of India's commander-in-chief's deafening silence. What is to blame for the pandemonium of the pandemic — our complacency or administrative oversight?

Satabdi Dutta,
Burdwan
Sir — It is encouraging that the usually toxic microblogging platform, Twitter, is coming to use for once and helping the right kind of support reach people in need at the right time. But tweeting is not enough; much more needs to be done to overcome the pandemic. While celebrities and influencers must be praised for their promptness in asking for help, they should not stop at this. Contributing financially to the beleaguered healthcare system is one way to help. The other way is to spread awareness. Besides the vaccine, only precautions and safety practices like always wearing a mask and maintaining social distancing can break the chain of transmission.

Rima Roy,
Calcutta
Bad influence
Sir — Bollywood plays a crucial role in India's patriarchal attitude towards women. Its portrayal of women goes a long way in propagating age-old customs that need to be done away with. In Hindi films, women have for long been portrayed as damsels in distress or homemakers. If in the 1968 movie, Brahmachari, a man teaches a woman how to dress and behave in order to please a man, in the 1995 film, Dilwale Dulhania Le Jayenge, the woman is portrayed only in relation to the men in her life, either as a daughter or as a love interest; in both cases she is subject to societal norms. This shows how little Bollywood has changed over time. Although now films are being made with strong women characters, these are few and far between.
Given its wide reach, Bollywood is by far the best tool to change India's backward mentality towards women. It needs to move forward and promote gender equality in India.

Lyzander Edgar Sohkhlet,
Laitumkhrah, Shillong