Unmatched joy
Readers' Speak: Panjikas for Bengali New Year during Covid-19 lockdown; concerns about rising demands for child porn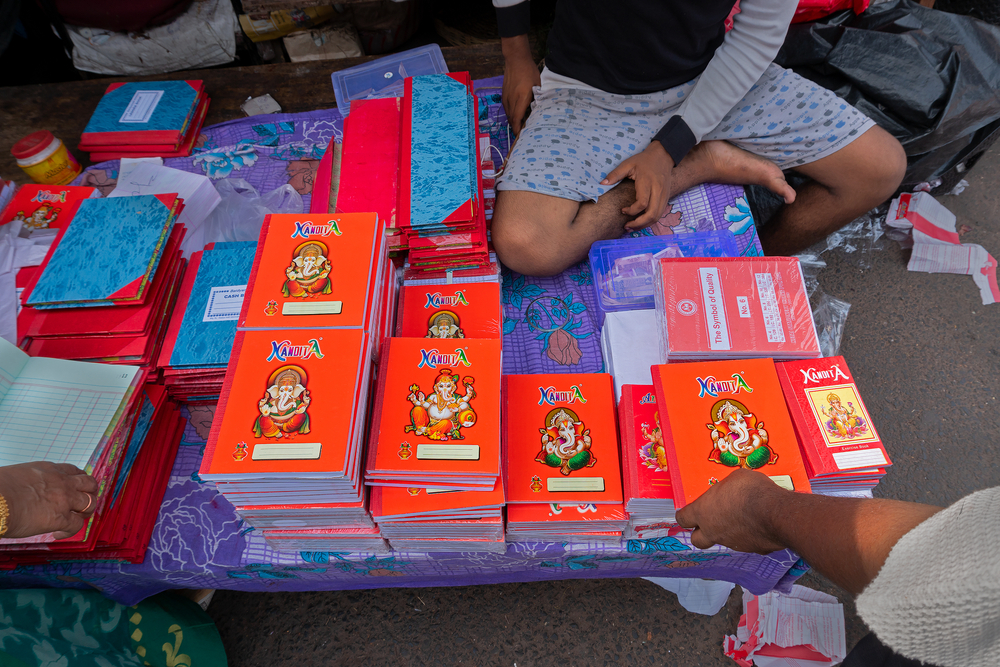 New accounts books are being stacked up for sale. Traditionally, brand new books are used starting from Bengali new year.
Shutterstock
---
Published 15.04.20, 06:56 PM
|
---
Sir — Panjikas or almanacs are an indispensable part of the lives of many Bengalis. Every year, most Bengali households buy it before the new year. But this year, owing to the lockdown, almanacs are still stuck in various stages of production and only a few lucky Bengalis could get their hands on a copy ("Almanacs locked down in press", April 14). The only light of hope in this situation is the decision taken by the major panjika manufacturers to distribute soft copies of the pages pertaining to this month, baisakh. Alas, nothing can match the feeling of turning the crisp pages of a new panjika.

Sourish Misra,
Calcutta
Children at risk
Sir — It was worrying to read the latest data reported by the India Child Protection Fund which shows that there has been a 95 per cent increase in the consumption of child pornography in India between March 24 and 26, after the beginning of the lockdown. This sends a disturbing message. How safe are the children who are spending increased amounts of time on digital platforms since the lockdown has restricted travelling outside the house?
Last year, the government had amended the Protection of Children from Sexual Offences Act, increasing the minimum punishment for employing children in pornography to five years along with other significant changes in punitive measures. But the recent figures prove that neither strict bans on pornography sites nor stringent punishments can curb the threat to children. Unfortunately, I am at a loss as to what can be done to solve this problem.
Shayan Das,
North 24 Parganas
Sir — The increased demand for child porn since the lockdown is worrying indeed. This goes to show that blanket bans on pornography sites achieve precious little. Banning anything on the internet is like chasing shadows. Each time a site is blocked, mirror sites open up.
One way of tackling child pornography is to raise awareness among children. Anything remotely related to sex is considered a taboo topic and not discussed with children. In fact, all attempts are made to keep them in the dark about sex. This proves counterproductive since children being abused have no clue about what is happening to them. This is not to say that they should be given a talk on the birds and bees as kids, but it is crucial that they are taught the difference between bad touch and good touch. Moreover, abusers are often members of the family. As such, children should be given the confidence that their word will be trusted.
Further, we learn from our elders at home. Young girls who watch their mothers being thrashed or abused can grow up thinking that such behaviour is acceptable and keeping quiet is the right thing to do. It is thus the responsibility of parents to set the right example for their children, by speaking up for themselves.
Anything that is banned automatically becomes more attractive to people. Instead of such futile measures, the women and child development ministry should undertake serious awareness campaigns in schools — both government and private. Moreover, stricter surveillance of human trafficking rings — government shelter homes are often the hub of such activities — can go a long way in protecting the interests of vulnerable women and children.
Jayanta Dutta,
Calcutta
Something missing
Sir — The nationwide lock-down started at the end of the academic session in March, which is the time when progress reports are issued and textbooks for the new academic year are distributed in most schools. But as a result of the lockdown, many students could not get textbooks for the new session.
Even though schools are trying their level best to maintain the academic flow by holding online classes on platforms like Zoom, students are having a hard time coping given the lack of textbooks. Since some inter-state freight trains are operational, hopefully distributors will now get access to the necessary textbooks. Schools and distributors should organize the sale and distribution of books on select dates so that guardians and students can collect them while maintaining the norms of social distancing.
Debasmita Bose,
Calcutta
Sir — Education remains deeply unequal in India. Attending classes on apps like Zoom requires devices that millions of students in the country do not have access to. For them, even attending a regular school is a distant dream.
Rima Roy,
Calcutta