Strange taste
Readers' Speak: Corona 'sandesh'; sanitation and domestic workers during Covid-19 lockdown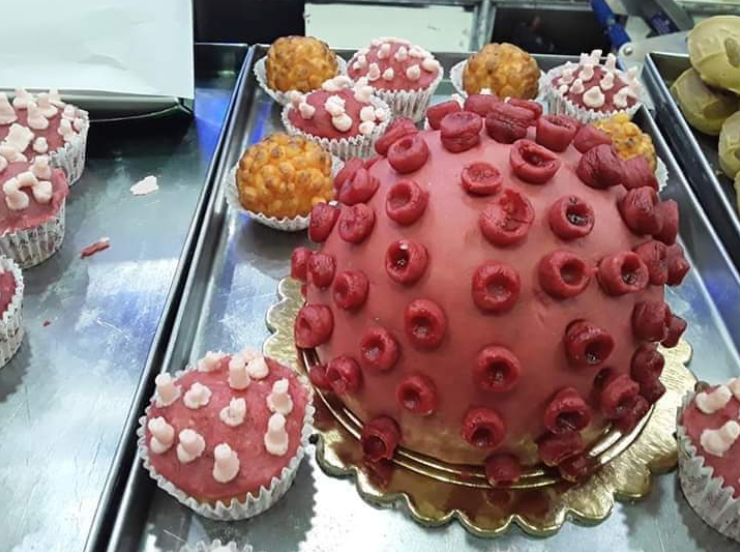 Corona 'sandesh.'
Twitter/@preetibhatta1
---
Published 14.04.20, 06:48 PM
|
---
Sir — Necessity, it is said, is the mother of invention. Indeed, in ancient times, when people felt cold, they struck up a fire; when they needed to commute, they created the wheel. For mankind, creativity has thus gone hand in hand with adversity. This time, too, in the face of the coronavirus crisis, people have emerged once again at their creative best. An example of this can be found in Bengal's sweetmeat shops where mishti in the shape of the coronavirus is being made. But ideas, like the virus, seem contagious. Germany reportedly is selling sweets in the shape of the virus too — is Bengal ready for another race for a GI tag? Luckily for us, this contagion does not kill.

Arunima Choudhury,
Calcutta
Careless mistakes
Sir — The sanitation workers of India are among those who have been fighting to protect public health on the front line since long before the Covid-19 pandemic hit the country. But it is unfortunate that they are denied justice as well as their dignity not only because they are menial workers but also because they are often considered 'untouchable'. The system and situation under which sanitation workers function put their lives at constant risk. An instance of this is the death of Atma Ram Chhatrapal, a 45-year-old sanitation worker in Uttar Pradesh, who fell seriously ill while disinfecting an area and succumbed to death at a hospital ("Sweeper faints, dies after fogging in UP", April 9).
According to his wife, Chhatrapal was forced to spray chemicals without any mask or gloves. Their request for protective gear for sweepers was allegedly denied by the village panchayat chief and a panchayat officer. To cover up the inefficiency of these officials, the police, too, had reportedly refused to file a first information report. But they seem to have received a written complaint from Chhatrapal's wife. Such slack on the part of the police is shameful, especially at a time when the government is struggling to check the pandemic. 
Sanitation workers — manual scavengers in particular — falling prey to tragic incidents in the absence of safety gear or sophisticated equipment has become a common phenomenon. For manual scavengers, precautionary measures vital for the job are conspicuously missing, even though the practice itself has long been declared illegal. Stringent punishment should be meted out to those employing workers in manual scavenging in unsafe systems that are nothing short of death-traps. Do the authorities believe that sanitation workers — who often belong to the so-called lower castes — are meant to do menial work and die in the process? It is unfortunate that the society for which these people discharge their duty of maintaining cleanliness continues to fail them with its callousness.
Rabindranath Sarkar,
Calcutta
Sir — The present crisis caused by the spread of the novel coronavirus has revealed to society the importance of the hitherto invisible functions performed by essential workers — sanitation workers and garbage collectors, for instance. It is a pity, then, that they continue to be ignored and marginalized.
The recent death of Atma Ram Chhatrapal in Uttar Pradesh — allegedly owing to inadequate provisions of protective gear — is the latest in a spate of regrettable deaths of sanitation workers during the nationwide lockdown. According to reports, on the very first day of the lockdown, one sanitation worker was hospitalized in critical condition and another perished at a sewage treatment plant. The fact that many of these workers are currently involved in the disinfection of Covid-19 hotspots — this is over and above the usual hazards of their jobs — is all the more reason for the government to make the necessary arrangements for their protection. Besides ensuring their safety, this is also crucial to the containment of the virus.
Abhishek Bose,
Birbhum
Sir — It is quite amusing to see how people from affluent families figured out in a matter of days what essential work actually means. Now that most houses have to do without cleaners, cooks and drivers, the scorn with which the employers used to treat them has suddenly diminished. One would imagine that this would make people, as well as the government, more empathetic towards workers belonging to the underprivileged classes. Yet sanitation workers and migrant labourers continue to lose their lives owing to apathy.
Arpita Kundu,
Calcutta