Not again: return of the bubonic plague
Readers' Speak: UP hospital's fake Covid-19 reports; education and online learning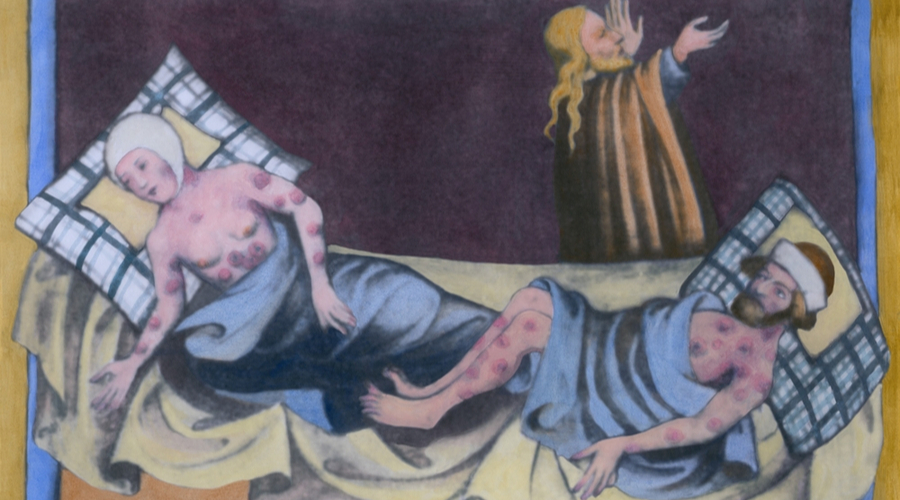 Man and women with the bubonic plague; medieval painting from a German language Bible of 1411 from Toggenburg Switzerland.
Shutterstock
---
Published 11.07.20, 02:25 AM
|
---
Sir — It was alarming to read about the cases of 'bubonic plague' that were reportedly found in China's northern Inner Mongolia region recently. While the disease — it was called the Black Death in the 14th century for having killed about 50 million people across three continents — is easily treatable now, the world is already struggling to handle the Covid-19 pandemic. The last thing it needs is the spread of another heavily contagious disease. 
The World Health Organization has, thankfully, said that the disease this time is not 'high risk'. However, the Chinese government must be greatly vigilant. It takes no time for a contagion to spread.

Parama Ghosh,
Calcutta
Failed test
Sir — The news reports about the private hospital in Uttar Pradesh that was caught issuing fake Covid-19-negative reports for a fee have shocked the country. At a time when the medical community and health workers are stretching themselves thin to combat the pandemic, it is deeply disheartening to hear about a hospital engaging in such unethical activities that will inevitably jeopardize the lives of many.
The matter came to light after a video showing a staff member of the Meerut hospital providing a fake Covid-19 report went viral online. The hospital's licence has been suspended, but the discovery leads to many worrying questions. Is it possible that many other healthcare institutions are also indulging in such activities in order to make money? It cannot be denied that the pandemic, among other things, has made people deeply fearful and suspicious of one another. Even healthcare workers have had to face violence and discrimination at the hands of landlords and other citizens on the grounds that they might be carrying and spreading the virus. In such a situation, ordinary people, for fear of ostracization, might look for ways to get documentation stating that they are free of the disease so as to make life easier for themselves. Such anxieties provide a fertile ground for exploitation by those looking to make a profit; the hospital in question was reportedly charging Rs 2,500 for a fake Covid-negative certificate. The scrutiny on the administrative processes of health institutions must be deepened in order to prevent this from happening again.

Shailja Rai,
Delhi

Sir — I was appalled to read that a hospital in Meerut was allegedly arranging for fake Covid-negative certificates by charging Rs 2,500. It must be asked how it planned to sustain such an operation, one that was bound to fail. If a person who gets such a certificate made for himself goes on to show symptoms of the disease, then the institution that issued the certificate will inevitably come under scrutiny. Moreover, at a time like this, the aim should be to provide people with treatment, not the means to go and infect others with the disease.

Arijit Sen,
Calcutta

Sir — The coronavirus has had an adverse impact on various important areas of public life, including education. School and college campuses not only make for suitable reading environments for students, but are also the best places for healthy interactions and personality development. The latter, especially, cannot be wholly achieved by staying at home. 
Now that it is becoming increasingly clear that studying online cannot be a holistic and long-term alternative to libraries, classrooms and traditional reading, students, teachers, parents and education administrators need to consult one another to find newer ways to meet these challenges. What is to be done? The situation arising out of the pandemic is underscoring the fact that there should be no ambiguity regarding guidelines to curtail syllabi or conduct stalled examinations. It must also be asked on what grounds the Centre decided that the final-year examinations for universities could be conducted by the end of September. What is its plan if the situation in September is still not conducive for carrying out exams? Should not the educational authorities be prepared to face every possible situation?

Kavyanshi Mishra,
Mainpuri, Uttar Pradesh