Bad decision: Tamil Nadu opens movie theatres
Readers' Speak: Garbiñe Muguruza realisation of the migrant crisis; Western Railway's first all-women goods train crew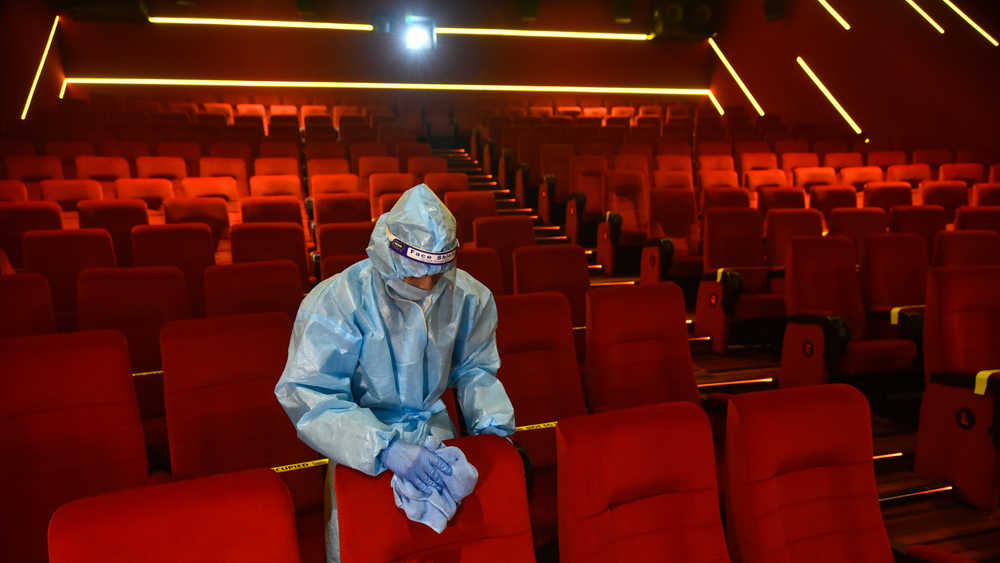 ---
Published 09.01.21, 02:17 AM
|
---
Sir — At a time when the Covid-19 pandemic is still raging, one wonders how the Tamil Nadu government took the decision to allow movie theatres and multiplexes in the state to function with 100 per cent occupancy. The Centre has rightly asked the state dispensation, led by the All India Anna Dravida Munnetra Kazhagam, to scrap the order and to refrain from diluting the guidelines and standard operating procedures outlined by the Union home ministry for dealing with the contagion. According to the ministry's instructions, only 50 per cent of the seats in cinema halls can be booked, and that too only outside containment zones. 
It is indeed foolhardy to allow movie halls to function at full capacity. One of the primary ways to combat Covid-19 is to maintain social distancing so that the virus is not able to spread easily from person to person. How is social distancing to be adhered to in a cinema hall, where people are seated so close to one another?
I live in Calcutta and recently went to watch a film at a multiplex. Only every alternate seat in the theatre could be occupied. Even this is hazardous, given that the disease is still spreading — especially now that there is a mutant strain of the virus going around that is reportedly even more infectious. But I also understand that businesses have suffered tremendously as a result of the lockdown, as has people's mental health on account of staying isolated at home all the time. In the light of this, if adequate precautions are taken, proper distancing maintained and strict sanitization protocols followed, then allowing cinema halls to function at half their capacity can be accepted. However, the Tamil Nadu government's decision was irresponsible and unbecoming of a set of leaders who are tasked with protecting the lives of the people in their state.
Sayani Bose,
Calcutta
Help them
Sir — It was heartening to read that the Spanish tennis superstar and the two-time Grand Slam champion, Garbiñe Muguruza, used her off-season time to go for military training on the Spanish island of Mallorca. She may have started the training as an adventure and a way to experience thrills, but she noticed the plight of the migrant population and that was a real eye-opener for her. 
Political instability and conflict are two of the main causes pushing thousands of people from sub-Saharan African nations to move to Europe by crossing the Mediterranean Sea. However, only a small section of these people are legal asylum seekers; the rest are illegal immigrants. According to estimates by the United Nations High Commissioner for Refugees, as of January 2019, 70.8 million asylum seekers had been displaced worldwide. The current picture is grim, as is the future. Other than civil wars, human rights violations, gender-based violence, economic hardship and climate change are turning people into refugees every day. Sub-Saharan African countries also have a water crisis. In the middle of a pandemic, poor sanitation and lack of access to healthcare services and information and the impossibility of maintaining social distancing in refugee centres threaten the lives of millions of people arriving on European shores. 
Migration can be reduced by ending wars, increasing trade and development and therefore creating employment. It is good that Muguruza is troubled by the plight of the refugees; one hopes to see her working for their uplift in the future.
Dyutiman Bhattacharya,
Calcutta
New role
Sir — It was heartening to read that the Western Railway had an all-women crew pilot a goods train for the first time. This is a significant move towards making a job of this sort more accessible to women. They are usually discouraged from entering professions that involve frequent travel, as the burden of domestic duties is inevitably placed upon them. In fact, the latter is surely one of the reasons why the Indian Railways does not have many loco-pilots who are women, even though there is a sizeable number of women employees overall. This progressive move by the Western Railway ought to open the doors to more such opportunities for women.
Sakshi Koli,
Mumbai