Continued trouble: No resolution for Delhi's air pollution
Readers' Speak: Bakeries closing down because of the pandemic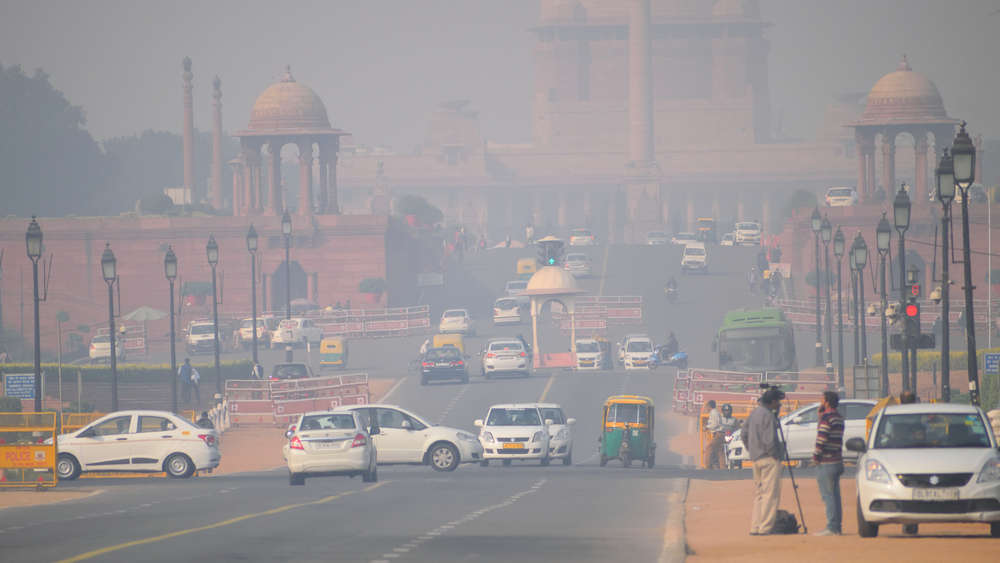 Vehicles moving amidst heavy smog in New Delhi.
Shutterstock
---
Published 05.11.20, 01:11 AM
|
---
Sir — The decision taken by the Centre to issue an ordinance to combat air pollution in the national capital region is welcome ("Jail for pollution in capital", Oct 30). Violations can amount to five years of imprisonment and a hefty fine of Rs 1 crore. It must, however, be noted that any law can only be effective if it is duly enforced. 
It is a matter of concern that the air quality in the north Indian states has started turning foul after a months-long spell of good air. Now, along with vehicular pollution, the burning of crop residue has turned the air unbreathable. According to an estimate, around 15-20 million tonnes of paddy stubble are burnt in Punjab, Haryana and western Uttar Pradesh annually around this time of the year. Thus, the pollutants emitted in just 60 days are four to five times of what all Delhi vehicles contribute in the entire year. While different state governments have banned stubble burning and imposed fines on farmers in case of improper disposal, the situation has not improved. State governments are providing 50 to 80 per cent subsidy to farmers and cooperative societies to buy modern farm equipment for better management of paddy straw. But stubble burning has continued unabated. 
According to a recent study, air pollution has been linked to 15 per cent of coronavirus deaths globally. There is a direct link between air pollution and respiratory diseases. In a city like Delhi where air pollution is one of the major contributors to poor health, the combination of bad air and Covid-19 has doubled the crisis. The government must do everything it can to improve the living condition of the people in the Delhi-NCR region.

Khokan Das,
Calcutta
Sir — The high levels of air pollution in Delhi have become a recurring source of distress for the last few years. The problem is that we are still opting for reactive methods like the graded response action plan, which is kicked into motion only after the air quality index slips considerably. What we need are preventive, institutional steps that aim to remedy the situation in the long run. It is unfortunate that north India has to grapple with severe air pollution in the midst of a raging pandemic. 
Since the burning of agricultural residual waste in Punjab, Haryana and western Uttar Pradesh is the key reason for the deteriorating air condition, the government should perhaps look into innovative policy interventions that are effective while being easy for farmers to implement. Improving public transport, increasing the use of clean renewable energy, using more electric vehicles, introducing less polluting fuel and strict emission regulations can also help improve the situation. There is no quick fix to this. Change can be brought about only through concerted efforts from both the government and citizens concerned.
Ravi Teja Kathuripalli,
Hyderabad  
Sir — The decision of the Centre to form a commission to monitor air quality specifically for the Delhi-NCR region comes at the right time. Now, the government must ensure that the endeavour bears fruit. The months-long lockdown implemented at the beginning of the pandemic saw an improvement in air quality because of sharp decrease in emissions. But unfortunately that could not be sustained for long. With curbs on road transport and rail services, and air travel still to resume fully, there is still some time to remedy the problem. The government must act swiftly and do all that is necessary.
Chandan Kumar Nath,
Guwahati
Fight for survival
Sir — It seems that the prolonged closure of schools has plunged the bakery units in and around Calcutta into a deep crisis. Bakeries, including the popular Bapuji Bakery, have admitted that their production levels are half of what they used to be. It is hoped that once the pandemic subsides most industries will gradually make a full recovery. But what of small business owners? It is likely that many small businesses, dependent on specific groups of customers, will shut down for good. Local bakeries, whose products have long been staples in Bengali tiffin boxes, might just be some of them.
Robin Basu,
Calcutta