Familiar taste: the Roman 'thermopolium'
Readers' Speak: bail is the rule, and jail the exception; perils of nationalism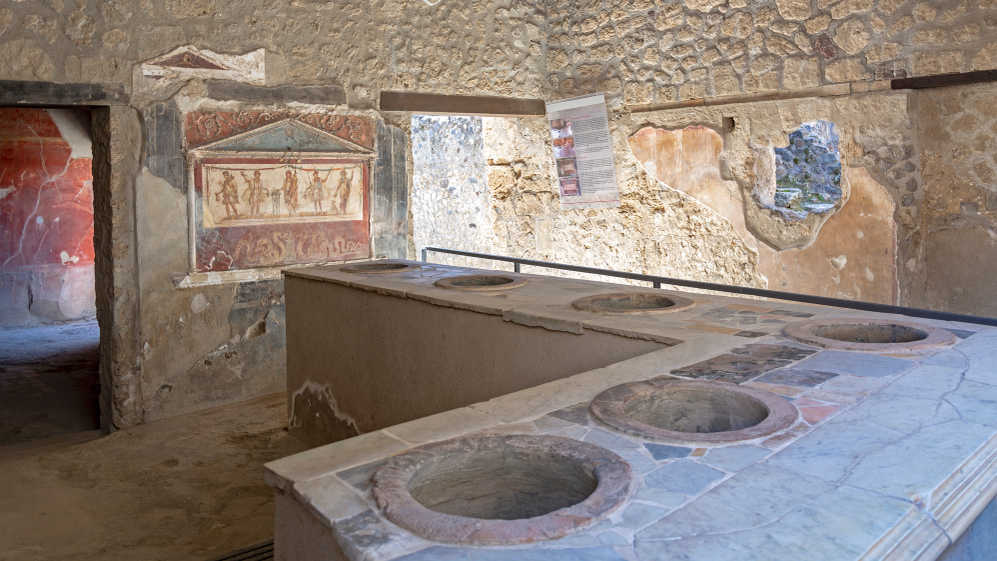 Thermopolium of Vetutius Placidus at the ancient Roman city of Pompeii, Italy.
Shutterstock
---
Published 04.01.21, 01:34 AM
|
---
Sir — What's in a name? That which ancient Romans called a 'thermopolium' in 79 CE, we could just as easily call a dhaba in 2020 CE. A food stall that was buried when Mount Vesuvius erupted has been excavated in Italy and the cock and ducks painted on it in vivid colours would not have been out of place in any roadside stall in India. People across place and time are joined by food. Paleobiologists have also found remnants of concoctions that had meat and fish. Since Rome of yore imported spices like cinnamon and tarum from India, it might not be a stretch to imagine that food at the thermopolium might have had a familiar taste.
Kaushiki Sarkhel,
Calcutta
Set them free
Sir — Bail is the rule, and jail the exception — this principle, enunciated by the Supreme Court in several judgments, continues to prove elusive for undertrial prisoners who are less privileged and powerful ("High price", Jan 1). The alarming imbalance in the country's justice system is brought out by cold facts — 67.7 per cent of 4.33 lakh prisoners in the country are waiting for trial, some of them for years; out of them about 65 per cent are Dalit, adivasi and marginalized people, often illiterate or barely literate and too poor to afford the bail fee. These figures have been revealed by the latest National Crime Records Bureau report. The promptness with which the Supreme Court acted while granting bail to Arnab Goswami, overriding the Bombay High Court's judgment, is a recent case in point. 
Such promptness has been missing in the cases of activists, lawyers and writers arrested more than two years ago for criticizing the government. Bail reform requires a return to the values enshrined in the Constitution as well as a revival of respect for human dignity and fair treatment.
Jahar Saha,
Calcutta
Sir — The refusal to grant bail deprives individuals of liberty. Discussions on bail reform usually arise when exceptional cases capture public attention. At present, the power to grant bail is exercised sparingly. Subordinate courts routinely reject bail. The accused are then required to approach the high court or the Supreme Court and thus remain incarcerated as undertrials for extended periods of time.
The system of bail typically requires people to furnish a bond for some property valued at the amount determined by the concerned judge. The sums are often exorbitant and most undertrials cannot afford to pay it. As per an earlier apex court ruling, the socio-economic condition of the accused must be taken into consideration while deciding on the amount of the cash bond. But this is rarely done. It is time the justice system was reformed to protect the rights of citizens.
C.K. Mahadevan,
Thiruvananthapuram
Debatable stand
Sir — I read the write-ups by Uddalak Mukherjee with interest ("Goodwill hunting", Dec 30). Unfortunately, intellectual encounters are losing steam in present-day polity; money and muscle power are gaining ground instead of a discursive endeavour to win hearts and mind. This sorry state of affairs is becoming universal. But the lack of moderation in politics of the day in India, especially in Bengal, has become a thorn in the side of rational thinking. 
Worryingly a large section of the intelligentsia is turning out to be party to this arrogant warfare. Surely, the framework of public engagement has changed and conventional wisdom is no longer evincing much interest? Over the past few years, I have tried to fathom the reasons behind the so-called decadence in intellectual propriety. I have lived in London for over two decades now and during this time, the modalities of my engagement with the people I know have undergone significant transformation. Polarization has become the norm not only among politicians but also among many acquaintances whom I always knew to be sane otherwise. Exposure to knowledge is no longer a guarantee to rational thinking. 
I have nothing against cultural nationalism as a political discourse. In fact, I always admired Atal Bihari Vajpayee and L.K. Advani for their steadfast tryst with ideology. What worries me is the constant and significant intervention in people's lives, use of coercive ways to impose perceived puritanism and use of divisive tools to vitiate discursive politics.
 Mistakes have been made; elitism has overlooked and often undermined popular ethos. But such mistakes can be recorded and resolved through civilized debate. While argumentation is no longer the prerogative of the politicians, the people at the helm are oxidizing the flames by being selective in their expressions of judgment. I fear the current situation is even worse than that of the Emergency, which is considered a blot on the Indian democracy.
Tirthankar Bandyopadhyay,
London
Sir — Uddalak Mukherjee must be lauded for his article. "Nationalism is a great menace." — this is what Rabindranath Tagore thought of the Bharatiya Janata Party's most favoured notion. One wonders how the BJP can try to claim Tagore, whose ideology stands in direct opposition to that of the saffron party? How can it dare to do so after dividing the country in terms of religion? Individuals who dare to speak their minds find themselves behind bars; even octogenarians are not spared. What a brilliant way to pay tribute to Tagore who dreamt of an India where minds would be without fear and heads held high.
Paying tribute to Tagore is a clever ruse aimed at winning the upcoming assembly elections in Bengal. Owing to the secular humanitarian legacy of Rabindranath Tagore and Kazi Nazrul Islam, West Bengal has remained immune to the BJP's brand of communal hatred. In this sense, BJP is indeed a rank outsider in Bengal. Not a single secular Bengali worth his salt will vote for a party zealously demonizing minorities. Not to mention several other snubs that the party has dealt Bengal over the years or its failure in governance in the time that it has been in power.
Kajal Chatterjee,
Calcutta