Unfriendly jibe: Trump calls Asian countries 'filthy'
Readers' Speak: Arrest of BLM activists; fire on Ganesh Chandra Avenue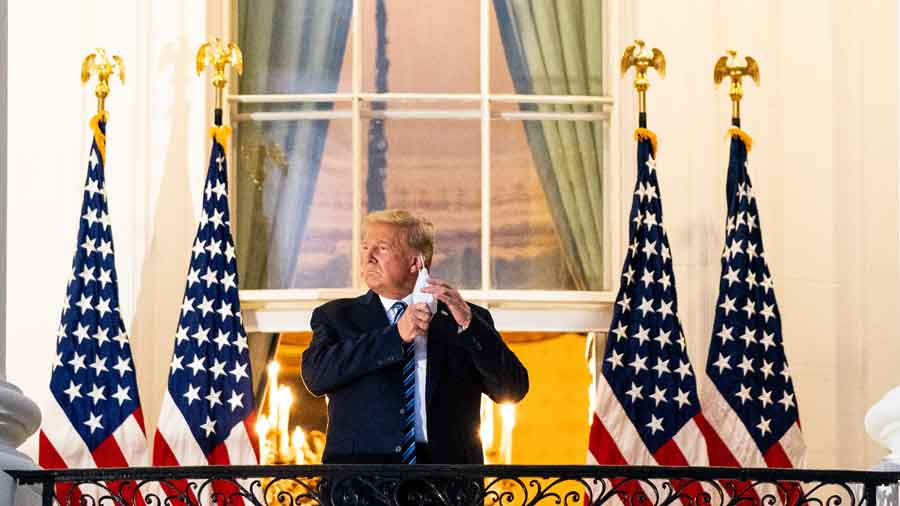 ---
---
Sir — It was shocking to hear the president of the United States of America, Donald Trump, refer to the air quality of several Asian countries, including India and China, as "filthy" during the final presidential debate at Nashville, Tennessee ("Trump labels India 'filthy', puts 'friend' in a spot", October 24). There have also been instances of the American media speaking ill of the environmental condition in India. While there is certainly much to be done to improve conditions in the country, it is nonetheless appalling to hear respected statesmen as well as foreign media speak with such malice. 
I have been writing in several Asian newspapers for the last two decades on various issues plaguing countries across the world. While strongly worded comments are welcome, as they should be, there is still a line between constructive criticism and blatant xenophobia. While one cannot expect much from Trump, it is hoped that American media houses, at the very least, would desist from making sweeping generalizations about developing countries.

P. Senthil Saravana Durai,
Mumbai
Sir — Over the last few years, living in north India has become quite a health hazard. Delhi and its surrounding areas, including Faridabad, are covered in smog for the better part of the year. Environmentalists have been warning the government about the long lasting damage it is doing to the health of citizens, but not much has changed. Thus, while the comment by the American president, Donald Trump, that the air in India is filthy is in poor taste, it is not completely off the mark. The question is, will this ridicule spur the government into action? For years there have been cries by common citizens to put in place an effective but environment-friendly method of burning stubble. Unless the government acts on this problem, it should not be surprised if more such comments come its way.
 
Bidyut Kumar Chatterjee,
Faridabad
Sir — Given that Donald Trump and Joe Biden represent starkly different political ideologies, it should not be difficult for American voters to make a choice between the two. Ultimately what matters is not the individual occupying the Oval Office, but the party that manages to get a majority. The Democrats, with all their problems, are still the best hope the US has. Perhaps it is too soon to rejoice, but this time it seems that the 2020 presidential elections might not end in disappointment for the liberal constituency. If the popular mood in America is anything to go by, a repetition of 2016 seems highly unlikely. It is becoming increasingly clear from Biden's strong lead over Trump in the final stretch that the voters have made up their minds. Given his broader vision and inclusive politics, it is understandable that Biden has a strong support base among the black, Hispanic, Asian and other minority communities. Moreover, the Trump administration's mishandling of the Covid-19 crisis has proved costly for the Republicans in the election year.
Trump makes his aversion to religious minorities and women's rights very clear. He is equally unconcerned about the welfare of the white American working class. Trump's ascent to power in the US has been one of the biggest blunders in American history. And yet, the working classes continue to rally behind a man whose politics is far from being rooted in positive action. He has made innumerable objectionable comments over the course of his presidency. In a display that was deemed racist and misogynistic, he had called Kamala Harris, the Democratic vice-presidential candidate and Biden's running mate, a "monster" and a "communist". Is it then a surprise that Trump has labelled the air in India "filthy"? It is the second time in less than a month that he has been critical of India. Trump had earlier questioned the veracity of Covid-19 statistics released by the Indian government. It is high time he were voted out of power.
Sanav Saha,
Calcutta
Bleak future
Sir — Five months after the death of George Floyd caused by police brutality, thousands of 'Black Lives Matter' demonstrators in the United States of America have been arrested, with many facing serious charges, including deportation and threats of life sentences. The BLM protests have brought out the failures of American democracy, with Donald Trump deriding peaceful demonstrations as a "symbol of hate". The 2020 presidential elections will be greatly significant. Unless the US elects a president who is committed to democratic ideals, the country will descend further into anarchy.
Rashi Gupta,
Delhi 
Parting Shot
Sir — The devastating fire in Moon House on Ganesh Chandra Avenue that killed two people is deplorable but not surprising ("Meter box blaze cuts off exit, kills 2", Oct 18). Similar incidents had occurred earlier as well. The raging inferno at Stephen Court back in 2010 is just one case in point.  
Many buildings in the city stand right next to each other with hardly any gap in between. On top of that, electric meter boxes are more often than not crammed under staircases and have decades-old wiring. This is the situation in most of central Calcutta. There are hundreds of such buildings that violate basic safety norms. The administration has time and again failed to ensure that the situation is remedied.
Khokan Das,
Calcutta