Empty words: Modi and his Mann Ki Baat
Readers' Speak: Racial prejudice in the US; Modi's Mann Ki Baat is empty twaddle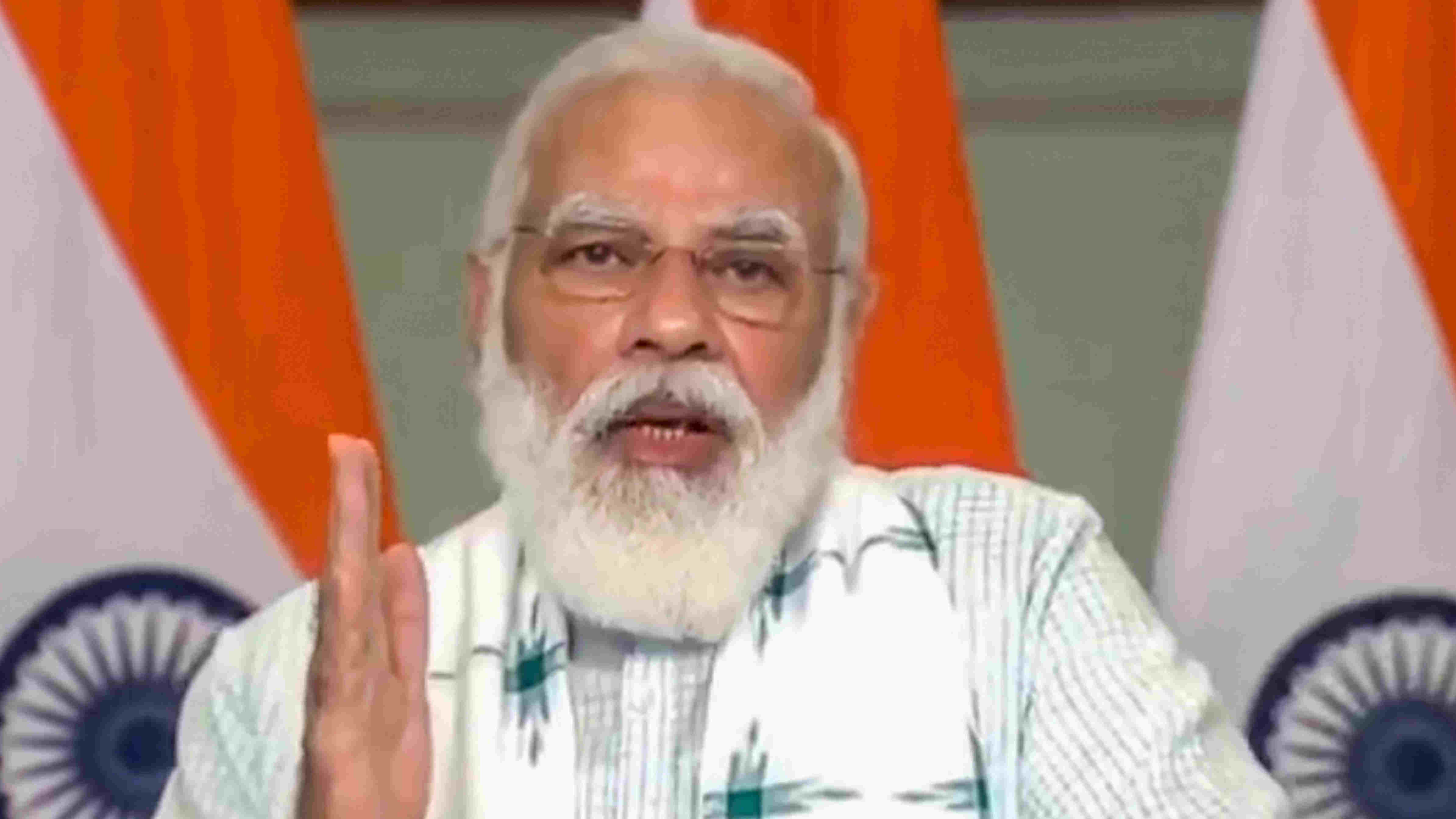 Prime Minister Narendra Modi addresses Atmanirbhar Bharat defence industry outreach webinar via video conference, in New Delhi, Thursday, Aug 27, 2020.
PTI
---
Published 02.09.20, 01:59 AM
|
---
Sir — In his monthly radio address, Mann ki Baat, the prime minister, Narendra Modi, has exhorted his compatriots to rear swadeshi breeds of dog in larger numbers and manufacture more swadeshi toys for domestic and global markets. But is the country not facing far more serious problems?
The prime minister can surely take credit for the novel way in which he linked the rearing of Indian dogs and the manufacturing of Indian toys to his pet project of Atmanirbhar Bharat. But neither of the two endeavours will alleviate the distress caused to the people by Covid-19, revive the economy or halt the rising unemployment in any significant way. 
The other day, the prime minister was feeding peacocks on the lawns of his residence. But most of his countrymen are not in a position to emulate him and enjoy themselves. Given his carefully cultivated image as a nationalist of the first order, Modi escapes being evaluated objectively for the kind of leadership he is providing to the nation when it is in the middle of multiple crises. Unlike with most other leaders, the support for Modi that borders on worship has not dwindled in spite of his many failures — his public appeal is sustained by populist and religious rhetorics rather than any significant, demonstrable public service. One reason for this could be that he represents the right wing and is concerned with the interests of the elite.
At the moment, education and awareness are considered to be the only weapons to fight the spread of Covid-19. But these are also the weapons that could help fight the scourge of blind allegiance towards a political figure.
G. David Milton,
Maruthancode, Tamil Nadu
Sir — At a time when the economy is suffering, a deadly virus is taking lives, lakhs of aspirants for the Joint Entrance Examination and National Eligibility cum Entrance Test are left in a quandary and Chinese troops are threatening our national territory, it was quite odd that the prime minister chose to champion the cause of swadeshi dog breeds in his monthly radio address.
Narendra Modi seemed equally unmindful of the global record recently set by India of the highest single-day rise in the number of Covid-19 cases, with over 60,000 deaths so far. Instead of coming out with a road map for addressing the crumbling healthcare infrastructure — reports suggest that hospitals are still turning patients away — the prime minister exhorted the domestic industries to be "vocal about local toys". Is it really a surprise, then, that the video of this episode on his party's YouTube channel was greeted by an overwhelming number of negative responses? Modi's monologues are not only uninspiring, but such gimmicks are also becoming increasingly monotonous.
S.K. Choudhury,
Bangalore
Time to stop
Sir — Once again, a black man has been victimized in the United States of America allegedly on account of racial hatred ("US cop shoots black man", Aug 25). The 29-year-old, Jacob Blake, was shot several times from point-blank range by a white police officer in Kenosha, Wisconsin as he approached his car. The city soon turned violent with protests against the attack, and the slogan, "My Son Matters", found place alongside "Black Lives Matter", a slogan raised by people seeking justice for George Floyd, who was murdered in May in Minneapolis by another white police officer.
It is disappointing that even in a nation as advanced as the US, primaeval hatred against people of colour is still nurtured by many white people. Human beings continue to be oppressed on the basis of the colour of skin. This is surely not a sign of civilization. In what new way can people be taught that all human beings, regardless of their complexion, have the same colour of blood? The amount of melanin in one's body cannot be used to discriminate against them. It is time for white people to reject racism, and turn their imagined enmity toward black people into amity.
Rabindranath Sarkar,
Calcutta
Sir — The attack on Jacob Blake in front of his family comes on the heels of the murder of George Floyd. The US police has for long been known to discriminate against people of colour, and this attack might as well be just another instance of that.
While condemning this incident in the harshest terms, Indians should introspect about their own inherent racism and casteism. The only way forward for mankind is to rid itself of such prejudices once and for all.
Bani Sengupta,
Howrah
New trend
Sir — Office etiquette has changed drastically ever since the lockdown began. As work-from-home systems have been deployed by many organizations, the demand for formal clothes has seen a setback ("WFH snips demand for formalwear", Aug 30). Yet some corporate offices still fail to see that attire has little to do with an employee's performance. Every time there is a virtual meeting, employees are expected to put on formal clothes. As a result, many people now pair up formal shirts with pyjamas, as only the upper half of the body is visible on screen. No wonder trouser sales have gone down.
Priyanka Mitra,
Calcutta