Wrong move: Congress's Sabarimala law
Reader's Speak: world leaders send Lunar New Year greetings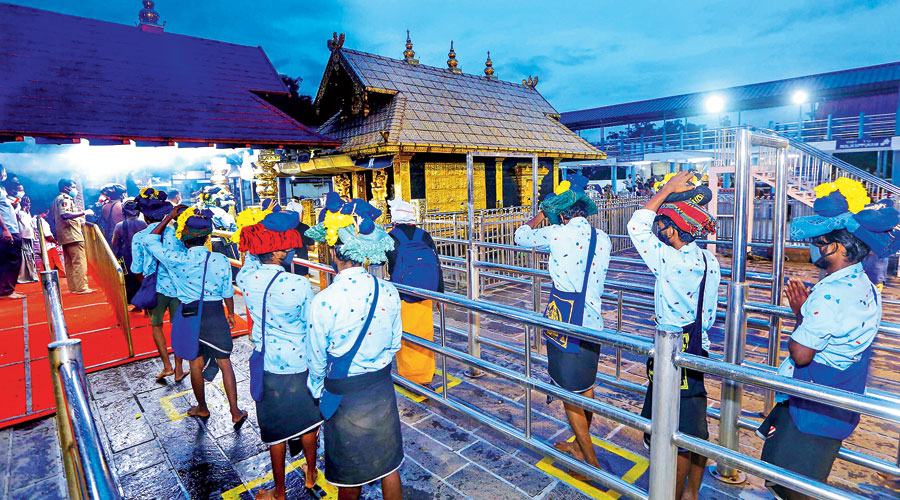 ---
Published 16.02.21, 12:06 AM
|
---
Sir — The draft law prepared by the Congress in Kerala on Sabarimala reeks of electoral populism ("Holy touch", Feb 11). With the state likely to go to assembly polls in April, the Congress clearly wants to win over the vote of the majority community. The party state unit has promised to give legal sanctity to the custom that women of reproductive age from entering the Sabarimala shrine.
It is inappropriate to make such promises when a seven-judge bench of the Supreme Court is reviewing its own judgment on the matter. The Congress supported the mobilizations against the 2018 verdict allowing women entry into the shrine. Its phenomenal success in the state in the 2019 Lok Sabha elections was attributed to a Hindu consolidation on account of the party's stance on Sabarimala. But the political scenario in the state has changed since then. Results of the recent local body polls indicate that the Left Democratic Front has recovered lost ground.
 It seems that the Congress thinks that it can leverage the controversy surrounding the Ayyappa temple to revive its fortunes. In 1985-86, when the Congress, siding with conservatives, challenged the Supreme Court's verdict on the Shah Bano case, the party dented its liberal credentials beyond repair. This decision, too, is unlikely to bode well for the Grand Old Party.
S.S. Paul,
Nadia
 Sir — It is extremely unfortunate that the Congress is going out of its way to rally behind the Hindu right. Witnessing Rahul Gandhi remark favourably on the occasion of the bhoomi pujan for the Ram temple held in Ayodhya was distressing. Similarly, the promise by the Congress in Kerala to enact a law preventing women of reproductive age from entering the Sabarimala temple is unfortunate. A nation cannot progress if it caters to religious majoritarianism.
Kajal Chatterjee,
Calcutta
New beginning
Sir — It was good to see world leaders send Lunar New Year greetings to people around the world. Many see this as a gesture to promote unity and friendship. This comes at a time when unprovoked attacks on Asians, especially in the United States of America, have increased manifold. The pandemic has given way to a new wave of racism; as such, the gesture could go a long way in assuaging their fears.
Aparajita Saha,
Calcutta