Learning difficulty
If NEP and NDEAR are to endear themselves to us as path-breaking policies, the education ministry should undertake a reality check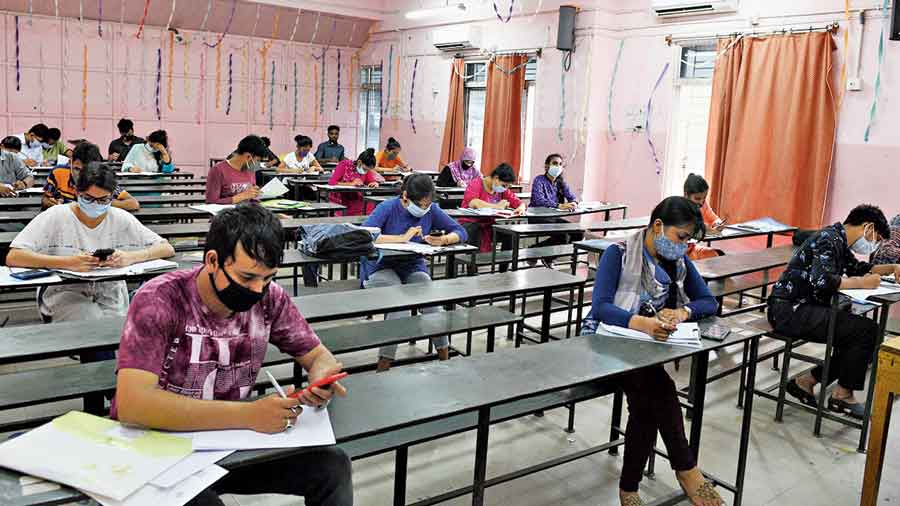 Representational image.
File photo
---
Published 17.09.21, 01:10 AM
|
---
Endear (verb): cause to be loved or liked. Now switch to NDEAR or the National Digital Education Architecture launched by Prime Minister Narendra Modi last week. Addressing the inaugural conclave of the 10-day Shikshak Parv, he said that the transformations in the country's education sector, besides being policy-oriented, were participation-based.
Who are the participants in this grand scheme? When Modi said the teaching-learning process in the country has to be constantly redefined and redesigned to make India's education sector world-class, did he stop to wonder how this would impact the students and the faculty? How many educational institutions in the country have the infrastructure and wherewithal to cope with an unending state of flux? To make the students future-ready, the prime minister said: "In this rapidly changing era, our teachers also have to learn about new systems and techniques rapidly."
There are challenges aplenty for the ill-equipped and often ill-informed teachers, especially in government institutions. "During Covid, we have witnessed our education sector's capabilities. There were a lot of challenges, but you solved all. Online classes, group video calls, online exams weren't heard by many earlier," he added. Have we really "solved all"? There are many government universities that have not held classes during the pandemic, although the teachers are getting paid and many of them are guest lecturers in private universities where the online mode is in full swing.
A professor at a Central university said that the ministry of human resource development had made provisions for internet connectivity on campus, but teachers and students had to depend on their own resources for online classes from home. "There has been some progress in the past year, but it is not enough," the teacher added.
Most faculty members in Central, state, state-aided and private universities I spoke to had no idea about NDEAR or what it entails. The vision statement is lofty: "A globally pioneering effort in education — A unifying national digital infrastructure to energise and catalyse the education ecosystem."
If only!
It goes on to explain that NDEAR is "federated, unbundled, interoperable, inclusive, accessible, evolving which aims to create and deliver diverse, relevant, contextual, innovative solutions that benefit students, teachers, parents, communities, administrators and result in timely implementation of policy goals." If the idea is to eradicate inequality in education and modernize the existing infrastructure, then the Centre will have to address all educational institutions because they cannot function in isolation.
When the National Education Policy was formulated, it was tom-tommed as modern and futuristic. The initiative for the 'education revolution' was reiterated on the completion of a year of the NEP on July 29, when the Union education minister, Dharmendra Pradhan, tweeted that the NEP "is a guiding philosophy for changing the learning landscape, making education holistic and for building strong foundations for an [A]tmanirbhar Bharat."
Surely in a year there would have been a modicum of impact of these ideals on the employability of the youth, especially students who are the primary beneficiaries of such schemes? But India's unemployment rate for all ages increased to 10.3 per cent in October-December 2020, compared to 7.9 per cent in the corresponding months a year ago, according to the latest Periodic Labour Force Survey.
Should we not have an education policy that makes students industry-ready and employable, instead of giving them crutches labelled "atmanirbhar"? Private universities have gained popularity because of their placement record, even in the pandemic years. Government institutions must follow suit so that students can spend less and learn constructively. If NEP and NDEAR are to endear themselves to us as path-breaking policies, government institutions must stop being laggards and the ministry, instead of drafting what reads like a verbose seminar paper, should undertake a reality check.