Laid bare: the limitations of identity politics
Fanning anger against centuries-old invasions cannot distract attention from the BJP's administrative failures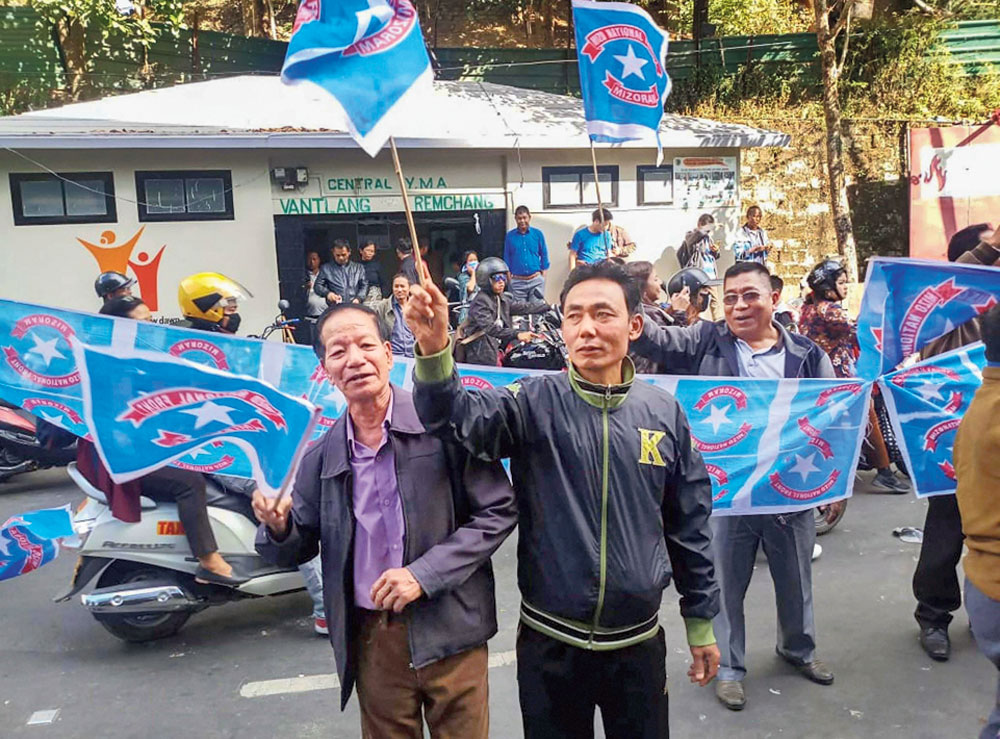 The message from tiny Mizoram, whose 84-year-old chief minister categorically repudiated the BJP's ideology, is no less relevant to the periodic tests of popularity inherent in the democratic process.
(PTI)
---
Published 15.12.18, 02:57 AM
|
---
By ascribing its debacle in five states to tactical and technical reasons, Bharatiya Janata Party propagandists and apologists are trying to shift attention from the substance of the party's appeal to its style of presentation. The tactic also implies that some kind of sleight of hand like Rahul Gandhi's digital internal feedback system enabled the Congress to secure Rajasthan, Madhya Pradesh and Chhattisgarh. The achievement of the two regional parties in Telangana and Mizoram can then be written off as exploiting local sentiment.
Watching live coverage of the British House of Commons in recent weeks, I was struck by both the contrast and similarity with our legislatures. The contrast is that British parliamentarians are genuinely debating a matter of vital importance (Brexit) with passion but politeness, obeying the authority of a Speaker who does not hesitate to reprimand even the prime minister. Points are made without any trace of the personal vitriol that disfigured India's election campaign. The similarity is that both countries are saddled with prime ministers who place career above other considerations and exude an air of insufferable smugness. While the Commons has given Theresa May a 12-month reprieve, Indian voters have reminded Narendra Modi that even heady populism makes little impact on empty stomachs. Modi has till March to ponder on how to cope with disappointment at the gulf between his government's promise and performance.
Beyond the cow belt, Telangana and Mizoram highlighted both the competitive nature of the identity politics that is the BJP's stock in trade and its limitations. The Telangana Rashtra Samithi's sweep of 88 seats did not include the former Speaker and four cabinet ministers whom voters refused to endorse this time. Either their performance left something to be desired or their Congress opponents were more persuasive. Either way, the outcome demonstrated it isn't enough to be a Telugu. By that token, the BJP's dwindling representation — down from five to a solitary legislator with even the president and former president of the party's state unit losing their seats — suggests it isn't enough to flaunt saffron either.
The chief minister, K. Chandrasekhar Rao, and his son, K.T. Rama Rao, winner of the Most Inspirational Icon of the Year 2015 by CNN-IBN and Ritz Magazine, have at different times touched on what really matters in any leadership contest in a society where poverty goes hand in hand with strong sectarian loyalties. The chief minister, who famously broadcasts his freedom from bigotry with the slogan "I am the best Hindu. I am the best Muslim. And I am also the biggest Communist", lives up to the boast by maintaining friendly relations with the All India Majlis-e-Ittehadul Muslimeen chief, Asaduddin Owaisi. His son hit the nail on the head after the results were announced, saying, "Irrigation has to be a huge priority because we have given the people of Telangana a categorical commitment that we will ensure one crore acres of land will be irrigated." Whether he will keep his word is another matter. But the election results confirm that Indian voters give short shrift to politicians who talk big and deliver little.
The message from tiny Mizoram tucked away in the northeastern hills, where also a local party swept the board, capturing 26 out of 40 seats, and whose 84-year-old chief minister categorically repudiated the BJP's ideology, is no less relevant to the periodic tests of popularity inherent in the democratic process. Some years ago, European Union delegates at an Oxford seminar on the linkage between politics and territory wondered at Mizoram's inclusion in India, and New Delhi's management of such a remote territory. The historical explanation that Mizoram is Indian because the British included the Lushai Hills (as the region was called) in pre-Independence Assam was not to the liking of political delegates from India who rambled about Asoka's extensive empire. It's easier, therefore, and also more pertinent, to explain how India almost lost Mizoram through economic neglect when the bamboo flowered (as Mizos say) in 1959. That produced a boom in the rodent population which wolfed down bamboos and bamboo seeds, then turned to crops, and infested huts and houses. The havoc was terrible and very little grain was harvested. Mizos who didn't die of starvation survived on roots and leaves from the jungle.
Mizos called the famine Mautam, and in March 1960 the Mizo leader, Laldenga, changed the name of their front organization, the Mizo Cultural Society, to Mautam Front. It evolved into the Mizo National Famine Front which, as the Mizo National Front, mobilized young Mizos to collect rice and other essential commodities for the deprived and suffering interior. The MNF wanted economic relief to start with but then demanded political independence and waged a secessionist war for 20 years until Rajiv Gandhi persuaded the guerrilla fighters to lay down arms, renounce secession and sign the Mizo Accord in 1986. The MNF won that year's election and formed a government with Laldenga as chief minister. Zoramthanga took over after he died, heading the government from 1998 to 2008.
The aged former rebel leader who was twice chief minister has now returned to the chair a third time while the Congress, which ruled Mizoram for a decade, has been reduced to five constituencies. Apart from the anti-incumbency factor, explanations include Central indifference to Mizo problems, mismanagement allegations, and the suspicion that all national parties impinge on regional rights, reinforced by the Congress abolition three years ago of prohibition which is almost an article of faith in an evangelical society. Religion also militates against the BJP which did win a seat but in a non-tribal area. Zoramthanga's comment, "Mizoram is a Christian state and we are a compact society so there is no space for BJP ideology", warned that Mizoram is jealously determined to guard a cultural identity that is quite as unique as that of the reclusive Sentinelese islanders. Thenphunga Sailo, a former Indian army brigadier and chief minister from 1978 to 1984, persistently highlighted another aspect of the conflict of identities by exposing military atrocities against civilians. As in Nagaland, MNF fighters are viewed not as traitors but patriots who might be misguided.
The three mainline states the Congress has wrested from the BJP highlight fundamental complaints about the problems created by demonetization washing away 86 per cent of the currency in circulation, a probably well intentioned but poorly administered goods and services tax, farmers' indebtedness and poor support prices for cereals, oilseeds and milk, rising unemployment, and welfare schemes that have become instruments of political patronage. The low-level corruption that continues to flourish is far more irksome for ordinary people than the alleged cupidity of the "glamorous, flashy playboy" that Vijay Mallya is said to be or the supposed international wheeling and dealing of a British subject like Christian Michel whom the Indian government is suspected of having traded for the Sheikh of Dubai's runaway daughter. These are national distortions like trying to grab the Reserve Bank's savings to fund politically-inspired projects or the determination to misuse the Central Bureau of Investigation. They are part of the great betrayal. Just as "Swachh Bharat" has not made India any cleaner, "Make in India" has not boosted domestic manufacture.
But Telangana and Mizoram are significant. They are a reminder that although 79.8 per cent of the population is listed as Hindu, any audit of all the different communities that treasure their distinctive group identities at once reveals India as a nation of minorities. They cannot be welded together into a strong national whole by constantly trying to fan anger against waves of Muslim invasion and conquest many centuries ago. These election results show that while some resentment might still linger it is not powerful enough to distract attention from the BJP's administrative failures.