Kashmir has proved too fractious for Delhi's ties with Riyadh to subsume
In the frenetic scheme to turn Riyadh against Islamabad, it is forgotten that Pakistan has supported Saudi Arabia off and on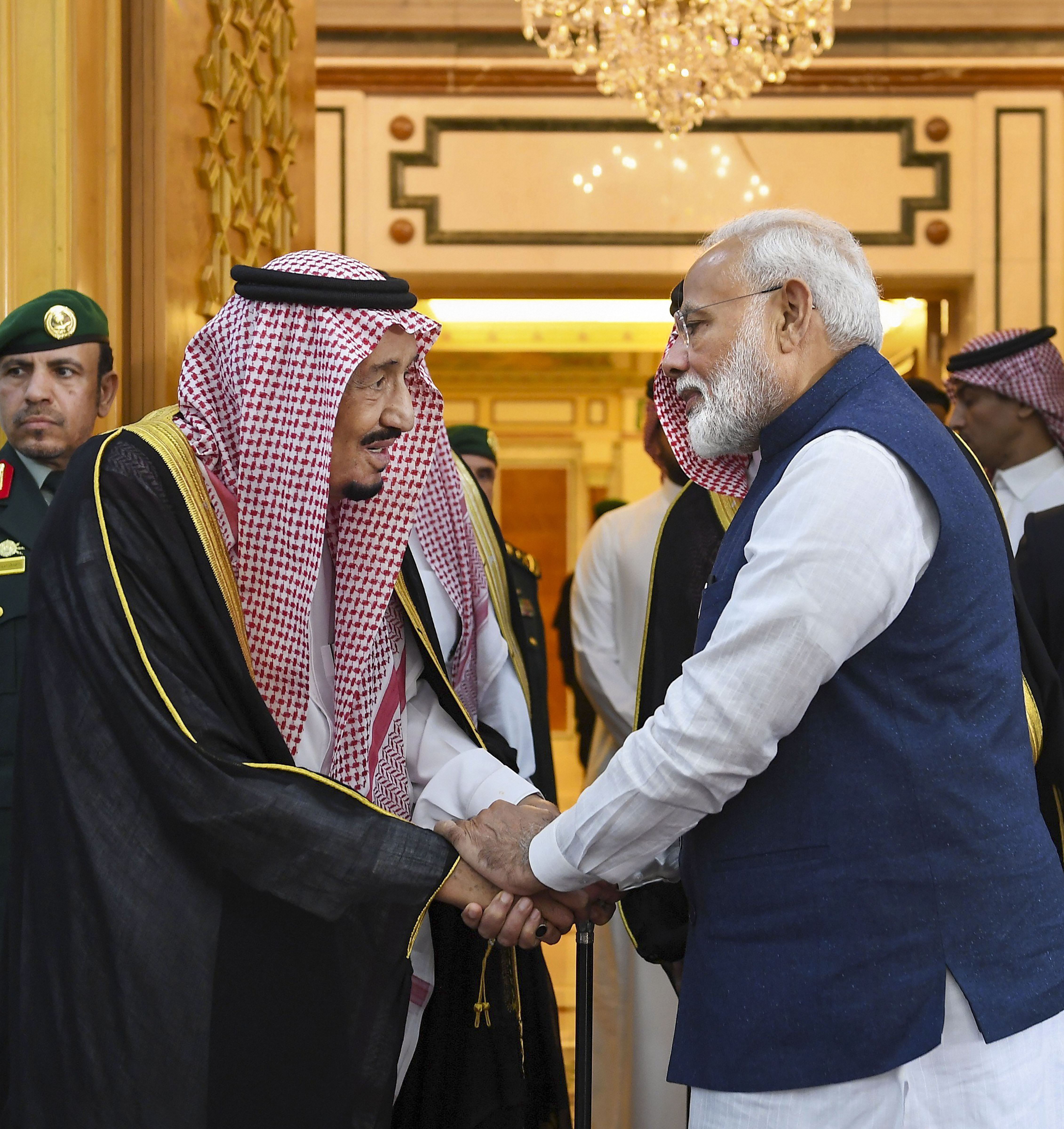 Prime Minister Narendra Modi with King Salman bin Abdulaziz Al Saud in Riyadh, Saudi Arabia, on Tuesday.
PTI
---
Published 01.11.19, 01:06 PM
|
---
Facing grave threats following the attack on two Aramco facilities by Iranians or Houthis, halving oil production for days, Saudi Arabia would likely stay away from Pakistan and India on Kashmir, having no desire to add to its troubles. With Turkey and Malaysia rallying to Islamabad's side and Iran expressing distress for Kashmiris locked down without reprieve since August 5, Riyadh would have even less incentive to side with New Delhi for eviscerating Kashmir's special autonomy and killing its statehood.
India is the only large state providing an exception to a region which is largely Islamic, save for China which is another civilization. Not being a regional force — much less a Great Power — India cannot be a net security provider to overcome this deficit although it created Bangladesh and has a decent UN peacekeeping record. Its own Muslim sensitivities prevented its participation in Afghanistan or the second gulf war and even limited refuelling for US military planes in the first became a sensitive issue for the government of the day.
Under such circumstances to expect, at most, grudging acceptance of India's outré action in Muslim-majority Kashmir by the Islamic powers in the region and near neighbourhood was to grossly underestimate the scale of the August 5 misadventure. That this is the case even when the Muslim world with its hub in the Middle East is unprecedentedly divided — with Iran, Turkey and Qatar ranged against Saudi Arabia since the 2011 Arab Spring; civil wars raging in Syria and Yemen; and while President Donald Trump has made Israel the fulcrum of regional politics — advertises the enormity of the Kashmir blunder.
India thought it had a foot in the Middle East door when the de facto ruler of Saudi Arabia since at least 2017, the crown prince, Mohammed bin Salman, aligned with Trump's United States of America and Israel to regain Riyadh's lost grounds with Iran and Turkey and in the Iran-backed war in Yemen. India's turn to benefit from Riyadh's attention actually arrived when the crown prince met his first mishap with the Jamal Khashoggi murder in Istanbul which the Central Intelligence Agency alleges he authorized. Shunned by the West and his 'Saudi Vision 2030' of life after oil in jeopardy, he turned to China and India. New Delhi reciprocated with energy, hoping to placate Muslim fears of Hindutva and lynch mobs while the crown prince sought investments to prolong Riyadh's oil economy like the 20 per cent stake in Reliance oil and chemicals.
But Kashmir has proved too fractious for this nascent relationship to subsume. In the frenetic scheme to turn Riyadh against Islamabad, it is also forgotten that Pakistan has provided ground and air forces to Saudi Arabia off and on, in war and peace, since the Sixties. Addressing Iranian and Turkish sensitivities lately, these deployments have been minimized to a composite brigade of troops for royal family protection provided under a training cover. There is no other Muslim country Saudi Arabia would rather trust with such a sensitive deployment than Pakistan. A counterterrorism force of Sunni states headquartered in Riyadh is also led by a former Pakistan army chief.
Since the strike on Saudi oil assets by Iran or its Houthi proxies, Saudi Arabia's need for Pakistan's military protection should have grown rather than diminished with every indication that the US will not intervene on its side. The New York Times reports of Iraqi and Pakistani mediation on Riyadh's behalf with Tehran. There is less role here for Pakistan's elected leader, Imran Khan, or whoever, than Pakistan's military, which drives relations with Saudi Arabia, Iran and Turkey.
The Houthis' claim of launching the September 14 attack from inside Saudi Arabia would give the crown prince sleepless nights. Would he rather save his throne backed by Rawalpindi than worry about India's predicament in Kashmir?