Juvenile angst
At the moment, it's an insecure, brash and immature image of India that the Modi government is presenting to the world as it gets ready to celebrate its 74th Republic Day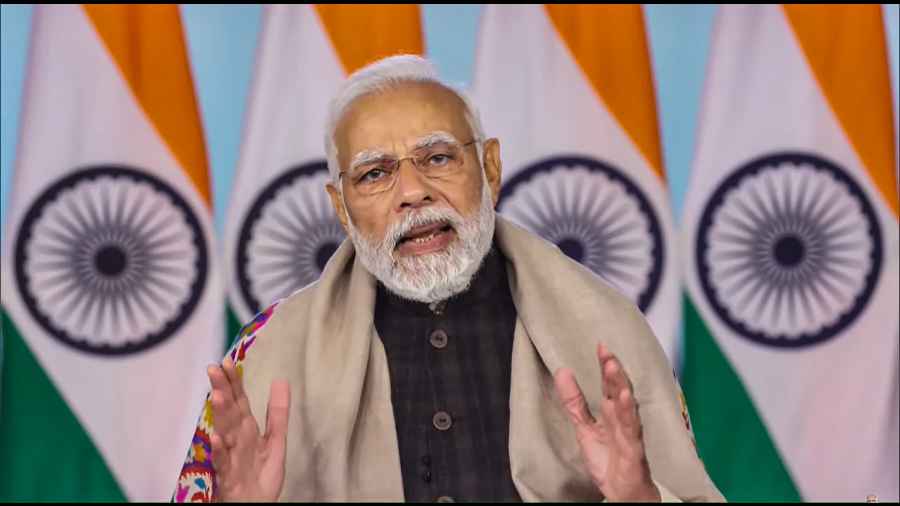 Prime Minister Narendra Modi
File Photo
---
Published 25.01.23, 04:35 AM
|
---
Prime Minister Narendra Modi and his team have repeatedly promised that under their leadership, India is poised to become a vishwaguru. More broadly, their pitch to the country and its diaspora is simple: that Modi is leading a revolutionary developmental phase for India that is drawing the respect and the attention of the world. "World over people started looking at India with respect (after Modi came to power) and that is not an honour for Modi or for the  Bharatiya Janata Party but for 125 crore Indians," said the home minister, Amit Shah, when he was the BJP chief.
At the moment though, it's an insecure, brash and immature image of India that the Modi government is presenting to the world as it gets ready to celebrate its 74th Republic Day.
The government's decision to order social media platforms to block all links to a new BBC documentary on Modi's alleged role in the Gujarat riots is the latest evidence of an administration that views all questioning and criticism through a conspiratorial lens.
Indians critical of the government are portrayed as traitors. Many journalists are behind bars or have been harassed by agencies not known to function independently. Foreigners who challenge New Delhi's narrative are presented as people unable to stomach India's rise.
"Let me just make it very clear that we think this is a propaganda piece designed to push a particular discredited narrative," said the external affairs ministry spokesperson, Arindam Bagchi, responding to Indian journalists who asked him about the BBC documentary. "The bias, the lack of objectivity, and... a continuing colonial mindset, is blatantly visible."
Bagchi didn't stop there.
"If anything, this film or documentary is a reflection on the agency and individuals that are peddling this narrative again. It makes us wonder about the purpose of this exercise and the agenda behind it and frankly we do not wish to dignify such efforts."
Except he did. And so has the Modi government.
By accusing a respected public broadcaster from a friendly nation, the United Kingdom, of "bias" and an "agenda", and then banning its documentary from being shown in India, the government has given it a credibility that a smarter administration might have avoided by ignoring the film.
This is hardly the first time that the Modi government  and its spokespersons— including diplomats —have responded to unflattering international reporting or comments with the maturity of upset teenagers. Speaking to the Indian expatriate community in Washington last year, the external affairs minister, S. Jaishankar, took potshots at the media in the US for their critical coverage of the Modi government. In February 2022, when Rashad Hussain, the US ambassador-at-large for international religious freedom, expressed concerns over Karnataka's ban on wearing hijabs in school, Bagchi responded by calling them "motivated comments". After the Singapore prime minister, Lee Hsien Loong, described the current polity as a decline from the times of Jawaharlal Nehru, the ministry of external affairs summoned the island nation's envoy in New Delhi to protest.
In the past, India's foreign office has pushed back against international criticism of its position on Kashmir and, occasionally, on human rights. Over the last two years in particular, that approach has morphed into a mindset where South Block starts frothing at any political criticism of the Modi government.
This is precisely the angry, confrontational approach to global criticism that earned Chinese diplomats the moniker, 'wolf warriors'. Under President Xi Jinping, China's foreign policy advocates have used podiums and *Twitter accounts to target global critics, at times with threats. But China's wolf warrior diplomacy has failed. Its standing in the eyes of the world has fallen in recent years, and its vocal indignation has only made it appear like a bully that can't face up to facts.
Does India want to go down that path too?
Charu Sudan Kasturi is a senior journalist who writes on foreign policy and international relations