A law to protect heroes and martyrs
Making fun of martyrs is no laughing matter in China - it is a criminal offence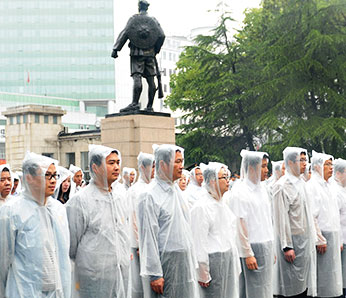 ---
|
China
|
Published 01.10.18, 06:06 PM
---
Making fun of martyrs is no laughing matter in China. Last week, an online cartoon company was asked to pay 1,00,000 yuan to the descendants of a pre-Liberation war hero for having parodied one of his famous poems online. It also had to make a public apology through the media.
The extent to which such icons are parodied is inexplicable. What makes anyone change the line: "I long for freedom'' to "I long for a painless abortion''? The first is from a famous poem written in a Kuomintang prison by General Ye Ting, a battle-scarred hero and one of the founders of the People's Liberation Army.
This parody had first been created in 2014. But now, it is a criminal offence. The Heroes and Martyrs Protection Law, which came into force in May, bans 'activities that defame heroes and martyrs or distort and diminish their deeds'. It also forbids the use of their names in advertisements.
Spokesmen of the company who created this parody said that their aim was to lampoon the absurd advertisements that offer easy abortions. As expected, their defence did not go down too well with the court that was hearing a suit filed by the general's son and grandson against the company. The court ruled that the parody not only hurt Ye Ting's family, but also harmed the 'national and historic feelings' of the people. The family refused to accept the 1,00,000-yuan compensation.
An even worse parody, created by the same company in 2014, also came under the scanner this year. It ridiculed the heroic sacrifice of Dong Cunrui, a soldier in the war of Liberation who had been sent to blow up a Kuomintang bunker. Even though he found no safe place from where he could escape after setting off the explosives, Dong carried out the task assigned to him, knowing that he too would die.
In the recent parody of his heroic deed, the host narrated the soldier's feat thus: "Dong Cunrui stared at the enemy's bunker, his eyes bursting with rays of hate. He said resolutely, 'Commander, let me blow up the bunker. I am an eight-point youth, and this is my eight-point bunker.''' However, the word "bunker'' was replaced by the similar sounding "burger''. The script was based on a 2014 ad for a KFC hamburger.
As part of his punishment, the company head led his team to pay homage to Dong Cunrui at his grave, where they also apologized for their ill-conceived parody.
Another martyr had been mocked in 2013. Qiu Shaoyun chose to burn to death in the Korean war rather than move from his hiding place and betray the position of his unit, after an American bomb fell near him. This time, the offender was a popular satirical blogger, who compared Qiu to "meat grilled only on one side''. Before he could remove his comment, it had gone viral, and it came back in 2016 to haunt him. This time, the soldier's family sued him, demanding a public apology and a symbolic compensation of one yuan. A Beijing court handed down this punishment to him.
Could such lack of respect for war heroes who gave their lives for China's liberation arise from the exaggerated heroism with which they are portrayed, or simply from the 'patriotic education' which has been part of the curriculum since 1994? Will a law instil the respect that is obviously lacking? Is there a lesson here for those following the same path in India?