No stranger to irony
Jaswant Singh stood at a slight angle to the universe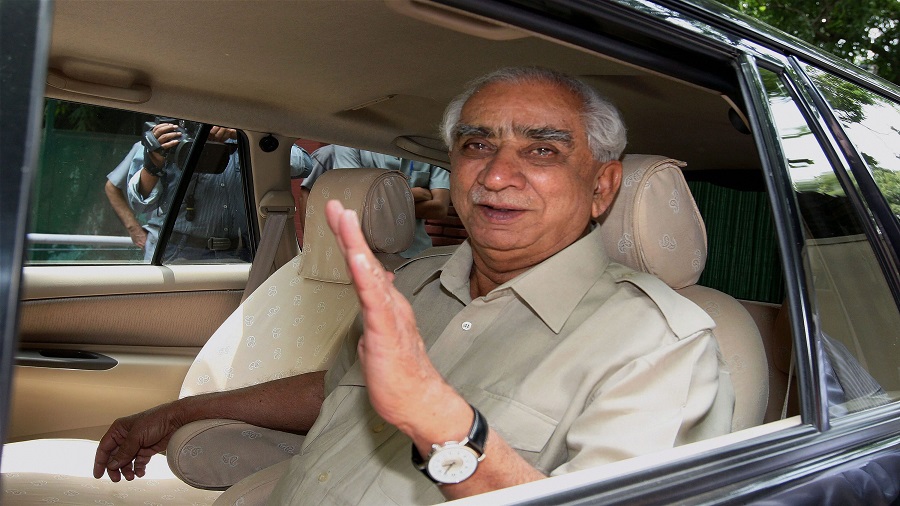 ---
---
Whether or not he realized it, death must have been a merciful release for Jaswant Singh. The last bhadralok in politics was spared Judge Surendra Kumar Yadav's unmasking of colleagues who actually tried to stop the Babri Masjid being vandalized on December 6, 1992. Only Narendra Modi's elaborate bhoomi pujan saved the proposed Ram mandir from mlechha fifth columnists like Lal Krishna Advani and Murli Manohar Joshi who had been masquerading as Hindutva stalwarts.
Jaswant Singh was no stranger to such ironies. Adapting E.M. Forster's comment on the Alexandrian poet, Constantine Cavafy, he stood "at a slight angle to the universe." That explains his not becoming Lok Sabha Speaker, why he was defeated in the election for vice-president, the Bharatiya Janata Party he helped to found twice expelling him, and why at the end he was an unsuccessful independent candidate. His vision defied all straitjackets while his integrity spurned crude populist tactics. Apart from revealing a passion for antiquity, the ancient drawings that decorated his office also proclaimed rejection of the Akhand Bharat concept. India had always been a nation, he told me, never a state. "You can't find a single map of India before British times".
Yet, he had no compunction as external affairs minister about telling Bill Clinton that there was "no possibility of mediation, inter-mediation or facilitation when it comes to the Indian state of Jammu and Kashmir". He was more supportive of the United States of America than most Indian politicians but refused support once the Gulf War had begun. The "aberration" — his word — of wartime help for a belligerent offended his Rajput code of chivalry.
That mix of ideals and pragmatism might have bestowed respectability on conservative politics at a time when the right seems to be running amok in so many countries. Apart from the flash in the pan of Chakravarti Rajagopalachari's Swatantra Party, the liberal secular right has never had a chance in India. It was too tame for the passions that ignite India's political activity, whether of Marxist-Leninist revolutionaries or fanatical adherents of fossilized rites and rituals. The Congress umbrella traditionally provided shelter to a range of opinions so that Indira Gandhi could say with prima facie justification that it was both government and Opposition at the same time. But Donald Trump's refusal to condemn white supremacists during Tuesday's debate with Joe Biden needed no interpreting here. Indians cannot forget Modi's sharply contrasting responses to the Godhra outrage and Gujarat killings, his rejection of the courtesy of a Muslim cap, and snide references to Sonia Gandhi's political secretary, Ahmed Patel, as "Ahmed Mian".
With almost every prestigious institution suborned, the future could not be more bleak. Instead of planning post-pandemic reconstruction, a bankrupt India invites annual remittances abroad of $2,50,000 while it stumbles from one rape-and-murder horror to another in a state whose chief minister drapes himself in the saffron of Hindu piety. Amnesty International's complaint of 'incessant witch-hunting' and the revelation that a student commits suicide every hour during which the country's richest tycoon rakes in Rs 90 crore expose the extent of degeneration. Dogma and authoritarianism at the top encourage barbarism at the bottom.
Despite his contempt for Jawaharlal Nehru's poor Hindi and cultural alienation ("I believe nothing Indian infused his spirit"), Jaswant Singh's progressive liberalism was closest to Nehru's. He was amused when Westerners called him the most modern man in Atal Bihari Vajpayee's circle. Modern for him was a state of mind, not a matter of style. Similarly, traditional was a question of values, not donning outsize turbans. He thought Rajiv Gandhi's Class of Eighty-four, hailed as modernizers, "cynical" and "self-absorbed". Their materialism sickened him. "They think everything is a managerial problem whereas governing India takes an almost Tolstoyan compassion." He responded to Bofors with the epigram, "Jahan raja bepari, praja bikhari!"
Yet, the liberality with which he served Scotch (before India's newly rich mastered the vulgarity of demanding "single-malt") indicated he was neither ascetic nor Hindutva fanatic. I don't know whether he subscribed to the politicized belief that Ram was born on the site of the Babri Masjid but he certainly disdainfully dismissed the idols that had been smuggled into the mosque to strengthen the legend of continuity. They were crude earthen images bought at some village mela, he said. He was proud too, of not belonging to any of the senas that seem to fulfil the storm-troopers function of the American neo-fascist group, Proud Boys, which is basking now in the apparent endorsement of Trump's "stand back and stand by" call.
If all this sounds rather solemn, Jaswant's ability to lighten statecraft by laughing at himself was evident at the Association of Southeast Asian Nations' meets in Singapore. "Now that Madeleine [Albright, US secretary of state] has left, we can all dialogue..." he sang before plunging into a witty take-off of Lewis Carroll's "You are Old, Father William". Amidst jolly references to buses to Lahore, recaptured peaks (Kargil) and the Asia-Europe conference without India as "Hamlet sans the prince", the dialogue touched on his seemingly endless talks with Strobe Talbott, Albright's deputy.
Question: "You are sharp, Mr Singh, and one must suppose/ That your eye is steady as ever/ For you balance Strobe on the end of your nose/ What makes you so awfully clever?
Minister: "That's because my nose is very long/ In my youth, I used to butt and rebutt/ But my book will tell of the lance,/ Which I used on the good Mr Talbott./ Could I sell you a copy in advance?"
Unlike even unlikely politicians like Jyoti Basu, he never sent me a Christmas card. But some years he would send a picture postcard of a horse. Perhaps they were all of the same splendid looking animal, "Hazaa — Grey Arab stallion. From Meqbila Saudi — (dam), by Rawash Saudi — (sire). Gift from H.M. The King of Saudi Arabia". If it meant he trusted horses (of breeding, naturally) more than men, perhaps he had reason to do so. I never got round to asking him. I shall always regret having to turn down his invitation for an elaborate tour of Rajasthan.
Our last encounter was on January 4, 2014 when he released the revised edition of Smash and Grab: Annexation of Sikkim at Calcutta's Crossword bookstore. Jaswant explained to the audience that he had to accept my invitation because I had written that I would understand if he didn't. That pricked his pride. The background was that I had originally asked a dashing young Congress politician I had known since his childhood. He ignored repeated letters and messages although his secretary assured me he read them all. Clearly, an ambitious young politician on the make did not want to risk being associated with my unfashionable take on Sikkim. It would be too simplistic to say Jaswant could afford to take risks because to be born rich is to be born free. Indians become billionaires because — not in spite — of the government.
Reporters at the Crossword event gathered thickly round Jaswant Singh with one question: would he stand again from Darjeeling? He was coaxed and wheedled, begged and hectored; the question was reiterated in many forms. Old hand at the game, he gave nothing away without giving offence. The result was that the evening's raison d'être, the book launch, received no coverage. The reporters present must have gone home disappointed. Aware of Jaswant's troubled relations with the BJP leadership, they had hoped for exciting tidbits of political gossip.
With him gone, India awaits a forward-looking leader who carries no tribal baggage and is free of primitive phobias. Such a man might yet succeed in mobilizing majority sentiment without confusing conservatism with bigotry. It might still be possible to position the BJP as a rational mainstream party of the constructive right.